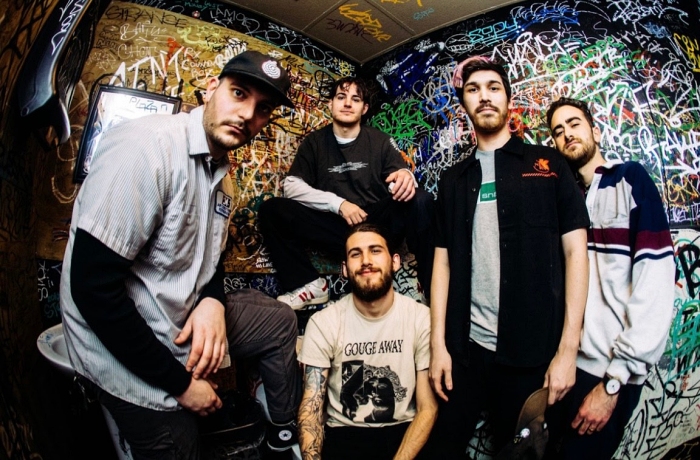 The return of South Carolina's Riot Stares is cause for celebration on many fronts. Four years out from when the Charleston hardcore act last graced our ears, the resilient band is back.
This go round, Riot Stares come equipped with the stellar full length, Sounds of Acceleration. The jaw-dropping long player is set to drop early next year via the Northeazt champs at DAZE and is sure to dazzle every generation of hardcore kid. This shit is guaranteed to appeal to fans of everyone from Excide, Soul Blind, and Higher Power to Orange 9mm, Snapcase, and Quicksand.
As bugging bands is literally in my bio, I begged to hear more from the prodigal sons of SCHC. The band was kind enough to indulge me, albeit virtually, and our conversation truly runs the gamut. Enjoy, No Echo faithful. Peep the video and lead singles and be sure to smash that pre-order button.
Welcome back, Riot Stares. People are clearly stoked to have more from the band. Kudos on the new album. Introduce yourselves to the No Echo faithful!

Yo! Feels great to finally be getting this thing out there. We are Brad Marino (vocals), Tyler Hall (drums), Dylan Walker (bass), and Patrick Peck (guitar). We're a hardcore band from South Carolina; we put out a couple 7-inches back in 2016 and 2017, and are finally getting ready to release an LP we recorded back in 2019.
The timing of COVID initially made us stall the release and then, after the death of our dear friend and guitar player Issy in early '21, all band stuff really went on the back burner for a long time.
DAZE has one of the most wildly varied and crucial rosters these days. It seems like the perfect landing spot for the band and a logical fit. How'd that come to pass?
DAZE is such a dope label and we couldn't be happier to have the LP in the care of Lumpy [label owner Andrew Wojcik]. We met him years ago, in the early days of the band when we started crossing paths with Sanction. He always put on the for the band.
This year, after we had been under the radar for a while, word got to him that we were sitting on this record and he hit us up about putting it out. At that point we finally felt ready to get back in the headspace of releasing it.
The video for "Relief Technique" rules. Big up Taylor Hickman a bit and give us the skinny on the narrative. It's a great visual companion to the song's overall urgent vibe.

Taylor is a good friend of ours who we've known through the wider music scene here and we were always super into the work he's done for other bands. We were the first hardcore band he did a video for and we were stoked on the idea of him bringing a unique perspective in that sense. We shot the footage of us playing in February 2020, right before everything popped off with COVID, so the rest of the production was on hold for a long time.
It actually wasn't until this past summer that we finally got together and shot the narrative stuff. Like the record itself, we feel fortunate that Issy was able to be in the video and we have that piece of him to hold onto.
As far as the narrative goes, we wanted to keep it pretty simple. Tying it into the lyrics, the intent was to have it be about someone running from themself and finally facing their own shit.

Speaking of urgency, there's a real sense of desperation, constant motion, and even entropy on the album. It's as cohesive a statement as I've heard in a long time. Shit, there's even a car on the cover. Go in on that a bit for us…
Yeah, the car stuff was just the best visual element to bring the vibe we were going for. I'd spend a lot of time listening to drafts of songs or new mixes in the car and it felt like the best setting to hear the record. Volume cranked, driving fast. And that all ties in with the lyrical themes—the overall sense of being stuck in something you can't slow down. That you're not in control of.
Recording with our friend John Howard (War House Studios in Gainesville, Florida) was really the linchpin that brought out the energy we wanted. We made the last minute decision to record everything without a click-track and now we can't imagine it any other way. We naturally played everything slightly faster and—without having rigid tempos—the tracks just felt more raw and high-energy.
The band has a wildly unique take on rhythm. Obviously I've heard the names Orange 9mm and Snapcase thrown around, but "Trip Chain" and "Try To Spin" have some incredible moments on them. The latter is an instant standout for me. Clearly the band's sound has been established for damn near half a decade. Where's that influence come from?
We do feel like the record was successful in being a sorta encapsulation of the band's evolution over the years. It took elements from our earlier material and expanded on it by incorporating other sounds we all liked but hadn't quite explored yet.
I've gotta mention "In Motion." I can't imagine a more appropriate, moving, or epic closer. Clearly there was a lot of care given to sequencing, but is there anything you can tell me about that track in particular?
Having the shift in arrangement with the acoustic guitar in the beginning, it naturally felt like a good closer. Lyrically, the song sums up the overarching themes pretty well so it made sense to pull the album title from the words in this one.
The look of this record is wild. From the color and font to the imagery, it's a fully realized and dope aesthetic. Where's that come from?
The art is by Ridge Rhine who absolutely killed it. An absolute boss who went above and beyond with the entire layout. Visuals are so crucially important to a record and he nailed it.
We were mad annoying with the art process. We were super picky about what we wanted, but at the same time didn't have a specific vision. Maybe I just have a shitty imagination, but getting artwork done is hard cause I'm bad at giving direction and just know what I like when I see it.
We went through a bunch of different concepts (and even artists) before we landed on the final version. Those early drafts were extremely cool, it just took a few attempts to feel like we captured the nebulous idea we had in our heads.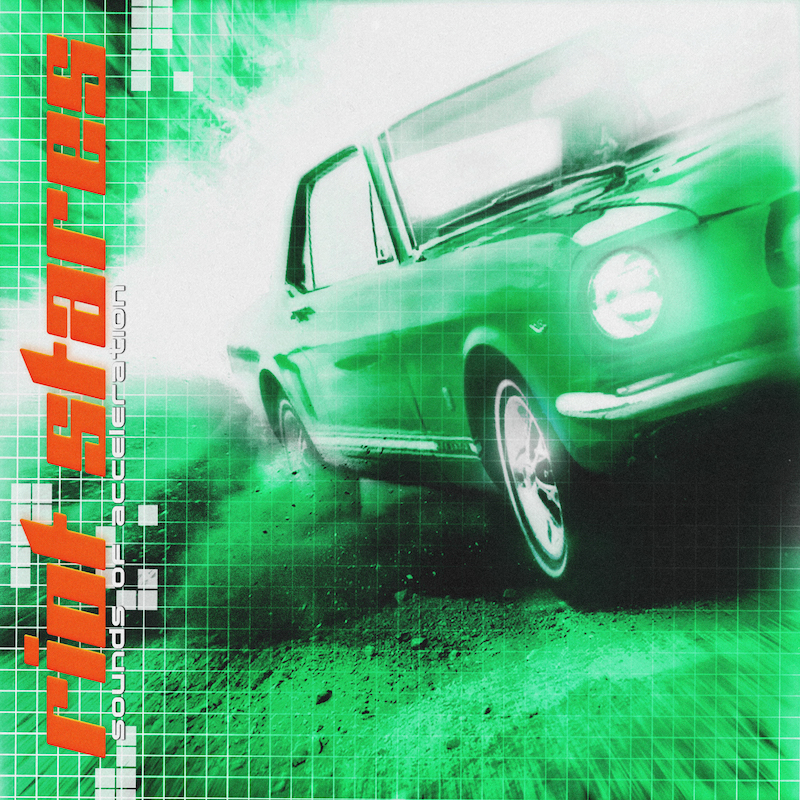 I feel like Riot Stares has so many different facets to it. From the jump, you were pulling from unlikely spots. To drop a Cast Iron Hike cover in 2017 was way ahead of the curve. I hear bits of Vision of Disorder, One Minute Silence, and even Fireside. Give us a peek into your collective record collection because it sounds like it goes incredibly deep. Adding onto that, what's an album that'll keep the whole tour van happy?
Hell yeah, those have definitely worked their way in to some degree. Especially One Minute Silence. We actually just dug up an old van playlist we used to put on which really brought us back.
We have a handful of influences that have been constants throughout the band's existence that we usually get compared to, of course. But outside of that, some less-obvious influences over the years have been Far, Beastie Boys, Sparkmarker, Snot, and Primer 55, to name a few. Limp Bizkit unironically…
To your last question, gonna have to go with CKY's Infiltrate•Destroy•Rebuild.
It's that time of year, Riot Stares. Throw some album of the year contenders at me. Sounds of Acceleration will have to wait for next year's list.
Orville Peck, Bronco
Vein.fm, This World is Going to Ruin You
Charley Crockett, The Man From Waco
Momma, Household Name
L.O.T.I.O.N., War in the Digital Realm
Vatican, Ultra
I'm a podcast junkie and, unless I'm wrong, I once heard y'all wax excitedly on the legend of Lizard Man. Here in Maryland, we've got Chessie and the Goatman. Give me the elevator version of this legend.

Oh man. The Lizard Man of Scape Ore Swamp. Legend has it that back in '88 this guy from Bishopville (bumfuck SC) stopped off the side of the road to change a flat and saw a 7 foot, red-eyed reptilian guy come out of the woods. Dude tried to flee and the thing hopped on top of his car.
In true cinematic form he slammed on brakes and lizard man went rolling off. Since then there's been a bunch more sightings and damage done to vehicles. We here at Riot Stares HQ take these stories completely at face value. We're all Mulders. Well, Tyler is more of a Scully.
Bands always have a better handle on this debate than I do. Sheetz, Wawa, or neither?

Buc-ee's.
What's 2023 shaping up to be for Riot Stares?
We'll have the LP out in January, and plan to put together a release show in the spring that will also be our last...
***
Sounds of Acceleration will be out on January 20th via DAZE.
Riot Stares on social media: Facebook | Twitter | Instagram
***
Help Support What No Echo Does via Patreon:
***
Tagged: riot stares