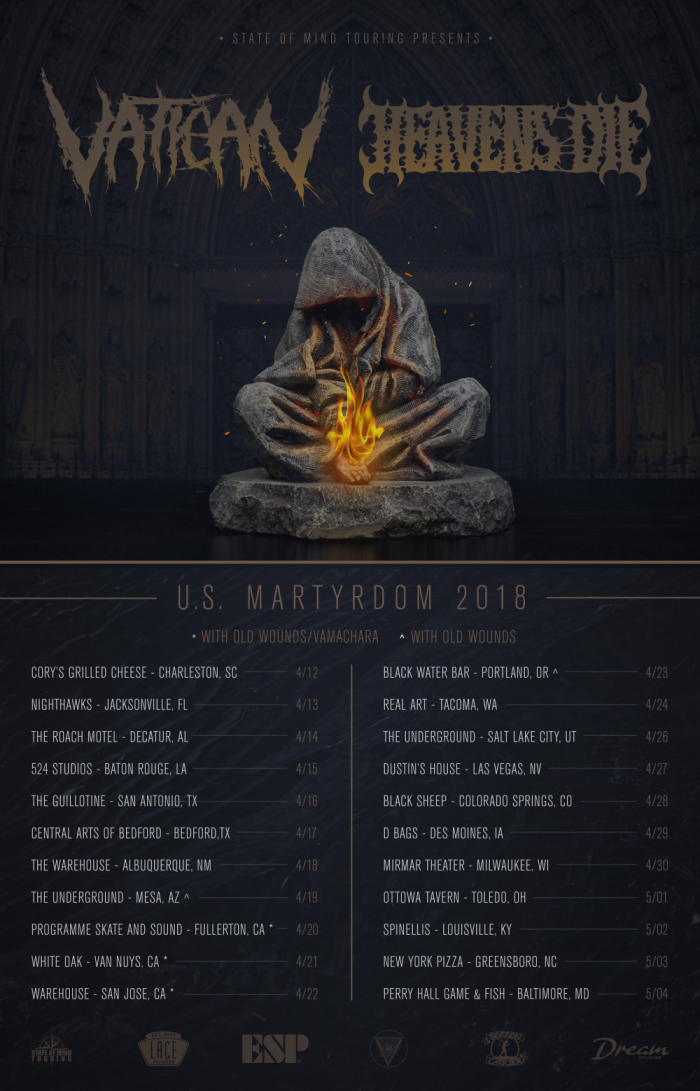 If you read No Echo on a regular basis, there's a good chance you've already seen my previous pieces on Vatican. The Savannah, GA metallic hardcore band's Ache of Eternity was one of my favorite EPs from last year, and I've been eagerly awaiting to catch them live. Well, I'm thrilled to announce that Vatican will be heading out on tour with Heavens Die, another heavy-ass band I discovered last year.
Kicking off on April 12 in Charleston, SC, the US trek will go all the way into May and will find both groups linking up with Old Wounds and Vamachara for a handful of shows on the West Coast.
"We did a small run with Heavens Die and Detriment in Spring of 2016, which was the first time we had played together," Vatican guitarist Nolan Mobley tells me. "We originally met at Danny's (singer of Heavens Die) house when we played his basement as both of our older bands. Knocked Loose also played that show, which is crazy to think about... We played the same shows in different areas and became good friends with all of those guys, so we all linked up for a tour in early 2017. Now that it's time to take on the entire country again, it only makes sense to do it with them."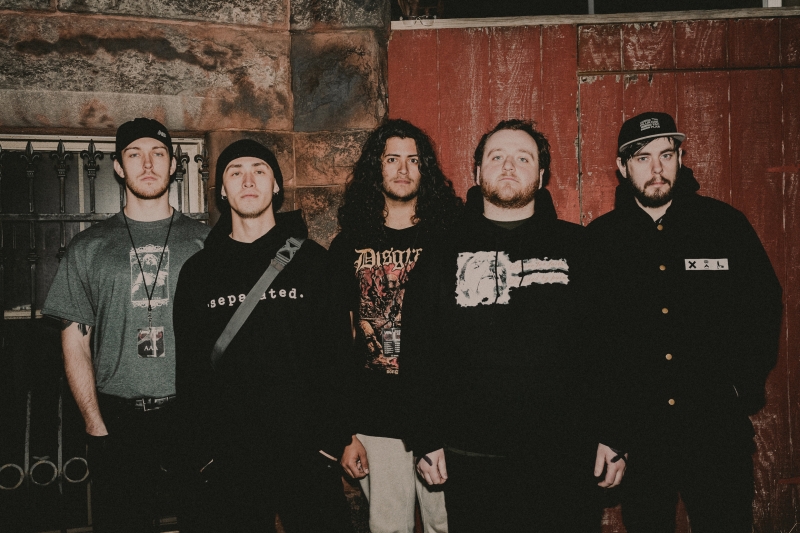 I ask Heavens Die guitarist Nathan Rinard about the musical compatibility of both outfits. "I'd say we have many similar elements. We both lean farther to the metallic and the extreme than the hardcore side. Our live shows are both very powerful, and we both present ourselves in a very unique way that I don't see in other bands. We're very compatible in the sense that where we share the same (sub)genre we are able to fill out a bill nicely and add some diversity between our bands and the modern sound of most bands."
Speaking of their sound, I ask Nolan from Vatican about people often comparing them to bands '90s metallic hardcore bands like Disembodied and Harvest. "In some instances in our music, I can definitely understand why people would say that, but we take pride in not taking any direct influence from anything. I don't think any of us have ever written a part because it sounded like something else. Music is more of an inspiration. By that, I mean that I'll hear a song sometimes and feel determined to play harder or write harder to create something of the same caliber. All of us have a broad taste in music, so we draw from a lot of different places for inspiration, but ultimately we are just writing what sounds good to us."
Heavens Die will be out in support of their 2016 The Hands of Man EP. A little bird told me the Virginia combo is currently working on a new record. "Our forthcoming release, entitled Unnoticed and Unmissed, is more or less a concept album," says vocalist Danny Prock. "Although comprised of only four tracks, we have worked long and hard to create and record the densest and most intense performance possible in true punk rock fashion. Like The Hands of Man, the pangs of loss reverberate throughout every song. However, I've been changing and growing as a person. I want to use the words and the art to challenge the traditional image of god and man.
"I want people to imagine a god that is a hideous, malevolent monster. I want people to imagine themselves and all humans to look outwardly as terrible as we all are capable of feeling inside. I want people to compare those concepts with their previously held concepts of the gods and humanity. How do you and your gods compare to the ugliest possible alternate versions? The words I write are meant to evoke thought and emotion. I want people who feel like me to be able to relate and connect, and I want everyone else to find something to think about after the music stops. Good art makes one want to revisit and reconsider."
Nathan joins in: "I wanted to match that concept sonically through the instruments as well. We have a piano piece that flows throughout the record and acts as an overture and a reprise of sorts. Songs have elements in nuances and styles that coincide with parts found earlier in the EP. This is probably most evident in the first and last song. Much like the progression of the subject of the lyrics this signifies the entrance of the EP in conflict and the end in resolution where the final piano overture is played as the tracks fades out. We've all been very focused on doing everything we can to 'take the next step' with the songwriting on this EP, to the live show, to the equipment, to the presentation to the artwork, to the aesthetic and so on and so forth. We've created a piece of art that holds depth, meaning, and substance to be experienced and uncovered."
Finally, I ask Nolan about Vatican's future recording plans. "We've been writing again since late last year. For the new material, we really did our best to analyze our old releases and determine what were really the best parts from what we've done. We've written and re-written songs over and over until we really got exactly what we wanted out of it. The band has always been aggressive and unrelenting in our sound, so we wanted to maintain that aspect, but also hook the listener in. We've all grown as musicians and wanted to showcase it in our latest work. It's possible that we will have something to share soon."
Vatican + Heavens Die US tour dates
4/12 Charleston, SC – Cory's Grilled Cheese
4/13 Jacksonville, FL – Nighthawks
4/14 Decatur, AL – The Roach Motel
4/15 Baton Rouge, LA – 524 Studios
4/16 San Antonio, TX – The Guillotine
4/17 Bedford, TX – Central Arts of Bedford
4/18 Albuquerque, NM – The Warehouse
4/19 Mesa, AZ – The Underground ^
4/20 Fullerton, CA – Programme Skate and Sound *
4/21 Van Nuys, CA – White Oak *
4/22 San Jose, CA – Warehouse *
4/23 Portland, OR – Black Water Bar ^
4/24 Tacoma, WA – Real Art
4/25 Boise, ID – TBA
4/26 Salt Lake City, UT – The Underground
4/27 Las Vegas, NV – Dustin's House
4/28 Colorado Springs, CO – Black Sheep
4/29 Des Moines, IA – D Bags
4/30 Milwaukee, WI – JJ's
5/01 Toledo, OH – Ottowa Tavern
5/02 Louisville, KY – Spinellis
5/03 Greensboro, NC – New York Pizza
5/04 Baltimore, MD – Mosh Against Addiction
* with Old Wounds+Vamachara
^ with Old Wounds
Tagged: heavens die, vatican