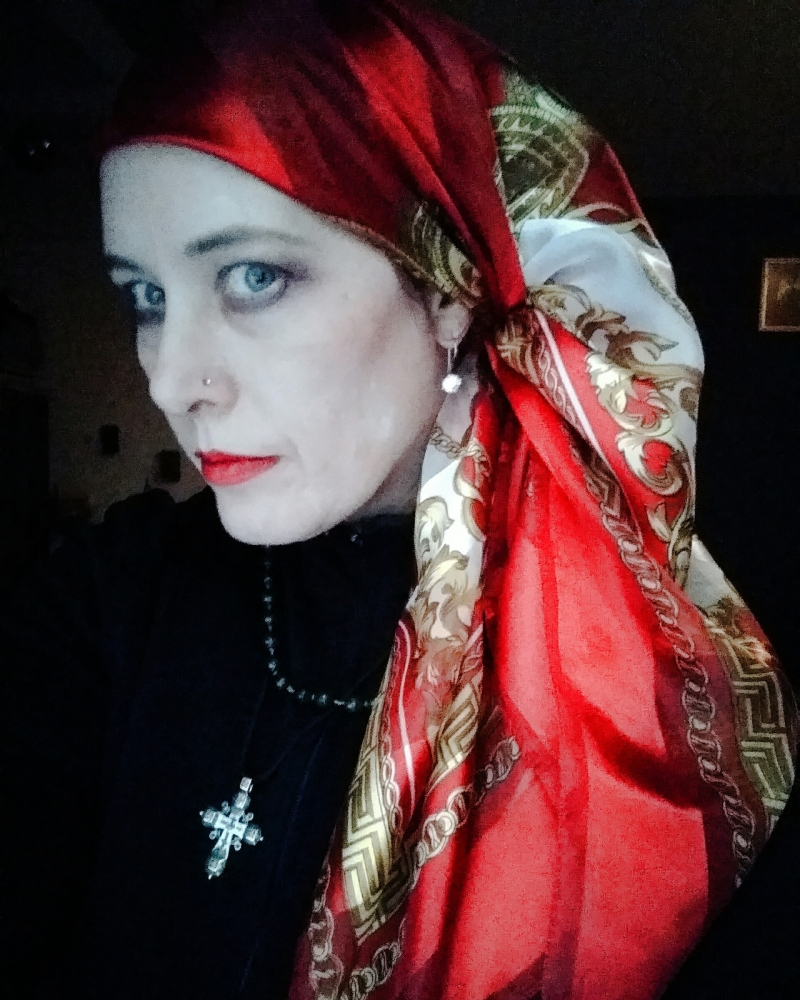 Photographer Christine Natanael has been part of the NYC underground music scene for decades. The Illinois native used to run Crusher Magazine and is close with many musicians from the NYHC community. Her candid shots of folks from such bands as Agnostic Front and Cro-Mags first caught my attention some years back, and I recently reached out to her to see if she would be cool with being part of the Photographer Spotlight series, and she luckily agreed.
Where were you born and raised, and were your parents into the arts?
I was born in Chicago Heights, IL. My parents were from the small towns of Park Forest and Crete, not far from Chicago Heights. My father was what we would now call "upwardly mobile." When he had an opportunity to make more money we would move. So, I lived in many places growing up: Joliet, Illinois; Gambrills, Maryland; Woodbridge, Virginia; Douglasville, Georgia and Charlotte, North Carolina. Once I was old enough I struck out on my own, first to Myrtle Beach, South Carolina then to New York City to pursue my dream of being a music photographer.
My parents have absolutely no background in the arts, however, my great a grandfather was a flautist with the Metropolitan Opera Orchestra. My first introduction to the arts was through music, beginning with playing the flute from fifth grade to ninth grade.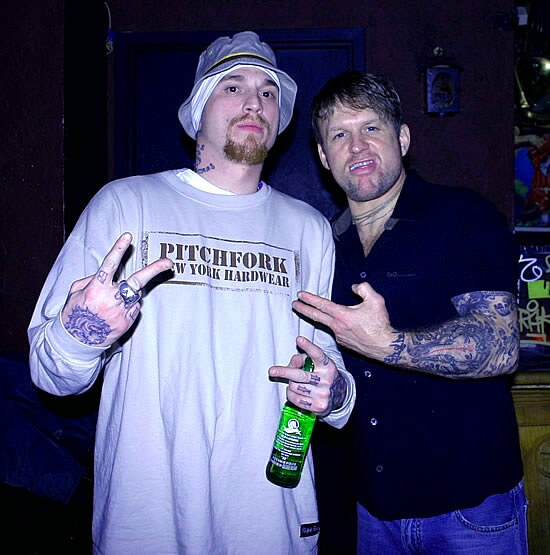 What came first, your love for music, or your love for photography?
My love of music was immediate. As a matter of fact, I initially had a dream of becoming a flautist in a major orchestra, following in the footsteps of my great grandfather, Louis Madonna. Parallel to that, I was enamoured with pop and rock music and loved singing along with the radio. In fact, I had great fantasies of becoming a professional singer. About as close to that I go to that was singing in the choir in junior high. It was when I was in ninth grade that I began purchasing my own albums. Back then they had these fabulous gatefold LPs. My friends and I spent many hours staring at these gatefold album covers as we pursued the ultimate buzz. I became fascinated by what I saw.
Who were some of the photographers you looked up to during your formative years?
The fantastical hand-painted images that were photographed for the covers coupled with both promotional posed shots and live shots of the band members stirred emotions in me. I began to try to imitate what I saw. In particular, some of the iconic shots of Led Zeppelin by Neal Preston, Henry Diltz, Eddie Kramer and Bob Gruen inspired me.
Before moving from South Carolina I contacted two photographers whom I admired: Richard Aaron and Bob Gruen. Of the two, Bob Gruen was more open and helpful than Aaron. That cemented my decision to move to New York instead of Los Angeles. Upon arriving in NYC, I met Gruen for the first time at party for a new magazine called Rock Photo at a local bar/restaurant in the Village called BeBop Cafe. At the party he introduced me to Bebe Buell and Brian Seltzer. It was an easy entré into the city's rock circles compared to the path some photographers take today.
A couple months later, Bob asked me to be his assistant. As I knew nothing of dark room procedures, I turned him down. I had no idea that here in NYC one did not have to be well versed in such things. I discovered later that to be an assistant was not much different than a secretarial job with the added dimension of helping the photographer during photo shoots. It was definitely an opportunity lost. It is one of my biggest career regrets.
What was your first musical love?
Wow. That is a very difficult question to answer. Being as I grew up listening to pop radio and watching TV variety shows my answers are definitely going to date me. It must have been about second grade when I really remember music capturing my attention. The Bee Gees were in high rotation on AM radio along with Five Man Electrical band's song "Signs." The Cowsills were big then, too, with their version of the title song from the musical Hair: The American Tribal Love-Rock Musical. The Partridge Family, The Osmonds, and Sonny & Cher were on TV with their variety shows and to a lesser agree, The Jackson 5.
I was fascinated not only with the music itself, but with the imagery of the album covers and the presentation on the TV shows. Of course at that age I knew nothing of the people behind the cameras on the TV. But, it was definitely the time I first became fascinated with music.
Later on, of course, I got into more adult things like Carly Simon's "You're So Vain." I wore that greatest hits album out. My dad was into the Fifth Dimension, Ray Coniff and his Orchestra, then Chicago, The Greatest Hits of the '60s (on 8-track tape), all kinds of late '60s/early to mid-'70s R&B and soul music. I remember watching The Beatles Hard Day's Night when it was first broadcast on television and my dad saying he preferred The Rolling Stones to The Beatles. I agreed with him on that. Junior high school saw me hanging out with my boyfriend in his music room making out to Elton John and Black Sabbath. A strange mix now that I think about it. My love of The Rolling Stones was definitely enhanced by my summertime boyfriend when I was 15. He was a hardcore fan of the band and owned every record they had put out. I fondly think of those make out sessions whenever I hear their early albums now.
Down South, the live shows were only at large coliseums and arena venues so we didn't ought every album we could find and often had the record store owner order import albums for us. Things that were popular at that time were early Mötley Crüe, Riot, Saxon, Queensryche's EP, Ozzy, Iron Maiden, Van Halen, early Anthrax, Lita Ford, and Aerosmith. We would stop at every grocery store and drug store looking for rock magazines and would spend hours reading them cover to cover. ,find.I spent hours not only reading the articles and looking at the photos, I was studying the format. I memorised the names of the writers and the photographers. I didn't have any reason to at the time, but that information came in handy once I got here.
Shelton Ivany, the Editor of Hit Parader magazine was the first person to take me seriously and to help me out with getting photo passes. The first place I got in with my camera was the old L'Amour in Bay Ridge, Brooklyn, New York. If I remember correctly, it was Armoured Saint, W.A.S.P., and Metallica. They played three nights straight. It was an amazing time to be in New York. L'Amour was like my second home. It was the place for heavy metal and hardcore compared to places like Limelight and Danceteria, which had more commercial bands if they had any at all. The Village was punk at CBGB, and seeing bands at the old Peppermint Lounge. Sadly, I was too late getting to NYC to go to the legendary clubs like Max's Kansas City and the Mudd Club. Still, L'Amour was where I first saw bands like Anvil and got to see the early incarnations of Carnivore and Biohazard.
Who were some of the photographers you looked up to during your formative years?
I would have to say that Bob Gruen was a great influence. His amazing shot of Tina Turner and his multiple photos of John Lennon and Led Zeppelin gave me an eye for composition.
Neal Preston's iconic photographs of Led Zeppelin were fascinating to me because of his stellar way of capturing movement andcapturing the rich colours of the stage lighting in relation to the movement of the band.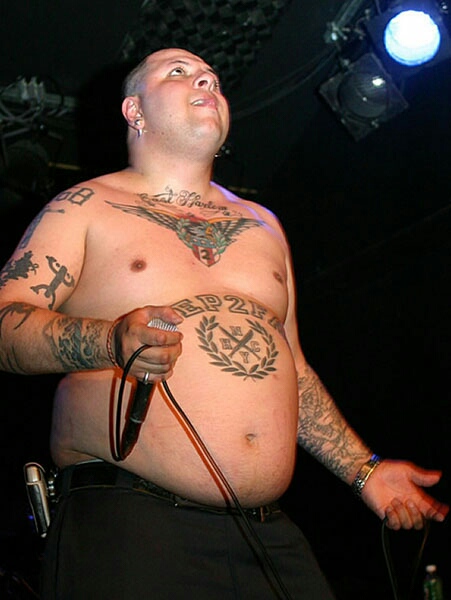 What is your camera and post set up?
When I first came to NYC in 1985 I was, obviously, shooting film. I had a Minolta 35mm SLR. I learned that the magazines only accepted photos shot using Kodachrome 25, which has rich reds. My preference for Ektachrome slide film kept me out of the running for that. Truthfully, I didn't mind because my first preference was to shoot using Tri-X Pan black and white film, pushing it to 1600 ISO to freeze the action. I was shooting it all on manual. When I was running my site, crushermagazine.com, shooting on film. I was getting a digital CD in order to transfer the images to the computer. It really became an issue. The turnaround time for posting an interview became too long. I was at the mercy of the developer, so I bought be Canon Rebel 5.6 MP off one of the photographers who contributed to the site since he was upgrading his equipment. You have to remember this was around 2004 or so and the equipment was not as advanced as it is now. That 5.6MP was sufficient for my needs. Most of my photos were shot with that 5.6 then edited using Fireworks and not Photoshop. Looking at them now, they still stand up. But my current cell phone has a 13MP. That is how far the format has come.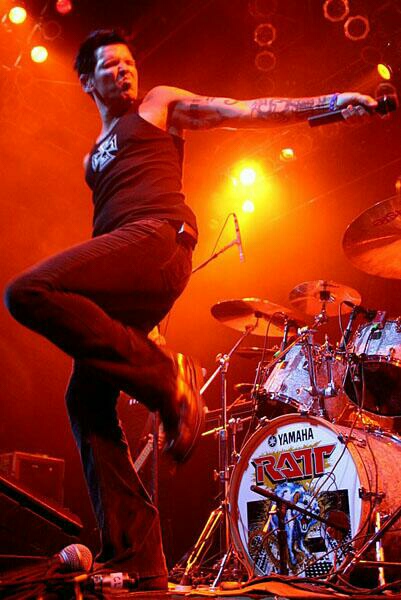 Who are some of your favorite bands to shoot?
My favourite bands to shoot? That is hard to say. Obviously, I have done a lot of work with New York bands. I have done a lot of work in the hardcore scene. I would have to say that I have the most fun and get treated with more respect by Hatebreed, Agnostic Front, Madball, and all the NYHC bands.
If you could go back in time, who are some bands that you would have loved to shoot?
Led Zeppelin, of course. The Black Crowes in their early days. Lynyrd Skynyrd. Early Van Halen. The Sex Pistols. Kraut. Deep Purple.
What are the toughest aspects to shooting live shows?
Watching out for the huge security guys who always seem to be in the way. Keeping from getting smacked in the head by the longer lenses of some of my male counterparts in the photo pit. Trying to get around both of them when there is only two feet between the stage and the security barrier. Trying to get a good photo when the stage is four feet high, (I am only 5'5") and not have it be a shot of the singer's crotch. Stage divers. Shooting when there is no barricade and the show is sold out.
Who are some modern-day photographers that you admire?
It is hard go pick just one. Frank White has been shooting for decades. As a matter of fact, I first met him in the photo pit at L'Amour in 1985 at the Armored Saint, W.A.S.P. and Metallica show in 1985. He's an all-around great guy. Eddie Malluk has a great body of work. Ross Halin does great work. Mark Weiss has a great catalog of work. All these guys I have known and worked with for a long time. They may not all be familiar names, but I guarantee that you have seen their work.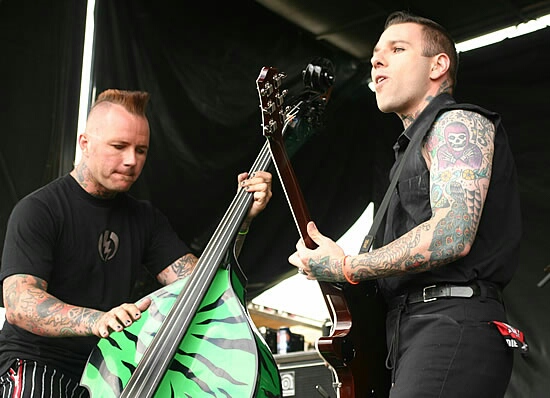 ***
Follow Christine on Instagram.
Tagged: photographer spotlight