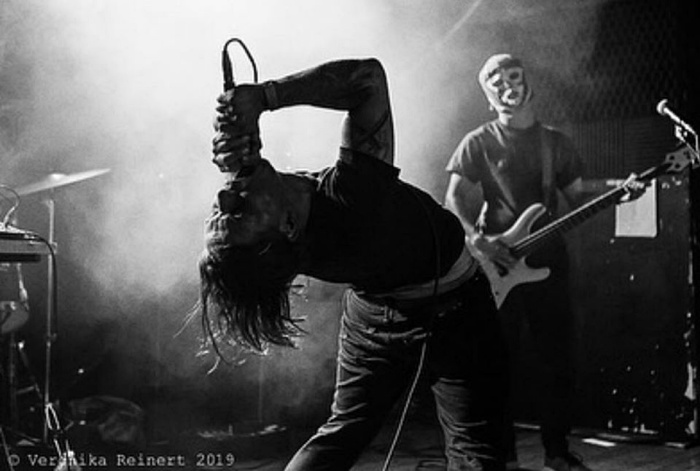 Heel Turn has been around for a few years, a successor project to Huntsville, Alabama's Dead Heroes. Their debut release, Territories (2018), was an evolutionary step from Dead Heroes, but with an added vintage wrestling theme. When I caught their live set for the first time, their merch featured wrestlers Mankind and the tag team Harlem Heat. I was blown away by their live act, which included Lucha masks and an array of wild electronic noise-making gear.
I am still setting the scene for this review/premiere. Tourist (Noise) is unique.
Heel Turn's songs are crushing. The best way I can describe the cuts would be Baader Brains and Cursed riffs mixed with Canadian self-aware horror movie soundrack score, plus ring modulator racket. It works. It's like what all those pretentious arty bands I watched years ago at Mr. T's Bowl were failing to do.. This is not poseur shit. It is scary; It is gorgeous; and it is genuine.

SInce initially seeing them, my band has played a few shows with them and we have become friends. However, one thing their live show brings that is unmistakably lacking from their first three releases is the "noise" portion. "Noise" makes one think of Spacewurm or Faust, and its not like that. The noise portions are melodic movements that alloy with Heel Turn's heavy riffs into a truly emotional experience.
Tourist (Noise) is comprised of the parts of Heel Turn's live set that is not the songs. It is, and the band agrees with this assessment, a noise record. However, it is an inspiring collection of movements on two counts. On one hand, Tourist (Noise) is the kind of album you listen to when you draw or paint and need inspiration. On the other hand, the record is an inspiring stab taken at something hardcore-adjacent this is completely out of the norm.
I would definitely recommend this Tourist (Noise) to all No Echo readers. Also, the members of Heel Turn are intensely funny, working class, Alabamians with progressive positions. Go check them out if they play near you. You will not be disappointed with their live set, nor them personally.
Download/stream Tourist (Noise) on Heel Turn's Bandcamp page.
Tagged: heel turn