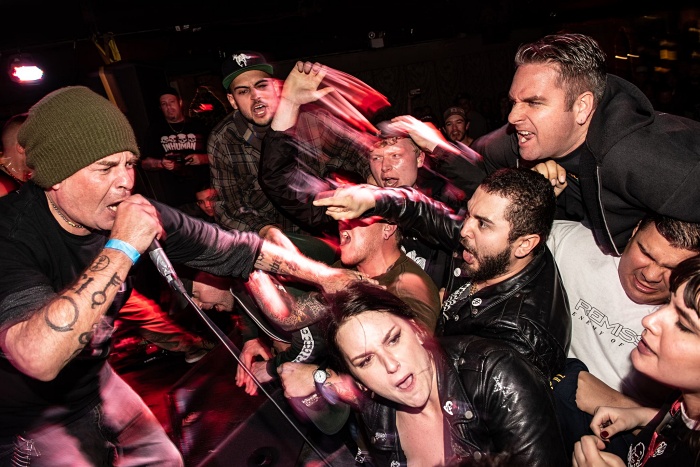 I've said it before, but I don't mind telling you again that Outburst's Miles to Go 7" had a huge impact on my 14-year-old self when it came out in 1989. The NYHC band never released a proper full-length during their initial run together, but the influence Outburst continues to have on the hardcore scene only speaks volumes about the strength of the material on their sole EP.
Blackout Records! have just put together an expanded vinyl reissue of Miles to Go and to further illustrate my comment above about the group's influence, the label is also releasing Hot Shit Attitude: The Outburst Covers Record. The record features such No Echo-approved groups as Higher Power, Wild Side, and Power Trip checking in with their versions of some of Outburst's best tracks.
Another component of the massive Outburst reissue and compilation project is a new 3-part documentary on Miles to Go and the band's history directed by Darren Nanos (Outskirts, Born Sinner). In this No Echo exclusive, you can check out the second chapter of the series:
Order your copies of the Miles to Go expanded reissue and the Hot Shit Attitude covers compilation at this link. Lastly, you can check out an informercial for the compilation on YouTube.
Hot Shit Attitude: The Outburst Covers Record track list:
"When Things Go Wrong" - Power Trip
"Misunderstood" - Higher Power
"SGI /Mission Impossible" - Wild Side
"Miles to Go" - Initiate
"No Choice" - Fury
"Think for Yourself" - Krimewatch
"Outburst (Intro)" - Wild Side
"Thin Ice" - Search
"The Hardway" - Mizery
"Learn to Care" - Stand Off
"Controlled" - Big Boss
"True" - Outskirts
***
Donate a few bucks to help with No Echo's operating costs:
Tagged: outburst