I first became aware of D. Garcerán via his bass work in the ferocious hardcore band, Ultra. Though that band has since broken up, the Spaniard is currently singing in Nueva Fuerza, a killer hardcore band I featured on No Echo last year. It turns out that David is also a photographer who is also behind Contrafotografía, a small press publishing photo zines from various contributors.
In this new Photographer Spotlight, we highlight David's entry into punk music and his coverage of the underground music scene.
Where were you born and raised, and were your parents into the arts?
I born in a small city called Castelldefels, and I grew up in the suburbs of Barcelona, in a city called Gavà. My mom loves to go to museums, read and listen to music, so I guess she introduced me into that world through her influence. When I wanted to have a keyboard or a guitar they were a bit skeptical, so it took me a long time to get my first instrument (a guitar), but when they saw I was really into it they always supported me on everything I did after that, photography included.
What was your first musical love?
Green Day, for sure. I didn't have Internet until I was 12, but the first thing I did when my parents bought a router was to download a P2P software and get all the Green Day stuff. After that I got into many different styles, but bands like Eskorbuto or Kortatu always have been there. My parents had lots of pirate cassettes with some of these bands in them. I used to look for the word "punk" on the P2P sites and download everything that appeared there. That's also why I had that NOFX era [laughs].
What is your camera and post set up?
I use a Canon A1. I traveled to Japan a few months ago and I got there a second hand Sony A6500 for a very "cheap" price (thank you again Shogo!), I'm starting to experiment with digital a bit, but I still shoot with the Canon. Sometimes I also take pictures with a Nikon EF300 because is a point and shoot camera that is really easy to use, but I never like the pictures I take with it, I should get a better one haha I found it next to a lake in Teruel when I was 7 or 8, it was my first camera and it's still there with me. The film I use is Kodak Tri-X 400 or Ilford HP5, and my most used developers are Ilfosol 3 and D76.
Who are some of your favorite bands to shoot?
I used to love Pesadilla, all the pictures would look good with them! Belgrado have a really good style and they don't move too much so it's easy to get good pictures of them while enjoying a great set. Probably Fatamorgana is the same. Also when I was on tour with Ultra in Japan we played a few times with Skizophrenia, which was amazing, they are very photogenic and a very good band. Unfortunately there aren't many shows or bands in Barcelona, so I don't use to have the pleasure to take pictures of the same band for many times. Vexx, Muro, Haram, Exit Order, and La Misma were great bands to shoot when they came here. This January I took some pictures of Nosferatu in Austin that I really like a lot too!
If you could go back in time, who are some bands that you would have loved to shoot?
Eskorbuto and GRB! Shit S.A. pictures also look crazy, probably it would have been a good one too. But I would love to take pictures of Iosu Expósito, there's a little documentary or interview of him talking about the problem of the heroin of those years in Spain in a perfect landscape. I wish I could be there to know him and take pictures in that exact moment. He seems a very interesting person and I love his music.
Is it getting tougher to carve a space out at venues since there are so many people shooting these days? How do you feel about that?
I just don't take pictures (or I do it for a very short time) when there are many photographers. I have enough experience to find my space in the worst conditions, but I just don't like that. I'm concerned about people not moving in shows and taking pictures or videos instead. I like to leave my camera in a side and dance a bit. I don't care if my camera gets stepped on, if someones breaks it... Those things are secondary, the most important part of the show is what's happening in front of you, the band that's playing. I prefer to enjoy the show rather than taking pictures. Recently I got to think that I just take pictures because other way the shows would be boring for me (cause everybody is sipping their beer and get mad if you dance).
Tell me about some newer bands that we should all be on the lookout for.
The other day I saw Mínima and Irreal and I really liked that show. Also La Llàgrima, Lux, and Fatamorgana are really cool.
Who are some modern-day photographers that you admire?
Miguel Martín is the biggest nerd of analog photography and I love it, he is really good, you all should check him out. Fidel has been there forever taking pictures, his archive of the Spanish punk scene is impressive. There are some photographers who I like a lot too: Simon Marsham, Mendi Dakic, Simon Parris, Lloyd Clipston, Isabel O'Toole, Jaime Salazar, Melina Lautenschläger, Andreia Lemos, Kenta Nakano, Marc Pancorbo... I would love to spend lots of time with all these people. Also I like what people like Angela Owens or Farrah Skeiky have done, we probably have a very different style, but they did a lot for hardcore and punk taking good pictures, which is something we all probably would like to achieve.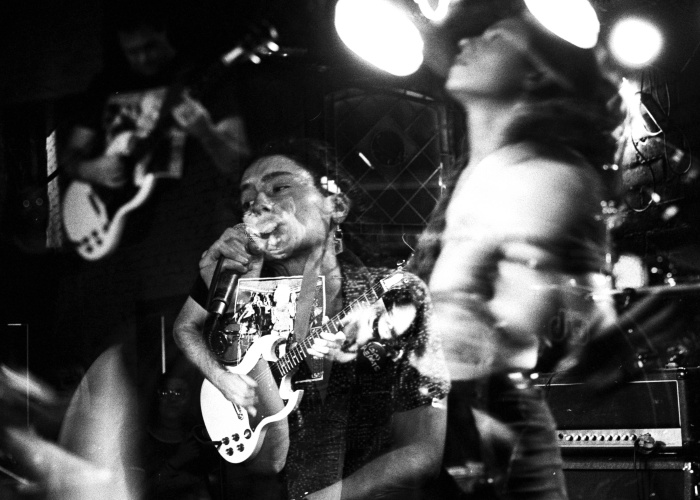 If you had to pick one of your photos that best encapsulates why you love shooting bands/artists, which one would it be and why?
I like the picture of Satélite that I took in Barcelona in a street show called Caos A Gracia that happens every year in mid August. Probably one of my favorite things of this city. You only see the singer in the middle of a sea of heads looking at her. The decorations of the summer festival of the Gracia neighborhood are there, it reminds me of these perfect summer days in Barcelona, spending the time with my friends and at the beach, enjoying the show with no stress. Even being in black and white I feel it as a very colorful picture. It was the cover of my first photo zine! I love to take pictures at shows because I help documenting this scene but I also keep very good memories in all of them.
***
See more of D's work on both his photo website and Instagram page. If you fancy photo zines, check this out.
Tagged: photographer spotlight