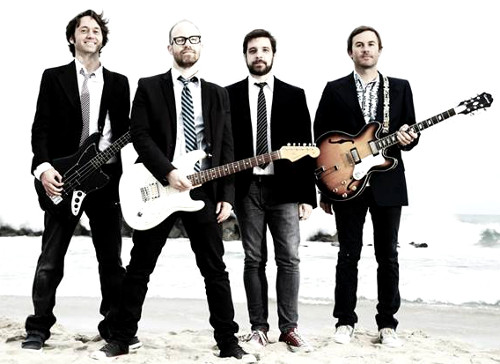 I first fell in love with Bill McShane's songs in the late '90s, when I heard Electric Kissing Parties, the first album from his former band, Ultimate Fakebook. The Kansas group's hook-driven power pop was a breath of fresh air at the time since I was still touring in a powerviolence band, playing shows with acts that had more in common with Napalm Death than Badfinger. Ultimate Fakebook ended up signing to a major label at one point, but commercial success eluded them. I followed the power trio 'til their breakup in 2003, after releasing three studio albums and one EP.
After Ultimate Fakebook went their separate ways, McShane dropped out of sight. I kept his songs in rotation via playlists and mix CDs in the years that followed, but I always wondered why McShane didn't keep releasing music, whether it was in a band, or as a solo artist. This was a guy with an obvious gift for songwriting, and for a time, I just figured he was another major label casualty, burnt out by all of the crap that comes along with that.
Just about a month or two ago, I Googled "Bill McShane" to see if he was up to anything new on the music front. I was suprised to find out that, like me, he was now based in Los Angeles. I was even more surprised to see that he was currently fronting a new band, The Pride of Erie, PA. Also featuring former members of Motion City Soundtrack and Limbeck, The Pride of Erie, PA's 2013 EP, Let's Start a Band, continues the fine pop tradition of McShane's work in Ultimate Fakebook, but with a hint of Merseybeat to it.
I recently had the pleasure of chatting with McShane about his time in Ultimate Fakebook and his current work with The Pride of Erie, PA.
Did you grow up in Kansas?
Yes, I grew up in a small town with a population of about 3,500 called Beloit.
What was your first musical obsession as a kid?
One of my earliest memories was loving the song "Rhinestone Cowboy." I think my sisters had it on a 45 and I would play it over and over. I loved pop songs on the radio, and things started getting serious once I became, like you said, obsessed with the song "Xanadu," by Olivia Newton-John. Then, when I was 10, I heard "Purple Rain," and it blew my mind, and I listened to that tape so much it literally broke.
How did Ultimate Fakebook get started?
UFB started as a four-piece band in Manhattan, Kansas, probably about 1993 or 1994. I played guitar, Nick [Colby] played bass, our friend Möt played drums, and our other friend Jeremy played guitar and sang lead vocals. We made an EP and self-released it in record stores around town on tape. We sounded nothing like the three-piece version of UFB, we were like a cross between Mudhoney, Sonic Youth and Pearl Jam, or something; screaming vocals and dissonant guitars. Then the singer left, and since we had already booked studio time to make a new demo, I decided to try and sing. Nick and I had been wanting to go into a more pop direction since we'd been listening to a lot of Guided by Voices and Superdrag, stuff like that. We gave it a go as a three-piece. Not long after that, our drummer was always quitting and coming back, and he really wanted to be in a straight up metal band anyway, so we ended up asking Eric [Melin] to join our band, as his band in Manhattan, Truck Stop Love, had just broken up.
I remember playing your first album, Electric Kissing Parties, all the time, but it was already out about two years by that time. Did you guys have a huge local following around the time of that record?
Yeah, we actually started to fill the rock clubs in Kansas right around that time. We would put on these big CD release parties and stuff where we went all out and made them into an event. For one of them our friends made a huge game show wheel that we put on stage so the crowd could spin it to see which song we would play. Electric Kissing Parties was really well received by the local press too, which was really cool and completely unexpected. They had a local music awards show back in those days in Kansas City, and the year that record came out it was voted Best Album, Best Song ("Far Far Away"), and we also won Band of the Year and one other award I can't remember at the moment!
So yeah, for Nick and I especially, since we both came from a small town in Beloit that had absolutely no music scene, to move to Manhattan, which was a college town and huge to us, to make our own music and have people start coming out on weeknights to see us play, while we worked at Subway during the day—that was something we will never take for granted. It was so wild the way we seemed to make a connection with people. It was definitely not something I ever imagined would happen when I was writing those songs about Star Wars and roller skating!
Your second album, This Will Be Laughing Week, got picked up by the folks at 550 Music, which was an imprint at Epic Records at the time. How did that end up happening? Did you feel like you had the jackpot or were you weary about signing with a major label?
Well, after the first record was such a local success, we just kept going full speed and tried to play out to more and more cities. Eventually we made it out to New York, where we met the people who became our managers, one of whom was actually originally from Lawrence, Kansas. He was working at Matador Records at the time and started shopping This Will Be Laughing Week around. We had just recorded it in Kansas like the first one, and it was released on the same indie label as Electric Kissing Parties was, Noisome Records, but it only had distro in the Midwest.
We made that record with the hopes of it getting released on a bigger label at some point, and once our managers started shopping it around, it wasn't really that long until we had the interest from Sony. We actually had a few other big indie labels interested as well, but we all agreed that our music was designed to be radio friendly, and we had all grown up dreaming of being signed to a major label, so for us it was definitely like hitting the jackpot. At the same time, we knew full well that the only way we would be able to stay on the label was if we had a hit song. But since we had seen firsthand that our music was connecting with people at our shows, and that some of the songs were becoming "hits" in our fan base—we felt like it was more than worth taking the risk. The guy who signed us to Sony also had signed Ben Folds Five, and we loved how their career was being handled, so we felt like this opportunity was as good as we could hope for. We have absolutely no regrets about it.
I remember seeing Ultimate Fakebook play a show with Reggie and the Full Effect and Hot Rod Circuit at the Wetlands in NYC sometime around that time. How supportive was the label of the band at that point?
They were very supportive at that time, in the sense that yes they definitely gave us tour support, and not only that, they allowed us to continue to play these all ages, punk rock style shows and allowed us to keep our long time booking agent, who by that point was a great and dear friend of ours. We were always afraid they would try to stick us out on tour with a cheesy modern rock band, but that didn't happen. For the time we were on the label, they definitely let us be ourselves.
What ended up happening with the 550 deal?
Basically, the record came out, and it actually did fairly well at college radio. Our single, "Tell Me What You Want," got added to the rotation in about 60 cities. That was not bad for a band coming out of nowhere. But, as is the case with a lot of small bands, the label didn't necessarily make a huge push on the record like they would with a much more known band, and even though there was a growing interest in our band, we didn't really sell any records in stores to anyone other than our existing fans. The thing is, the label and us both talked all the time about how we knew that this would likely be the way things played out. The plan would be to keep building things on a grassroots level, building buzz with this re-release of our indie record, and then hit the studio and make a big major label record. We had paid for the first record out of our own pocket anyway. Our goal was to make at least one major label record in a big studio somewhere. So once we got home from tour, they paid for us to demo a bunch of new songs. My guess is that some higher-ups didn't hear a single, and even though our A&R guy and many at the label would have loved to develop the songs with us and keep working on making a great follow-up, the reality of the lack of sales made the inevitable happen, and we were dropped unceremoniously, having only had one chance to demo new stuff.
You guys ended up making the album Open Up and Say "Awesome" for Initial Records, and then an EP called Before We Spark, before going your separate ways. What happened?
Well that's just it, we never stopped to take even the slightest break—right after getting dropped by Sony we just went back on the road, and only came home really to record new stuff. The one good thing about being dropped was we were essentially bought out of our contract, so we had some money to live off of for a while, and we actually bought a new touring van with cash. But I think in retrospect we all agree that the constant touring is what burned us out creatively and physically. At least me for sure, and as the main songwriter, that meant the end of the band. Nick and Eric were understandably upset, and I think they would have liked to find a way to just take a breather, and then get back at it, but me and J.D. [Warnock], who was our fourth member at that time, both were just done and needed a serious change.
What did you do, musically speaking, in the years between the Ultimate Fakebook breakup and starting The Pride of Erie PA?
Musically speaking, I did almost nothing. It was like a bad breakup (not with Nick and Eric... but with me and music in general) where I just needed to go 180 degrees in the other direction. I had no interest whatsoever in trying to play live in a band for the foreseeable future, even though I knew I would always love music as much as anyone can, it's pretty much my religion. But I had no interest in trying to make music a career again at that point. I now can see that it had meant so much to me, it was all I had ever wanted, and the burnout and exhaustion had just pretty much left me stunned and not wanting to create new music. But I kinda always knew that wouldn't last forever.
Tell me about the genesis of The Pride of Erie PA. I'm assuming you guys knew each other through playing shows together in your previous bands.
Yeah, exactly. Motion City Soundtrack are friends of ours who actually started out as dudes we knew who came to our shows, then we toured together, so that's how I know Tony [Thaxton]. And Limbeck was one of the first bands UFB played with in Orange County, they are all super great guys and we became friends with them and played together a bunch, too. So I moved to LA after the UFB breakup, and then Tony moved here a few years after that. So we would hang out and talk about playing '80s songs for fun and stuff. Then, somehow, that morphed into, "Hey, I have a few songs, wanna jam with me on them?" I knew it would only be a matter of time, and sure enough around 2011 or so I got the writing bug again. I didn't exactly want to make music as a solo artist or anything though, so jamming with Tony for fun gave me the idea to create a new "side project" band that was only for recording and playing LA. We then asked Pat [Carrie] to play guitar and our friend Mike Phirman to play bass at first, and now we have our friend and our producer Frankie Siragusa on bass. So we don't plan on touring or anything, just the occasional LA show for fun.
I know people hate the genre tag "power pop," but I freely use it. I sent a link to your EP on iTunes to a friend with the following: "Here's some new power pop that will be up your alley." He loved it and downloaded it. Do you hate the term?
No, man, I love that tag! I'll take power pop any day of the week! All the bands that UFB listened to in the van and drew inspiration from were power pop bands like The Raspberries, Sloan, Cheap Trick, Big Star. We always got labeled as "emo" since we mostly played all ages shows and got our first big tours with The Get Up Kids. But we always felt like power pop!
There's a song on the EP called "Can't Stop Falling in Love" that I think could be a big hit if it got in the hands of the right pop singer. Have you ever considered taking the Butch Walker route and writing for other artists?
Oh, wow, thank you! I really appreciate that and take it as a huge compliment. Yeah, I would totally be down with that. I actually signed a co-publishing deal last year as sort of a staff writer for a publishing company so who knows, something like that may happen someday! I love writing pop songs, so something like that would be really cool.
I noticed on your Facebook page that you're recording an album right now. When can we expect to hear it and are you shopping it to labels once it's done?
Yes, I'm not really sure when it's going to come out, but I would guess before the end of the year. Definitely before the new Star Wars hits theaters! Right now we are just focused on making it, so once we hear it, we'll see what we think we can do with it.
Outside of the band, you work as a video editor. What can you tell me about that?
Yeah, I work as a trailer editor at a really cool company in Burbank, California called mOcean. We work on huge studio films, so it's pretty much a dream job. When I knew I didn't want to tour anymore for a living, I knew I didn't want to do something music-based either, I craved a change of pace. So I asked myself, what would be a kick ass job other than rock 'n' roller? And I thought, a trailer editor... that sounds pretty cool! And it is.
What's the status of Ultimate Fakebook?
For UFB, the wound has healed as far as our breakup, and we have all remained close friends ever since. So now when someone asks us to play a reunion show or something, if we can make our schedules work, we are totally up for it. Our feeling is, if there are still people who care about our songs and want to still come see us play them live, we would be complete assholes not to want to do it. It is so much fun now when we do reunion shows, and it's kind of like a big family reunion between us and our amazing fans. So we are just having fun with anything new we do with UFB.
What are your 5 desert island albums?
Okay... The Cure - Disintegration, The Sundays - Blind, The Beatles (The White Album), The Afghan Whigs - 1965, Jellyfish - Bellybutton.