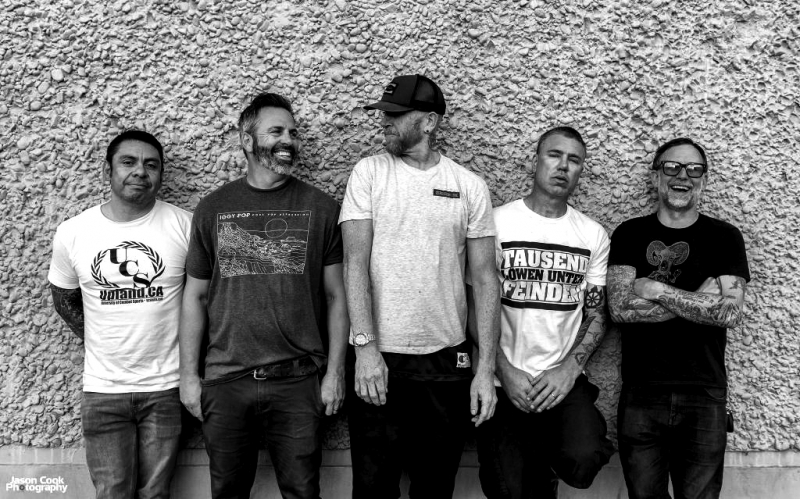 "I found punk rock at the beginning of the '80s because it spoke the language of questioning much about American society, and often rejecting the ideals of the status quo," says Lance Webber, an Orange County, CA music scene lifer who fronted the underrated post-hardcore outfit Man Will Surrender. The vocalist recently combined his talents with Joe D. Foster (Unity, Ignite, Speak 714), John Coyle (Outspoken, Kill the Messenger), John Lorey (Unity, Blood Days), and Danny Baeza (Outward Stroke, Grave for the Butterflies) in LastLight, a band I've been excited about lately.
The melodic hardcore quintet will soon be issuing their debut EP, Exploding Antennae, via Unity Worldwide Records, a new label co-owned by German-based hardcore scene veteran, Billy Sven Guenther, and LastLight's guitarist, Joe. No Echo is proud to partner with LastLight to bring you the exclusive premiere of "Dashed Lines," a track from the forthcoming EP.
"The song 'Dashed Lines' is about something simple: Always growing," Lance tells me. "It's about looking around and taking in new experiences while not forgetting one's roots. The song idea stemmed from recalling the punk rock and hardcore scenes of my youth, while more recently exposing myself to the current local scenes. More specifically, I observed some of my old friends over the past few years who never outgrew the punk rock persona of the early years, or its traditional ideas, styles, and attitude ("It's all live shots and the same font"). Bless their souls for never letting the torch burn out, but my experience eventually needed something a bit more visceral, diverse and vital."
It turns out that "Dashed Lines" also helped Lance realize something even deeper within him. "While writing the song's straight-forward vocal narrative, I honestly found exception in my own critique; the scene still brings me back together with some of these folks who are dear to me. In this lives my own personal, romantic contradiction. Although I inevitably still had another dynamic to my experiences, both musically and culturally ("Your friends look back as they leave you in this grade school world").
I experienced a new take on this at our first show singing with Lastlight, were I ran into numerous people from my past who have lived colorful lives still sticking around the scene, but not being solely defined by it. I think this song represents where I am right now in this band: my moving forward musically with a taste of my punk past combined with my musical experiences since, all wrapped up into one fun, rewarding band."
LastLight will be heading out for the European Unity Tour with Tausend Lowen Unter Feinden starting on September 15. The band will be selling a limited edition colored vinyl tour 7", along with the band's numbered and limited new EP, which will only be available on this run.
Tour dates:
Sept 15, Germany: Leipzig - Conne Island
Sept 16, Germany: Immenhausen - Akku
Sept 17, Germany: Weinheim - Cafe Central
Sept 18, Germany: Munich - Unter Deck
Sept 19, Austria: Vienna - Metal Escape Corner
Sept 20, CH: Bremgarten - Taratata
Sept 21, Germany: Krefeld - Magnapop
Sept 22, Germany: Hamburg - Gangviertel
Sept 23, Germany: Alfeld - Alfeld Rockt Cafe
Sept 24, Germany: Berlin - Wild At Heart
Follow LastLight on Instagram, as well as Unity Worldwide Records.
Tagged: lastlight