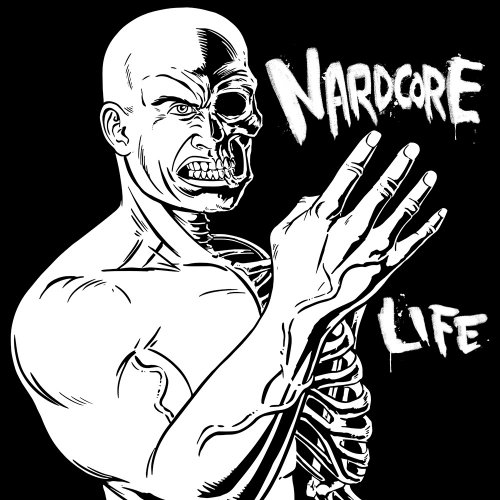 Earlier this month, the Nardcore for Life compilation LP was officially released on vinyl and digital formats by Indecision Records. The LP features 24 bands doing new and exclusive tracks for the collection, and the digital format features an additional 12 bands. The compilation format is crucial to the history of punk and hardcore, and Nardcore is no stranger to it.
Inspired by seminal hardcore compilation LPs This is Boston Not L.A. and Flex Your Head, Tony Cortez of Ill Repute curated the original Nardcore compilation for Mystic Records in 1984.
Although the term Nardcore, coined by Ismael Hernandez of Dr. Know, is a mashing of Oxnard and hardcore, the compilation showcased bands stretching from Simi Valley (Scared Straight) to Santa Barbara County (Rich Kids on LSD). It was a testament to the area's creativity and sonic diversity.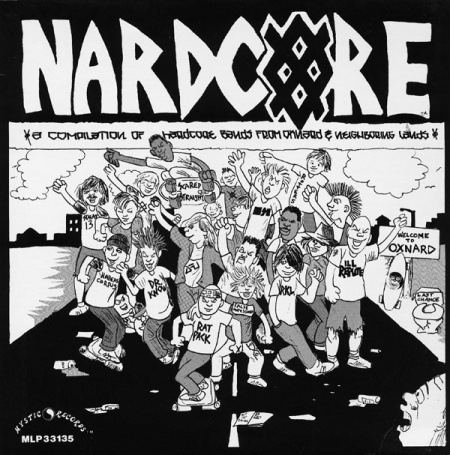 Stalag 13 was rocking a DC-inspired style through a California lense. Ill Repute were playing blistering hardcore, while staying catchy and infectious. Dr. Know was punishing — pioneering a style that leaned into Venom as much as it did Discharge. The compilation also featured veterans Agression and the Rotters, as well as younger bands like Habeus Corpus. Nardcore was on the map.
The record and the bands on it inspired the next generation. Scene veteran, Joe Rivas, explains, "I found the 1984 Nardcore comp in 1985. The bands blew my mind and it just solidified to me and my friends that we wanted to be a part of this scene that was literally all around us. This record is the companion volume and legend/key to our scene. It was a focal point of the effort of those early Nardcore bands and the blueprint for all bands to come."
Rivas' generation would be immortalized on the Localism compilation that was released in 1996 by Fred Hammer on It's Alive Records, which could have easily been titled Nardcore 2. His band Burning Dog, along with peers Clenched Fist, present two of the best songs on the album.
The compilation also featured young upstarts, No Motiv, as well as veterans Stalag (dropping the 13 from the name) and Ill Repute.
Rivas continues, "The 1996 Localism comp on It's Alive Records was my first opportunity to contribute to the new companion volume. The scene had changed some. Some of the hard edges were worn down, but the meaning and the soul on this one were the same. The 2009 Nardcore 30 Years Later comp. on Burning Tree provided next volume."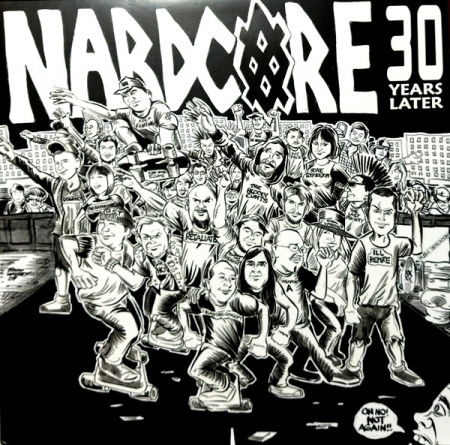 As Rivas mentioned, Tony Cortez would jump back into the comp fray in 2009, working with Burning Tree Records to release the Nardcore 30 Years Later LP. It featured the old guard of Ill Repute, Rat Pack, and Dr. Know, along with some strong bands of that era like Total Resistance, the Fucking Wrath, and Blasting Concept. The third LP compilation documenting Nardcore was complete.
By most accounts, 2019 was one of the best years ever for the Nardcore scene. Four generations of bands were firing on all cylinders and shows were happening every week. It was the perfect time to document the scene again. Rivas, whose current band, Out of Trust, appears, on the compilation, continues, "With this 2020 Nardcore for Life comp. on Indecision Records, volume four is here.
"This record truly is a representation of Nardcore from its roots in the late '70s. All the bands, the people, the shows, the artists, the photographers. All of our tradition. All that is Nardcore — it's all captured here. Musically diverse, and yet a common feel throughout."
Stuard Duke Wilson, of the band Omega Point and one of the producers of the new compilation elaborates "The Nardcore for Life compilation is the perfect representation of what is going on in Oxnard these past couple years, with multiple shows every week, an array of places to play, and all generations of Nardcore rocking together at once.
"The time is best now. Shit is just on point in every aspect of the scene and I am fortunate to be involved in a faction of dudes who drop killer tracks only."
The man who coined "Nardcore," Ismael Hernandez of Dr. Know and False Confession continues, "The Nardcore for Life comp. is insanely cool. Big variety of great bands and a lot of different sounds. I especially dig the young bands that are getting weird and sound like they're about to go off the rails and pull it back the last minute. Great stuff."
While Ismael is a Nardcore legend, the comp also features the future generation he refers to, including stand out band Civil Conflict. Their 15-year-old drummer, David Stalworth, chimes in, "This comp. is amazing and it's truly an honor to play alongside these killer bands."
One of Nardcore's most popular bands, Dead Heat, laid down a new track for the comp as well. Guitarist Anthony Tejeda states, "I'll say that this comp. captures what most comps. don't and that's the local heart, passion, aggression, and Nard unity. From different styles like rock 'n' roll, to death metal, to punk, to hardcore, I'm glad to be a part of it."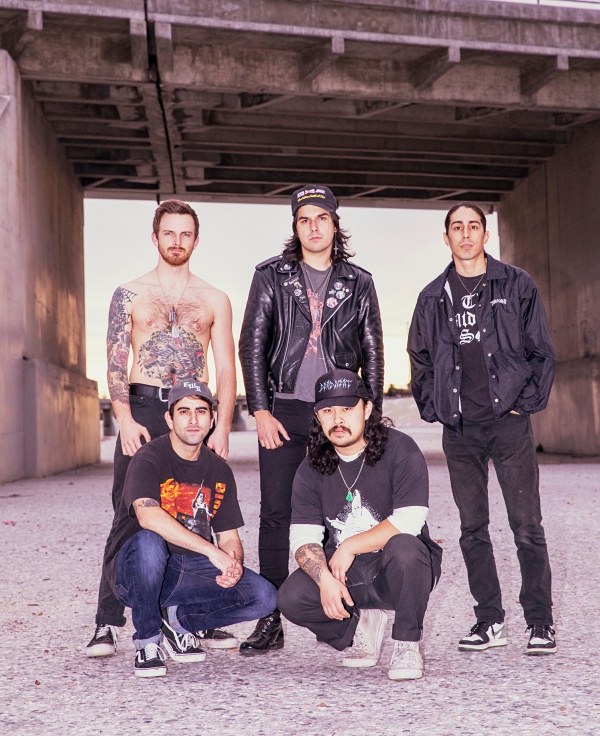 John Glue, of Nails fame, also plays for Char-Man which is featured on the comp. He says, "It is awesome to be included on the Nardcore 4 Life comp with such a great and diverse group of bands, friends new and old, and to be part of the rich legacy of Nardcore.
"I remember seeing Retaliate at Casa de la Raza in 2006 at one of my first hardcore shows. I thought this is the heaviest shit I have ever seen (coming from someone that only listened to The Who at the time). So it's especially cool to be on the same piece of vinyl as Retaliate."
Roger Camero, of the aforementioned Retaliate and No Motiv, chimes in, "Nardcore 4 Life is a true labor of love, birthed from a music scene built on friendships that have spanned decades, dating back to the late '70s.
"I was lucky to have friends like Joe Rivas, John Crerar, Zack Nelson, Armand John Anthony, and Pat Pedraza help me find my place in the Nardcore scene as a young teenager growing up in Oxnard. I've since spent over half my life with them contributing whatever we can to the music scene we hold so dear.
"Nardcore for Life is a true timestamp of a crucial era of Nardcore. It's been an unforgettable experience and a true privilege to be a part of this scene as a band member and as a recording engineer In the journey that Nardcore has taken throughout the past 20 plus years."
Fred Hammer of It's Alive states, "The Nardcore for Life compilation LP makes Oxnard, California proud once again by showcasing new and old talent, proving once again that Nardcore can never be stopped."
John Crerar may be the MVP on the compilation, playing in three bands: Stalag 13, Detoxi, and Dad Brains. He says, "The 805's unique multi-generational scene is showcased well on the comp. While it may not capture every band that's playing right now, it does a great job in showcasing the bands that are really trying, putting out records, touring & playing/putting on shows (well at least before March).
"The bands don't all sound the same, which is a good thing and I'm proud to have three of my bands featured on the comp. If you would have told me 30+ years ago when I started going to shows that I'd have a band on a new Nardcore comp. in 2020, I would never have believed it. I would have figured I'd be dead by then!"
Crerar and Nardcore are both alive and well.
***
Pick up a copy of the Nardcore 4 Life compilation directly from Indecision Records. If you prefere digital, hit the Bandcamp link.
Nardcore 4 Life track listing:
1. Ill Repute – Dead Horses
2. In Control – In My Town
3. False Confession – Plague
4. 3 Day Holocaust – Built to Last
5. Stalag 13 – I Don't Need It
6. Dead Heat – Know More Pain
7. Omega Point – The Game
8. Railer – We Are the Grem
9. Out of Trust – Title Track
10. Combat Shock – Deconstruction
11. Dad Brains – Dad Brains Crew
12. Detoxi – Corpse Window
13. Retaliate – The Real Enemy
14. Char-Man – Bitter End
15. No Motiv – Archangel
16. Sordo – Glove Flavored
17. Minus – Bonded
18. Slowbleed – Trust
19. Downpresser – Where The Glory Lies (In Control)
20. Civil Conflict – No Way Out
21. Flyswatter – Por Vida
22. Malice Thoughts – Fuck Tomorrow
23. Ill Communication – Protect Ya Sect
24. The Robot Uprising – Last Shot
Digital Only Tracks
25. Keep Fighting - On The Surface
26. Dr. Know - Idol Construction
27. Prying Eyes - Cousin Of Death
28. Bare Minumum - Flatline
29. iDecline - Lack Of Communication
30. Brain Vat - Battle Fiend
31. Goat Rhythm - Last Time Flying
32. Ghetto Blaster - Diet Of Lies
33. Truce - Movements Through Numbness
34. The Hell Toupees - Fall Of Home
35. Nothing Special - Violence And Pride
36. He Fails Me - Dear John Letter (Agression)
***
Donate a few bucks to help with No Echo's operating costs:
***