No Echo has been doing a great job at covering international hardcore music.
When I checked out Sunfall, I realized it was a perfect opportunity to do my part, and expose this great band to you guys. The members are literally from all over the world and have never actually been in the same room together!
Introduce yourselves to the No Echo community.
Daan: My name is Daan Pleunis from The Netherlands.

David: I am David. I live in Canada and sing in Sunfall.

Kirill: I am Kirill, originally from Russia, but currently live in New Zealand. I play bass and create music for Sunfall.
Denis: My name is Denis. I play guitar and also contributed to Sunfall by creating music.

Sunfall is an international straight edge band. How do you guys all write songs and practice together? How have you guys been able to juggle doing the band during the pandemic?
Kirill: All the songs were created remotely, and our members are from different parts of the world. Guitar player Denis and I wrote the music and Daan, David, and Tim participated in the recording by writing lyrics and performing vocals.
The recordings were done in studios on 3 continents during breaks between the first and second waves of the pandemic.
David: With the exception of Kirill and Denis, no one has ever really met in (real-life). We all have a common passion for hardcore and it is a simple Facebook group that allowed our paths to cross.
After confirming a few collaborators, Kirill then posted an announcement on a chat group we frequent on Facebook to find singers to help him finalize his album project. The idea was to bring together three singers to share the few songs recorded.
Daan: Kirill had already composed and recorded the instrumental portion of the songs with Denis. David, Tim, and I all had carte blanche in terms of lyrics and interpretation. We were assigned specific songs and we went to do our homework in the studio, each on our own.
Denis: There were both full songs and various sketches from the riffs. We began to mix the whole thing; the full-length tracks were finalized with various melodic arrangements. We began to rehearse the material in early March 2020, in just a couple of weeks, everything was sorted out.
And then COVID-19 hit, which broke plans and had to postpone the recording until the summer until the situation in the world was more or less normalized. In the summer we got together again and literally, a week later went to record drums. We can say that the covid really negatively affected the recording process of the album.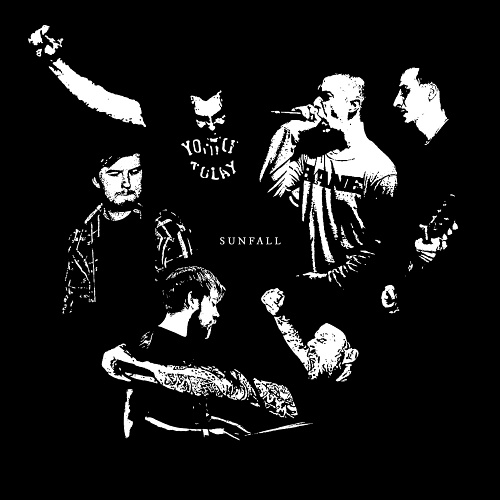 Tell us about the Growing Pains/Go the Distance single, and how you guys wrote it? Did you guys write more songs during the recording?
Kirill: The group was started by me (bass) and Denis (guitar). We are fellow musicians who appeared as members of multiple Russian hardcore/punk bands. Currently living in New Zealand, I took on the responsibility of maintaining communication and became the kind of guy who is arranging everything between three continents.
After numerous searches for a singer, the band finally came up with 3 of them: Tim Shaw (Ensign), Daan Pleunis (Hometown Crew), and David Lavictoire (Copperfield), who are collaborating on this record by writing lyrics and providing vocals.
Also, Anthony Pappalardo from In My Eyes/Ten Yard Fight made a guest appearance and recorded a guitar part for one of the songs. All mixed and mastered by none other than Jesse Gander from Rain City Recorders studio in Vancouver. The whole record will consist of 7 songs and has 17 minutes of music in total.
Daan: Before the idea of me contributing to Sunfall was ever mentioned, I had already spoken to Kirill a couple of times. We connected through social media because he really liked my own band (Hometown Crew).
Back then he mentioned the idea of me doing a couple of lines for a song and I told him I was always down to see if I could contribute. He sent me the demos for the songs, and I was really digging his sound.
After that, we did not talk for a while, but Kirill later came back with me and told me that his original singer dropped out of the project because of severe problems with his vocal chords and he was desperately looking for a fill in to do the entire release and not let the project go to waste. Since I loved his work and since we clicked as people I was determined to see if I could help out.
However, more people were really stoked to work on the project, and from there came the idea to make it a multi musician project. With "Growing Pains," I wanted to be a bit more straightforward.
Since my own band is not a full-on straight edge band and it was never a focus of what we did I wanted to take this opportunity to write a more "classic straight edge song."
I always loved that idea of «if it's not growing, it's dying» or "if you're no longer learning, you're dying." I think there is a lot of profound wisdom and life experience to be shown in that quote. I have always seen straight edge as one of the first steps I personally took to try and better myself as a person and to better my life. It is kind of a «gateway» positivity mindset [laughs].
"Growing Pains" is about wanting to improve your quality of life step by step and helping others along the way.

David: I guess we could say I was just at the right place at the right time. The music had already been arranged and recorded when Kirill started looking for other singers to fill in with lyrics and vocals.
Being in between bands, the project seemed very appealing to me, so I simply applied by replying to one of his posts in a discussion group on Facebook. I have sent some of my previous work and had enough material to make the cut. That is pretty much it, it all clicked very quickly.
From the moment I was in, I was given two of the songs and went on to write and record my parts. The pre-production tracks were already perfectly laid out, so I had a very good starting point. I am no sound engineer, but I am pretty happy with the way it all turned out since it was my first time doing the whole recording process all by myself.
As cliché as it may sound, I envision my straight edge lifestyle as some sort of lighthouse or like a torch helping me light the way. I wanted this song to reflect the positive outlook that choosing a different path than the people before me had brought to my life.
I have seen loved ones and friends fall to alcoholism and substance abuse at a fairly young age and wanted to break this cycle that many have fallen into before me. I prefer to lead by example rather than being all preachy about it, so it is basically a straight edge song without screaming it out per say with the "X's" and all.
Anyone can relate to the message: live, learn, take care of yourself and those around you.
***
Sunfall on social media: Facebook | Instagram | Bandcamp
***
No Echo has launched a Patreon with 3 tiers offering all kinds of hardcore-related goodies to help support the site:
***
Tagged: sunfall