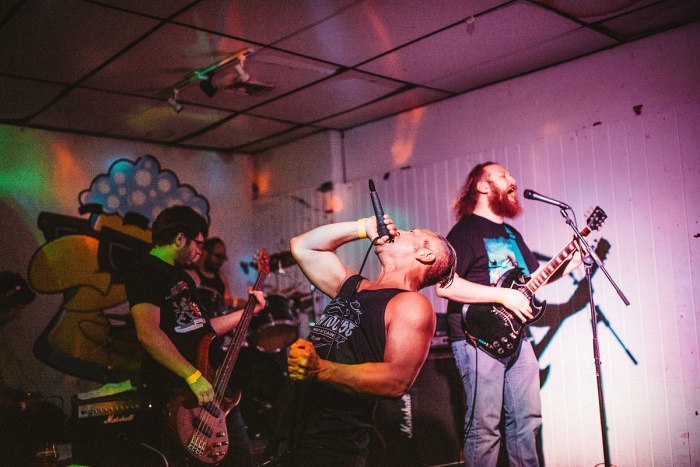 Arriving in stores this September, A Piece of the (B)east: A Long Island/NYC Music Family Compilation is a forthcoming record featuring such bands as Stillsuit, Faithless, Christ Head, and Total Meltdown. The 12 groups included on the collection all share a connection in some way through music in the last 2+ decades.
One the bands on A Piece of the (B)EAST NYC is no stranger to No Echo. Formed in 2014 by vocalist Matt Gordon and guitarist Gabe Saladino, the group specializes in a potent blend of metal, grindcore, and hardcore last heard on their 2019 Reptilian Majesty album.
The opening track on the compilation, Kaiju Daisenso's "Rodan" has an interesting history. Heard below, the song was originally written by vocalist Matt Gordon and Daryl Palumbo (Glassjaw, Head Automatica) when they were both members of the LIHC band, The State Secedes.
"We used the monster Rodan as a metaphor for a girl that we knew," Matt tells No Echo. "I adapted the track with Kaiju Daisenso to more directly pay homage to the actual monster Rodan. It seemed like the perfect cover for the comp, to pay tribute to my past, and the bands on the record, while adapting the song to my current kaiju-themed band.
"I asked my former Helen of Troy bandmate and label head of Sunken Temple Records, Matthew Messina, to guest on the track and the video. Messina was at every State Secedes show and was our biggest fan, ever! When we both decided to do this joint release together, I had to include him on the song, and was beyond stoked that he wanted to do it."

Here is the full band breakdown on the A Piece of the (B)east: A Long Island/NYC Music Family Compilation:
Stillsuit (Glassjaw, Burn, Die 116, Yuppicide, Crown of Thornz)
Edgar (Tetsuo, Irony of Lightfoot, The State Secedes, Baby Teeth aka Free Republic of Soul)
The Third Kind (All Out War, Vise Massacre, The Last Crime)
Herjaza (Murdock, Most Precious Blood, Cattlepress)
Christ Head (Raw Eagle, Drug Camp, Disnihil, Get the Drill, Lakota, RPOD)
Kaiju Daisenso (Unearthly Trance, Tetsuo, The State Secedes, Helen of Troy, Gospel)
Total Meltdown (On the Might of Princes, Spotlights, Perfect World, Aeschylus, Primitive Weapons)
Pembroke (Saetia, Off-Minor, Supertouch, Lytic)
Heatmap (The Bastard War, Rahim, Gurus)
Faithless (C.R., Serpico, Celebrity Murders, Kill Your Idols, Milhouse, Sheer Terror, Disnihil, War Babies)
People's Temple Project (The Next Wave of Music Brutality)
Gospel (Watership Down, Knives & Greenwater, The State Secedes, The Electric Mayhem, I Am the Resurrection, Helen of Troy)
The compilation will be released on September 11th via Sunken Temple Records, and the pre-order is live at this link.

Sunken Temple Records on social media: Facebook | Instagram | Twitter
***
Help Support What No Echo Does via Patreon:
***
Tagged: kaiju daisenso