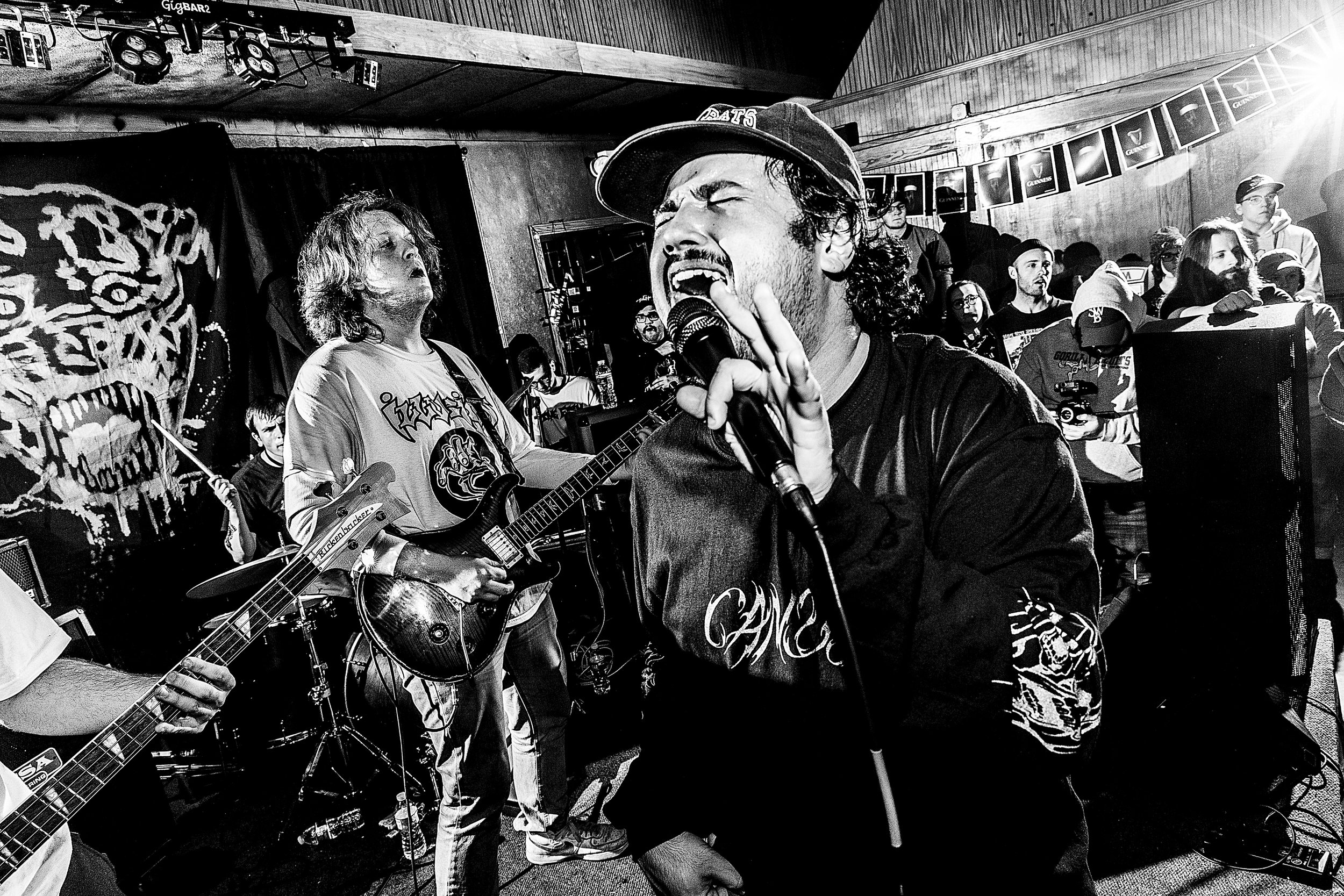 I've already posted both the Best Hardcore Records of 2021: No Echo Contributor Picks and Michael Thorn's 19 Great Hardcore Punk Records from 2021 You Might Have Missed lists, so click away if you haven't checked those out yet.
But I also wanted to share my personal picks for 10 Best Hardcore Albums of 2021 with you today.
Running No Echo is a huge part of my life since 2014, so it's with great pleasure to see how healthy the hardcore scene has been, despite the state of the world these past couple of years. Let's keep that energy in 2022!
Ekulu, Unscrew My Head (Cash Only Records)
Ekulu distills my favorite elements of late '80s crossover (chunky guitar parts, grooves, and catchiness) into one potent sonic elixir.
Unscrew My Head proved that the NYC-based quintet not only studied from the past (Best Wishes-era Cro-Mags immediately comes to mind), but more importantly, they understood how to write memorable songs that aren't afraid to take their time and build, rather than just come off as a guitar riff circle jerk.
I know the average lifespan of a hardcore band isn't long, but let's hope Ekulu sticks around long enough for another album (or two).
Shackled, Doubt Surrounds All (From Within Records)
New Jersey's Shackled recently premiered the first taste of their Doubt Surrounds All album on No Echo, and the band has been in consistent rotation ever since. Stylistically speaking, the group isn't attempting to reinvent the hardcore wheel, keeping things lean and mean on their debut full-length.
There's quick tempo-charged riffs, moshy sections, and plenty of anthemic vocal parts that lend themselves perfectly for a live setting.
Special props going out to Fixation vocalist Wyatt Oberholzer (he also plays in Drowse and Chemical Fix, but more on them later) who recorded, mixed, and mastered Doubt Surrounds All. His work on the album reminds us why he's been getting a ton of work as of late.
Section H8, Welcome to the Nightmare (Flatspot Records)
Regular readers of No Echo might remember when I called Section H8 the "Best New Hardcore Band of 2018." Well, I'm thrilled with what the Los Angeles crew has been doing ever since then.
Not only have they been burning down the live circuit (literally), but in Welcome to the Nightmare Section H8 have delivered an album that more than lived up to the bar they set with their previous EPs for the Flatspot Records label.
The record is catchy as COVID yet hard as fuck around every turn, bringing elements of crossover thrash, NYHC, and street punk together in an ugly way (that's a compliment).
Flames of Betrayal, The Rain Reeks of Heaven (The Coming Strife Records)
If you're jonesing for some metallic hardcore in the musical spirit of Prayer for Cleansing and Undying, Flames of Betrayal will scratch that itch. To be able to rock this style the right way, you need serious chops on your respective instrument, and the musicians involved here all impress in that regard.
The North Carolina 5-piece debuted the album on No Echo over the summer, and Bruce Hardt-Valenzuela nailed it when he referred to what Flames of Betrayal is doing as "Gothencore."
Chemical Fix, Our Shade Casts Far (Safe Inside Records)
Straight outta Philly comes Chemical Fix, a band that deserves way more attention from the hardcore community than they've gotten to date. Their Our Shade Casts Far album was actually in the can for a couple of years before they dropped it this past summer.
"This felt like the best way to preserve our own excitement about the album so the music didn't feel stale by the time we got to play the songs live," Chemical Fix vocalist Bren King told me about the move. Either way, the group's ripping take on hardcore is timeless.
Scowl, How Flowers Grow (Flatspot Records)
Definitely a band riding the hype machine at the moment, Scowl had a lot of eyes on them before their debut album, How Flowers Grow, hit the internet. I'm thrilled to say that not only did the Santa Cruz hardcore outfit rise to the occasion, they did it while taking some chances.
Sure, there's plenty of punky hardcore to get amped on, but with the track "Seeds to Sow," Scowl have served up a mixtape gem with horns, girl group vocal melodies, and an irresistible hook that could have been on the first Best Coast LP.
Yes, the song sticks out like crazy on How Flowers Grow, but it's one of the more "hardcore" moves I can think of from our scene this past year.
One Step Closer, This Place You Know (Run for Cover Records)
The melodic flair that drives the material on One Step Closer's This Place You Know is what instantly grabs you, but the more you listen to the album, its melancholic spirit is what stays with you.
The Wilkes-Barre quintet got compared to later Turning Point a lot when they first appeared a few years ago, but they've carved out their own musical space on their debut long-player.
Recorded, mixed, and mastered by Eric Chesek, This Place You Know is the sound of a band in control of every aspect of their songwriting, whether it's leaning into their emocore roots, or the quieter, more nuanced side of their influences.
Turnstile, GLOW ON (Roadrunner Records)
For many dumb reasons, Turnstile pisses a lot of people off, which I won't waste time with here today. What does matter is the band continues to take their sound wherever they please, getting far away from the groove-based hardcore of their earliest offerings, and making it all feel natural, and that's not easy to do.
GLOW ON finds Turnstile pushing their songwriting into even more new directions, including a track called "Alien Love Call" featuring Devonté Hynes, aka Blood Orange, that will make you ask yourself, "Is this the same guys who did Step 2 Rhythm?!" Yes, yes they are, and that's a beautiful thing.
Worn, Human Work (From Within Records)
"You can tell Worn listen to power violence or power violence-influenced bands, but at it's base it's just a badass hardcore album." That quote comes directly from Ace Stalling's No Echo review of Human Work, Worn's filthy debut LP
Though they share the same homebase of Wilkes-Barre as the aforementioned One Step Closer, both bands couldn't be any more different. While the latter group deal largely in melody, Worn keeps their sound as brutal as the war zone painted on their album cover.
Headcheese, Headcheese (Neon Taste Records)
Canada's Headcheese specializes in 80s-inspired hardcore in the SNFU and Angry Samoans wheelhouse. There's wall-to-wall hooks throughout their eponymous debut record, and that's what kept me coming back to it months after its release.
***
Help Support What No Echo Does via Patreon:
***
Tagged: ekulu, one step closer, section h8