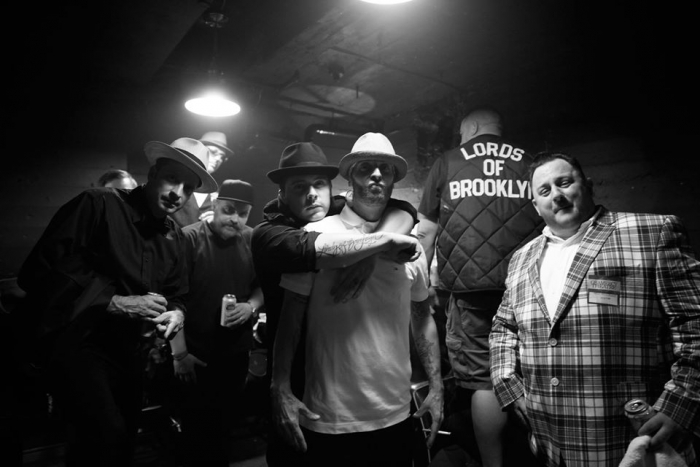 Mid-'90s hip-hop is the stuff of legend; considered a segment of the "golden age" of the movement at its most creative and crucial point. Biggie, Nas, Wu-Tang... Emcees, DJs and producers were pushing the envelope and creating on a level previously rendered unthinkable and in some cases, unwise. Heads continued to wear their block like a badge of honor, and one particular squad of Bayridginals did their damnedest to make sure you knew southwest Brooklyn wasn't just the fictional home of Saturday Night Fever's Tony Manero.
Enter the Lordz of Brooklyn: a ragtag, yet supremely inspired crew of rap enthusiasts led by avid KISS fans, Adam (ADM) and Michael "Kaves" McLeer. Their passion for the music and culture, which began with deep dives into graffiti, b-boying and DJing, took a fruitful turn thanks to budding relationships with Public Enemy and House of Pain, as well as some banging early demos.
Kaves explains, "Public Enemy produced some tracks for us around 1990, then a few years later, we were set to do a deal with House of Pain's DJ Lethal through Polygram which fell through. But thanks to that relationship, I wound up as a backup vocalist for HOP on tour. Eventually, it came together and we were signed to a label called Ventrue, which was partnered up with Rick Rubin's Def American."
1995 saw the release of LOB's debut, All in the Family, to equal parts elation and confusion on the part of the hip-hop underground. Elation largely because the LP's debut single, "Saturday Nite Fever," was an infectious barroom anthem for da' fellas. Confusion because, weren't Bay Ridge and neighboring Bensonhurst breeding grounds for angry, white, stay the fuck outta our Neigh-Ba-Hood types?! Oh, madon!
Regardless, the Lordz were committed AF, and continued to carve out a niche for themselves, performing the world over, and collaborating with the likes of DMC, Busta Rhymes, Bumpy Knuckles, Korn, Rancid's Tim Armstrong, Sublime and others.
Now, on the 25th anniversary of All in the Family, Lordz of Brooklyn returns with plans for a new album, aptly titled Family Reunion; recorded almost entirely while sheltering-in-place due to the Coronavirus pandemic, plus a short film called Motherless Sons — chronicling the group's storied past, and setting the table for what's to come.
The piece was directed by LOB's Kaves, Parisian lensman Marc-Aurele Vecchione and edited by Donna McLeer. While it re-introduces fans to the old Lordz of Brooklyn stomping-grounds, it lets ya'll in on a handful of fresh Lordz secrets; namely, new joints: "Beautiful Struggle," "Rock Bottom," "On My Block," and "Motherless Sons."
The succession of clips helps tell the tale of history moving forward to the present day. From the original gang that banded together to make that noise, including LOB OGs Scotty Edge and Paulie 2 Times, to gathering the boys at the pub with new recruits in tow: namely, Adam and Kaves' half-brother Lord Drew. It's time to celebrate two-and-a-half decades of doin' it. Stay tuned to the Lordz of Brooklyn's Facebook, as well as Kaves and ADM's socials for updates on Family Reunion and more.

***
Donate a few bucks to help with No Echo's operating costs:
***
Tagged: lordz of brooklyn