In the '90s, there was a major coalition of hardcore bands who were heavily influenced by the burgeoning alternative scene as the two seemed to often walk hand in hand. On the East Coast you had bands like Only Living Witness, Sam Black Church, Home 33, Cast Iron Hike, and Tree, who played Helmet-inspired hardcore tinged with an alternative influence.
The last few years we've seen many bands harkening back to this influence as many hardcore band members initiated side projects with an alternative influence which birthed bands like Fleshwater, Bleed, Narrow Head, and Moodring.
As we go further into this style, and more bands crop up, there's always going to be those who take the experimentation further, with that we introduce Climb from Massachusetts.
The group was birthed during the pandemic by vocalist Connor Scribner and some friends. "It was a side project to my friend Mike and I's synthpop project and then two of our friends moved back here because of COVID and we all wanted to start jamming some heavy stuff," the singer tells me. "Eventually, it started taking up more time and became a regular thing."
Climb first came to my attention opening for DARE back in November of 2021, which happened to be their first show. "People came up and told us that we were trying something different and I think it was because of the turntables honestly," Connor says. "We've played about five or six shows and the turntables only worked at two of them." This correlates with the members of Sick Minds who stated around that time that Climb was bringing a new sound to the Boston scene.
"My tastes are constantly changing and I always felt like if I wanted to do a new sound or something I'd have to start a new project. Watching other bands expand their sound made me realize that if I want to try something new I can just do it with Climb. I figured out that the key is to really make it fit within the sound of this project."
Climb debuted with a string of singles in 2021 which displayed their alternative influence as well as other '90s alt metal bands, the songs also packed guest performances from other musicians in the underground scene. The first track, "Threshold," features vocals from Kadeem France of British metal band Loathe:
Connor adds when talking about his influences outside of hardcore and even heavy music in general. One band that comes to mind when listening to Climb is '90s post-hardcore band Orange 9mm whose sound allowed them to jump between the hardcore and alternative metal scene burgeoning at the time.
Inquiring about some of the influences for the band from formation to today, he says, "Deftones for sure, Moodring and some Narrow Head stuff. For the new lineup, I sent the guys an 'influences playlist' with bands like Trapped Under Ice (which is my favorite hardcore band), Higher Power, No Warning, Trash Talk, and Cold World." With this wide range of influences many bands tend to either lose their distinct sound or not become something new entirely but Climb has managed to keep their identity intact even with major shifts.
"A lot of people have heard the new songs and told me 'This is different to what you did before but it's still you guys" Connor states. Climb's second single, "Pendulum," features vocal work from members of Philly's Soul Glo. When pressed about how he managed to come by such big name features for his band, Connor explains, "With past projects, I always wanted to bring together a community and give back to it. I'd always donate merch profits to certain charities, book charity shows, etc.
"With this band, I thought it'd be cool to do singles in between releases with features from bands and donate all profits to a charity of their choosing. So I just reached out to Loathe when I did 'Threshold' and told them this idea and they were down with it, I was surprised. Did the same thing for Soul Glo when we did 'Pendulum' and they were onboard with it. It's really as easy as just investing in your scene, people think it was some 'who knows who' sorta thing but no, it was just as easy as asking nicely."
Since Climb's inception, Connor has remained the sole consistent member of the band, and while each rendition has brought something new to the table, their sound has remained consistent yet still able to evolve. In the past, the band released a demo on Bandcamp but Connor has since removed it as he hoped to start fresh with this current lineup of the band.
"When everyone left to pursue other projects I felt like it was a good opportunity to reinvent this into the hardcore band I wanted to be in. Before I was really pushing my voice past my limits whereas now I'm doing more yelling in my normal voice rather than straining it."
Despite being the only remaining original member and conceptualizing the songs and art around the band Connor has no desire to claim this as being "his project." Touching on the songwriting process he explained "Writing the new stuff has been divided between me and our guitarist Camden who's in like six other bands. He's an unbelievably good guitarist and I knew he and I would click and be able to write some great tunes."
Climb started 2023 off by releasing their debut EP, Keep Me From What I Want , which features 5 songs of brand-new material, and while experimental, it shows the band focused on mixing their influences well and staying confident.
Touching on the lyrical content of the EP, Connor mentions that the band's music had always had an isolating feeling, influenced by the time in lockdown as well as personal isolation. He details this influence saying, "This past year I spent a lot of time alone and dealing with breakups both with friendships and a really bad relationship breakup. This is the first time I've tackled those feelings whereas before I would talk about general depression, anxiety and my past addictions with drugs and alcohol."
The vocalist continues: "Two of the songs on the EP are still about that but the others deal with me not necessarily being vengeful about that stuff but just getting the feelings out. I remember reading somewhere that Matty Healy of The 1975 said, 'Treat your lyrics like a diary. Each day whatever you're feeling track it and write about it so you can pick it up later.'
Isolation can translate quite commonly in lyrics but it's rare when a band is able to capture it in both music and lyrics. Climb does that with ease, their early tracks were very cold and isolating, calling back to the time we all spent in isolation and away from our loved ones.
Climb will be promoting the release of the EP with a string of shows around Boston and Rhode Island, the first being an opening slot for Cruel Hand alongside COA, Street Power, and Klaxon at Dusk in Providence on February 11th. The next week they will open for Vomit Forth, Mutilatred and Torn In Half at the Middle East on February 16th and in April they will play at O'Brien's opening for Jivebomb with Gumm and Anklebiter.
Connor would like to shoutout: "Brendan Glennon and anyone who has supported Climb and any of my other projects."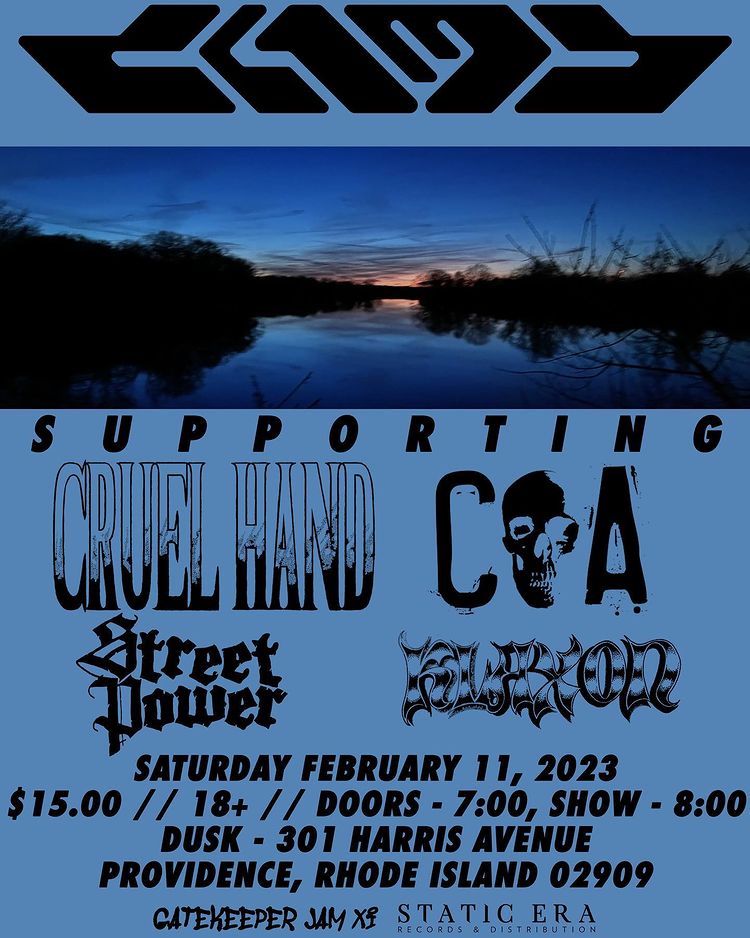 ***
Climb on social media: Facebook | Twitter | Instagram
***
Help Support What No Echo Does via Patreon:
***
Tagged: climb