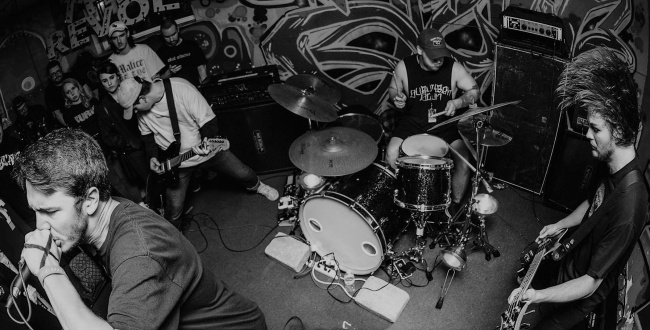 Although their earlier material was steeped deeper in more traditional hardcore, Nashville's Orthodox have stepped up the metal quotient on their forthcoming sophomore album, Sounds of Loss. Anyone who has heard new track "I'm Scared of You" already knows these Southern gentlemen know their way around a nasty groove, and the rest of the record has more in store for listeners. Lyrically, the album also shines, with the kind of songs you'll want to dig deeper into with each play.
In the following list, Orthodox singer Adam Easterling reveals some of the unlikely lyrical inspirations for his work on Sounds of Loss.
Aesop Rock
Ace Rock has been my biggest influence in terms of the words I choose for a long time. His conception and use of metaphor, his explorative and notable vocabulary, as well as his sometimes oddly set syllable placement, have pushed me to be the best I could as a lyricist. I often find myself changing one or two words in a line three or four times, because I've grown to feel like everything from a prefix to a suffix and anything in between can completely alter how powerfully a verse is perceived.
Nickel Creek
Though they're an alternative-bluegrass band, the intricacy of their lyrics and their creative use of personification helped me think outside of the standard box of what can and can't speak in a song, as well as how to look for words that can be used in more than one context.
Kyle Mykietiuk (Breaking Wheel)
Kyle is the singer of Breaking Wheel, and a very close friend of mine. I mention him because even though he is one of the most kindhearted people I know, he has always written some absolutely sinister songs, poems, and stories. His writing style made me think of speaking in the form of someone else, in the case of Sounds of Loss—from the perspective of death itself as a living being.
Rodney Crowell
A lot of people in the metal/hardcore scene probably don't know who Rodney Crowell is, but in the land of folk/Americana, he is an absolute heavyweight. In his album Sex & Gasoline he has multiple songs that speak on the experience of loving and living with an addict, which have spoken to me since the first time I heard them.
Mike Kinsella
Known most for his bands American Football and Owen, Mike Kinsella showed me over time that you can be very straight forward in one line, and then vague and conceptual in another. Not everything has to be a puzzle piece, some lines can be a picture all their own.
Tagged: orthodox band