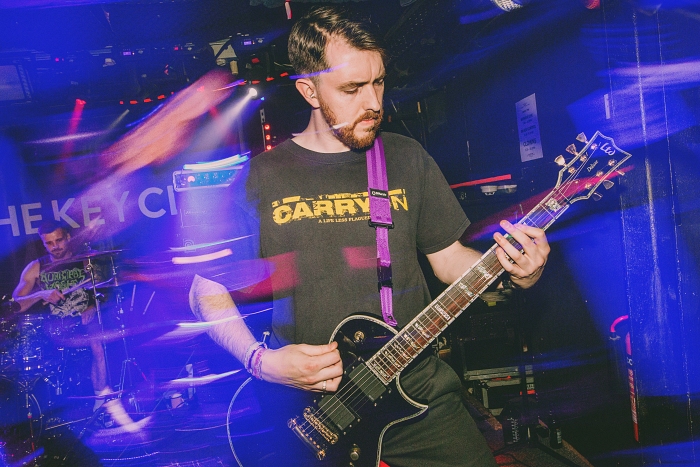 Without Love from the United Kingdom have covered quite a bit of ground since their introduction piece on No Echo last year.
In 2022, they released their debut EP, Surrender, played ten shows throughout England with the likes of Zulu, One Step Closer, Ignite, Evergreen Terrace, Soul Glo amongst others. They've been hard at work in 2023 having already visited Scotland, supporting Going Off's record release show in Manchester, and hitting the studio for the follow up release to Surrender.
Without Love is now about to embark on a run of shows in the southern United Kingdom with fellow melodic hardcore purveyors Hell Can Wait.
Today we are premiering a single with an accompanying music video in advance of the band's next release. The song is titled "Common Enemy" and singer/bassist John Scholefield answered some questions about the band's journey so far.
So last time No Echo checked in with the band, you and guitarist Henry were fresh off the heels of a previous project that had ended and the two of you had the impetus to start what would become Without Love. How did the two of you get linked up with Greig and Joe who now play drums and guitar, respectively?
We've been friends with Joe for a long time. He used to come on tour and sell merch for our previous band and fill in on guitar/bass when needed. It had always been on the cards that he'd be starting a new band with us, but after sustaining a hand injury in a dodgem-related incident* he was out of action for a while, so we went ahead and recorded the EP as a two piece and he got involved once he was fully recovered and could play guitar again.
We were big fans of one of Greig's previous bands (Grader) and had played with them before but had not gotten to know him at all. Finding a drummer was the main sticking point for getting Without Love going for a long time, but then I saw someone from another band I followed giving Greig a birthday shoutout on Instagram. I couldn't work out where I recognised him from so I looked at his profile, saw he used to play in Grader and that he was now living in Manchester. We hit him up and got in a practice room and clicked straight away.
It's been great to record new songs as a full band this time, with both Greig and Joe playing on them, and in general I couldn't be happier with the dynamic that we have between the four of us.
* 'dodgem' (pronounced: dodge-um) is the British term for a bumper car
Tell us about the lyrics of "Common Enemy."
So when I first started writing the lyrics, it was very clearly going to be about Brexit and the way things are in the UK because of it. When writing lyrics, I often start with a broad topic in mind and it ends up focusing into a more specific aspect, but this was kind of the opposite, it made me realise how what I was writing about applies on a much wider scale. The song was never setting out to condemn people that voted a certain way, but I ended up scrapping the first half of the lyrics and re-writing it to open it up a bit.
It's about division, those who want to stoke/take advantage of that division, remembering who we should be directing our anger at, and calling for people to focus on what we have in common rather than what divides us.
How has it felt to see so much progress in your first year of the band?
Honestly, it's been a lot more than we expected. It might not seem like a lot to some people but we didn't know if we'd be playing more than a couple of shows a year or even playing live at all when we first recorded the EP.
Having the majority of our first shows giving us the chance to open for well established international bands was something we hadn't anticipated. And now already so far this year getting the chance to play more widely around the UK, outside our local area, is another thing we didn't know if we would ever do.
How has the response to Surrender been and what can we expect from your next release–a continuation, a departure, or maybe a bit of both?
It's been great, I think the common theme here is having low or even zero expectations for everything and then it's always a bonus when anything positive does happen. It's been interesting to see that as well as the initial reaction the release got, there's been a steady stream of people hearing the EP for the first time since then, whether it's from seeing us play or finding it online. And, to me at least, that's cooler than it getting a great response right at the start and then falling off the radar completely after that.
In terms of their sound, the new tracks we've recorded aren't really a departure from what we did on the Surrender EP. With such a short run time it didn't really feel like the right point to start moving away from that so soon, but I'd say the new ones are stronger songs that concentrate the elements of the EP that we thought worked best. I definitely think we'll start diversifying our sound in the future though.
***
Hit up Without Love's Linktree to find all of their social media pages.
Surrender is available on cassette in the US via Our Pride Records.
***

Tagged: without love