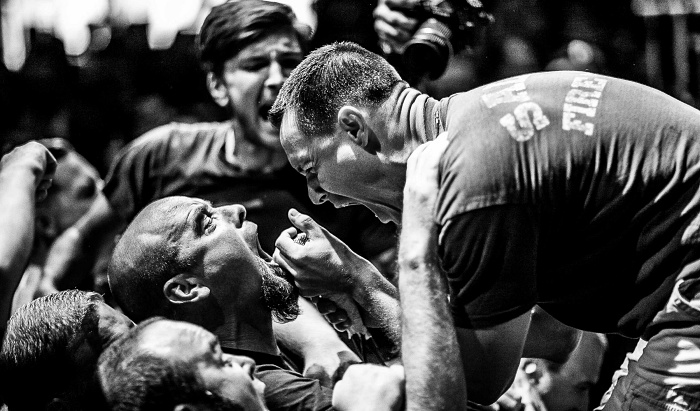 Formed in 1995, All Else Failed came screaming out of the Philadelphia hardcore scene with a penchant for metal riffing and chaotic arrangements. The first run of the band lasted till 2005, but they've returned from their hiatus several times in the years since then, including This Is Hardcore in 2014. They'll also be going out on a run of East Coast dates with BoySetsFire and Be Well in September.
This fall, All Else Failed's third studio album, This Never Happened, will be getting issued on vinyl for the first time ever. Originally released in 2004, the record featured Chris Pennie (The Dillinger Escape Plan) on drums and proved to be influential on the metallic hardcore scene in the years since it dropped.
In this No Echo exclusive, I spoke with bassist Steve Wiegand, guitarist Pat Shannon, and vocalist Luke Muir about the making of This Never Happened and how they feel about the album all these years later.
Take me into the headspace you guys were in when you wrote the material that would make up This Never Happened. By that point, All Else Failed had been together for an eternity in hardcore years. You didn't end up breaking up till a few years later, but did it feel like you were going to be writing your swan song as a band?
Steve Wiegand (bass): It's really hard for me to remember the headspace that long ago. I remember writing a lot of those songs, especially the lighter ones, after a tough break up (are there good breakups?). But I'm not sure the time adds up, maybe. We had so many delays I guess that's right. I know almost if not all of this record I played guitar through the entire writing process whereas I used to either show a riff then go back to bass or just stay on the bass.
So, I think that had a lot to do with the writing process. I basically wrote with no bass and I added all that later on once all the songs were done. It's a little obvious in that the second guitar and bass parts are almost identically I remember coming to practice once and Joe and Pat had started and it was crushing , It was the second part of Revisionist and Pat wrote that gnarly part and I stood outside while they were crushing so i wouldn't break up there headspace, I was dying to go in but i just waited for a lull in noise. It's weird the little things like that. I bet they don't even know and to me it was such a moment of YES YES YES YES YES!!!
Pat Shannon (guitar): For some reason, for the majority of the time that we did All Else Failed, we always sort of felt that whatever we were doing was going to be the last thing we were ever going to do. Heavy music, I guess, just has this urgency to it and I don't know, it just seemed that we were consumed with the fact that if we weren't able to get to the next level, whatever that even meant at the time, we would be better off just moving on to other projects.
So yes, it felt like maybe we were winding down to some sort of end when we wrote and recorded This Never Happened. Of course, 17 years later, we are still playing and talking about this record. I am glad we were wrong.
Luke Muir (vocals): We had been around for nine years when This Never Happened came out, longer than most marriages. Those songs were written over the span of a couple of years. Some of the songs were on the lighter side that we wrote thinking we might even use to start a new band all together. We were also working out the line-up during those couple of years, which was the Spinal Tap-ish story of our lives.
As memory serves, Dave Klenk was still in the band when a couple of the songs were written, Joe Brown wrote a bunch of others, and Brandon Wallace helped write "At 27." As far as my portion for the songs, my thoughts were all over the place back then. That being said, I really only wrote words to the songs when they were done, and only out of necessity because the other guys were getting upset I was holding up progress.
Like everyone else writing heavy tunes, I would do my best to find something that was bumming me out and try to put it on paper. Some of them came out better than others. A noteworthy statement of how up in the air things were back then was "To Whom It May Concern." During our first of many "last" shows, we played Polanka Park in 2003 with Chris Pennie (The Dillinger Escape Plan, Coheed and Cambria) helping us out on drums.
After the show, I was talking to someone about "Did You Think of Me." When I told them it was a song about someone else's experience, not mine, they basically called me a fraud. Days later, I wrote "To Whom It May Concern." While I'm likely remembering this wrong, I think I had the lyrics completed before the song was finished, or at least before they were overdue.
Tell me about working with Nick Rotundo. I remember him from the hardcore scene in bands like Railhed and Walleye, but I heard he passed away.
Steve Wiegand (bass): Nick is a legend Just the best to work with in his heyday. I don't know details but I think he struggled with some demons later in life but even working with him in later times he was amazing and kind. We did our first record with him [1997's A Most Biter Season] and then the next thing was This Never Happened. Our label wanted us to go to a different studio like we did on Archetype but we said no way, we are going to Nick.
We wanted to go to Nick on Archetype but the label [Now or Never Records] said no they didnt know him or whatever the reason was. After we did This Never Happened, I still remember Matty B [Beckerman] from the label saying, "I should have listened to you guys." Pat and I told him we may not be great at a lot of aspects of this game but we can make a record, trust us.
Pat Shannon (guitars): Nick made us sound way better than we were, way sooner than we would have otherwise, starting with A Most Bitter Season. He knew exactly what we were looking for and exactly how to get it. I legit don't even remember getting sounds for This Never Happened. I just went down to Clay Creek and the Dual Rec was set up ready to go. Nick was just that in tune with how we should sound, more than we ever even were.
Luke Muir (vocals): Nick was a fantastically nice guy who was unbelievably talented at what he did. He understood exactly what we were trying to do with our songs, and the sound we were trying to accomplish. He was the first professional studio we went to during Most Bitter Season, and we went back to him after This Never Happened for the first 3 songs of Good Enough For the Girls We Roll With.
Chris Pennie produced the songs he played on for the record, and those 2 seemed to work well together. I am extremely proud of how the record ended up, and Nick had everything to do with that.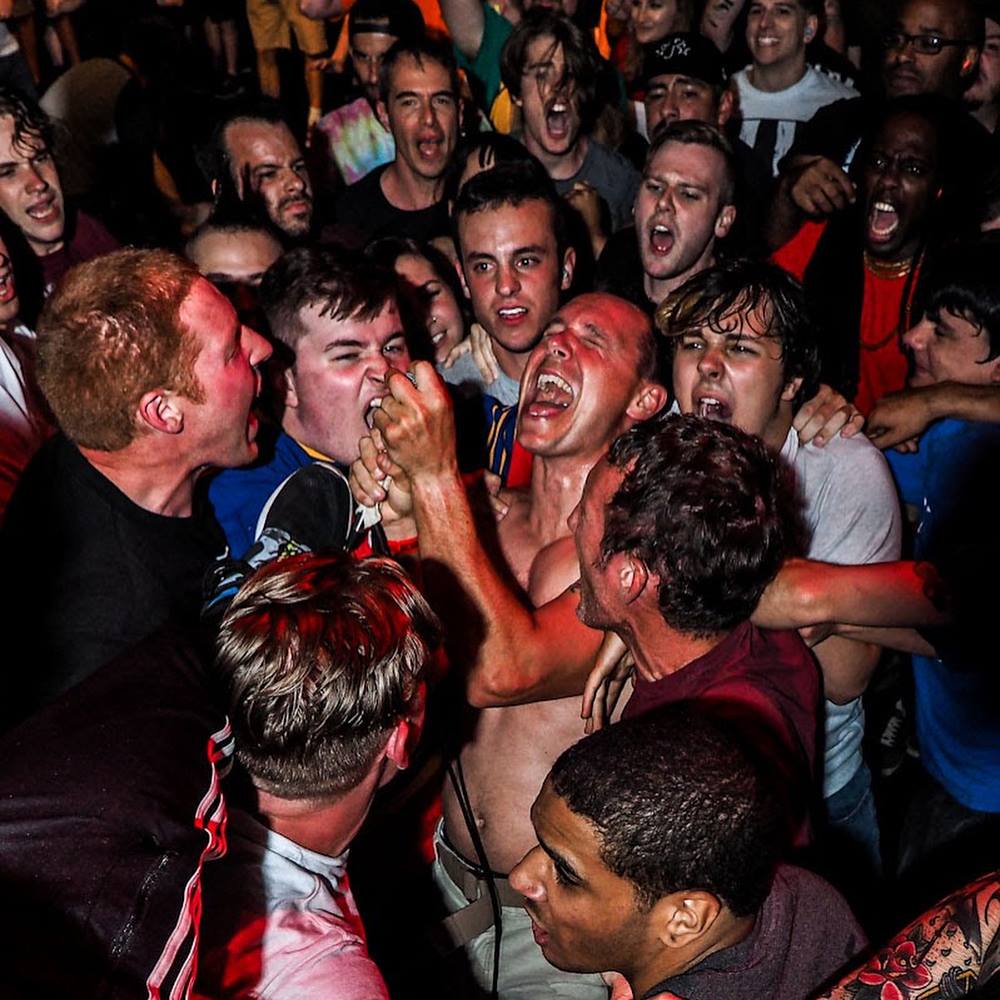 Speaking of Chris Pennie, how did come to be involved with All Else Failed during that era?
Steve Wiegand (bass): We were lucky enough to do a tour with Dillinger Escape Plan and [The Dillinger Escape Plan guitarist] Ben [Weinman] had produced Archetype and although we all love those tracks we, I, didn't feel it really captured what we sound like. It's super clean and slick. So, Beckerman, who ran our label, or some version of it, knew those guys and we had formed a bit of a relationship with Chris during the tour. I'm not sure if we just called him directly or Beckerman reached out.
Pennie, I think, captured us and what we do and was incredible on the drums but even better behind the board. We owe him a lot for how that record sounds, he dialed in my bass sounds and was just a freaking joy to be around. We did do one show with Chris on drums which was a special one that I will always remember.
Pat Shannon (guitars): We had toured with Dillinger and played with them in Philly and NJ and NYC a bunch in the early days. Joe [Brown] had told us he wasn't going to tour anymore so we decided we had to move on, but in the process everything just sort of fell apart. The original session was going to be just the last thing we were going to do as All Else Failed, and then we were going to move on to the other stuff, and at this point we hadn't played with Joe for a little bit.
In those days, it was sort of maybe cutthroat, but our mindset was always, if you aren't going to be the guy moving forward with us, we need to be working on moving forward by finding out who that person may be. In retrospect, we very well could have done the record with Joe and then switched drummers afterwards, but in our heads Joe was just gone, on to his next thing and we were on to ours.
I can't remember who had the idea to call Chris, but he came down one weekend, we rehearsed the songs we had done and finished a few other things and hit the studio the next weekend.
Luke Muir (vocals): Chris became a friend during the tour Dillinger took us on. I don't remember who asked him to play the show or record the songs, but I remember hanging out with him during the practice and recording of that record. We went for a run at Valley Forge [National Historical Park]. Chris was a fun, friendly guy and was remarkably down to earth for how extraordinarily talented he was. There have been a great number of people who have helped us over the years, and he is definitely someone who deserves our gratitude.
What's the story behind the van on the album cover? Was that set up exclusively for the album, or did you have the image already and decided to use it for the cover?
Steve Wiegand (bass): That picture was set up for sure. The idea was kinda this is over, this never happened. The inside of the CD all our gear was wrecked. We even had a website that had us all listed as missing [laughs]. I also looked at it as all our delays and troubles and now everything was just passing us by, we were stuck again. No drummer, no tour, no shows just watching the world go by. That may not be how the other guys took it but when you create art in a collective not everyone will view it the same way and that's ok, that's what makes it special
Pat Shannon (guitars): Definitely part of a photo shoot done by Luke and John Pushnik. Luke and I fought bitterly about that entire layout, but one of the big sticking points was that I wanted the van to be the front cover and he wanted one of the other photos that was used on the inside of the CD. I stand by my call there, I think the van is sort of a striking image. Plus, it's a permanent document of the only van we ever owned. We lived in that thing for the best times of our lives.
Luke Muir (vocals): We had met John Pushnik, the drummer of Turmoil, through playing shows together, but I don't remember how he came to get hired to take the layout photos. By the time we were ready to do the artwork for the record, our buddy Mike Halphen was helping us out on drums as we were attempting to keep things going in preparation for the release.
Mike helped John Pushnik and I with the photos for the layout, which was supposed to storyboard our dissolution. A bunch of the photos were taken at Mike's house, and the van photo was taken on 476 at the Conshohocken exit near the place I was staying at the time. I wanted the gas can photo we took at the Swedish cabin in Upper Darby to be the front cover, but Pat and Steve didn't like it and argued for the van pic. I realize now they were right, as usual, but back then I thought the gas can pic was the obvious front cover.
How do you feel about the material on the album all these years later? Would you change anything on the album if you could?
Steve Wiegand (bass): I think this record has held up pretty well over the years. There is gonna hopefully be a lot of people hearing it who never have before now that it is more readily available. I would have liked to have recorded it with our drummer we wrote all the songs with, Joe Brown. Not that Pennie didn't play just epic drums because he did, but we wrote all these songs with Joe.
We had a beef either over him playing with another band or maybe not wanting to tour but nearly 20 years later we are still playing with—wait for it—Joe Brown. But everything happens for a reason and we got to crush with one of the best drummers in the biz, Mr Pennie. Joe is also on maybe 5 or 6 of the songs as well, so it's all good.
Pat Shannon (guitars): I refuse to speak ill of any All Else Failed song, because no matter how whack I might think something was, someone out there always messages me or says on social media how whatever song I'm talking about is one of their favorites. So, in that context it's perfect. I think there are maybe 2 or 3 songs toward the end that, in retrospect, we could have left off and it wouldn't have made much a difference, but there are great parts on every song.
Luke Muir (vocals): I'm proud of all of it, or at least most of it, and I'm excited it is more easily accessible to anyone looking for it now. I listened to the whole thing recently and impressed myself with how well it holds up.
I took singing lessons for the first time just before recording this goofy record and really feel like they helped. I remember reading a couple reviews of the record that blasted the vocals and thinking to myself, well, that's the best I got.
If you didn't dig what I did there, then I don't think there's anything I'm going to do that will win some people over. I think the music is great, the sound quality is excellent thanks to Nick and Chris, and my contribution is as good as you're going to get out of me, lyrically and vocally.
What is your favorite song on This Never Happened and why?
Steve Wiegand (bass): My favorite song to play live is "Kinetic." On bass, it's just really fun to play. There is a part I play a simple chord but it just scratches that itch, like it makes you smile when you do it. I'd say my favorite song on the record is "Departing Flights," though. I still remember the first time I heard Luke's lyrics to it and it hit me hard hard hard. Musically, I think it really showed we had more range than just pummeling you our chaotic way.
Pat Shannon (guitars): My favorite song on the album is "All Good Things": 2 minutes, one part, crushing. I feel I went to bat to get that on the record even more so than Luke did. From a writing standpoint, that is all Luke, vocals and music. We added some of the accents and stuff when we built it out together, but the general idea was all Luke and I remember hearing it for the first time after we finished it and crying, It was like seeing a friend finally fully express himself through music, like a metamorphosis almost.
I knew we did something special but also knew that from a structure standpoint it didn't make a ton of sense to be a "lead single" or anything. So it's down there in the track list a bit. I remember the first time we opened the set with it, we thought we were doing something nobody had ever heard before and that we were going to get blank stares, but once people heard the chords and saw Luke playing the acoustic, the whole room started clapping and I remember hearing someone say something to the effect of, "Oh my god they're actually going to play it!" That's so us though, not even knowing what we are sitting on half the time.
Luke Muir (vocals): Overall, I'm most proud of "All Good Things." It was the first and last time I truly felt like a musician, being able to show the guys a song I wrote on guitar and having it turn into the song that it did. When I mention to people that I "used to be in a band" and they ask to hear what it sounded like, I will usually play them that one or "Waterlogged."
"Waterlogged" is a song that I'm most proud of lyrically. Every once in a while, I can string a couple words together to convey a complete thought, and this one was one of those times.
***
The vinyl reissue of This Never Happened will be out in October via Translation Loss Records and can be pre-ordered here. It's also up on the label's Bandcamp page.
Upcoming All Else Failed shows:
9/22 Garwood, NJ - Crossroads w/ Boy Sets Fire
9/23 Harrisonburg, VA - Golden Pony w/ Boy Sets Fire & Be Well
9/24 Raleigh, NC - Pour House w/ Boy Sets Fire & Be Well
9/25 Asheville, NC - Odditorium w/ Boy Sets Fire & Be Well
***
Help Support What No Echo Does via Patreon:
***
Tagged: all else failed