Every year, there always seems to be a standout LP in the year's final quarter that manages to explode and reshape my Albums of the Year list.
This year, that autumn highlight comes courtesy of Punitive Damage.
The Vancouver, British Columbia hardcore punk band have someone managed to pen a ten outta ten on their debut. Rounding out Atomic Action! Records' already impressive roster, the PNW unit are a deadly serious proposition sent to lay waste to empty sloganeering and generic hardcore archetypes. This Is the Blackout wastes nary a moment of its 18-minute runtime.
On the back of a killer demo and a grip of stellar subsequent EP's, Punitive Damages has peddled their unique brand of punishment since their 2018 formation. Bridging the not so disparate worlds of raging hardcore, power violence, Youth Crew, and rock and roll; there's an emphasis on acknowledging their wildly varied musical backgrounds.
With a sound that nods at everything from KISS, AC/DC, and the Stones to the rich tapestry of Mariachis, the through line is an emphasis on memorable songs. By that particular metric, the album is an unqualified success of endlessly addictive rage.
For the purposes of roll call, the band's composed of Jerkova at the mic, guitarists Czecho and Teej, drummer Alejandro, and bassist Kermit. With production and engineering handled by the inimitable and go-to Taylor Young, the collection is an incendiary and essential listen. Adding to an already masterful sonic achievement are the lyrics, which lend an air of authenticity and earned ire.
Jerkova is on finest form, trading scathing lyrical barbs for accomplished poetics and back again. In lieu of my regurgitated take on someone else's experience, I'll instead give space to Jerkova's own words regarding themes as taken from the band's bio: "I wanted to try and really zero in on the things that have impacted me and painted my lens, so I wrote a lot about what I saw and felt as the daughter of immigrants, and the resulting isolation, friction, and disapproval that came from being Mexican in a country with little next to no Mexican or Latin American community." Elsewhere we're given a hyper literate take on both the pervasive and insidious nature of white supremacy as well as the forced and expected homogeneity.
Opener "Pure Blood/Sixth Sunrise" offers a sonic balm for the apocalypse-beckoning feel of modern times, juxtaposing the Nahua creation story with note perfect hardcore punk. As a table setter, it tips the listener off on what's to come. Vacillating wildly between blastbeat tempos, a lurching and antagonistic two-step, and certified rock and roll confidence, it quite simply rules. Between the thudding drums and relentless feedback, there's an antagonistic lurch that relies not on tempo but on the frenzied register of an exhilarating vocal performance.
The misleading song title "Nothing" is anything but. At its core a ripping sub minute rager, the scathing and reprised line "We're nothing like you…" elevates the proceedings to something I haven't necessarily heard before. Elsewhere, the bass tone and final 10 seconds of "Drawn Lines" is something I'd rather not spoil the show on. Listen for yourself and tell me that it isn't one of the best things you've heard. Not this year, but full stop.
"Fool" finds its footing in classic hardcore, pairing a street ready two step to the air raid siren of feedback. Though it won't win any awards for subtlety, when Jerkova at last explodes with "shut your fucking mouth" it feels less an agitated threat than it does pugilistic and victorious. What marks the vocals here and across the collection is a genuine and deserved urgency. Eschewing the fraternity of backstabbers of standard hardcore's literary tropes, it's a masterclass in rage.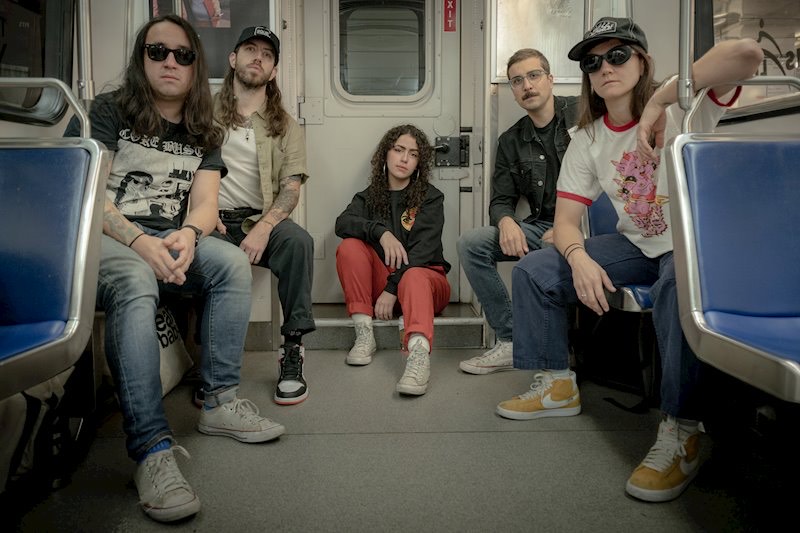 To call a two-minute song "long form" is a bit hyperbolic, but we're talking a 13-track bar burner here. With a title that inadvertently reminds me of the final album by RATM, Resistance Within a Breath" rides in on a simple kick drum. As if simulating a heartbeat, what begins as a damaged pulse ultimately turns into a full fledged fucking heart attack. While the entire band knows their way around earwormed intensity, it's the drums that steal the show here.
Also tipping its hat to their more rock and roll leaning influences, it's as loose as it is taut. It's the sound of controlled chaos, a band unafraid to walk their songs back from the edge of implosion just prior to falling apart. Continually bleeding feedback eventually gives way to a noisy and echoey collage, feeling as if band members are leaving the practice space one by one, all while an oblivious and wildly talented drummer bashes away with a primitive ferocity.

Despite how intense the record had been up to this point, I was still ill prepared for just how fucking rad and impossibly venomous the one-two of "Sangre y Oro/The Blight of Christ" is. For me, it's far and away the album's highwater mark. It's first half is the band's speediest and most relentlessly pacy material paired with one of the year's best riffs shows a band lapping the competition. It must be noted, that Punitive Damage seem steeped in DIY punk aesthetics and ethics, which always makes for hardcore.
As if the talented group needed yet another arrow in their bottomless quiver, they deliver a slightly moodier but no less stunning piece on "¿Que? ¿Me Tienes Medio Ahora?" At once pensive and tightly wound, it's another side to an already formidable record.
There's not a weak track in the bunch. Across the span of 18 minutes, Punitive Damage here drops a baker's dozen of top tier aggression. Pay up or punish yourself, fools. This absolutely rips.
As a side note, I was heretofore unaware of the story of Diana, Hunter of Bus Drivers. If you take nothing else from this review, let it be that thread worth pulling on. Thanks, Punitive Damage.
Get It
Tagged: punitive damage