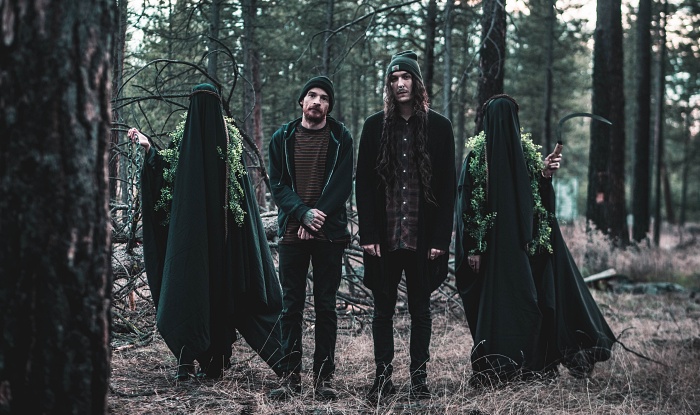 Jake Jerome and Anthony Perez have no time for whatever most people expect to hear when someone mentions spoken word-driven music. Based in Pacific Northwest, the duo known as Blacktracks approach the medium much like a film screenwriter and director would, creating drama through striking wordplay and layered atmospherics.
On the musical side, Blacktracks weave labyrinthine arrangements that welcome in everything from post-rock to post-hardcore to whatever the fuck you call what Godspeed You! Black Emperor does. While Jerome's lines escalate in tension, the music mirrors that push and pull. It's an often jarring union, but it's effective.
Blacktracks will be releasing their debut album later this year, and No Echo is premiering its first single, "Casual Drugs," via a superb music video directed by Riker Morrow:
"The song is an ode to the path one takes in self destruction," Jerome tells No Echo. "The honest observance of having a more dependent relationship with a number of different things around you in the same way one might with drugs or alcohol. It's a visceral mourning to the sense of self one compromises in the spiraling moments of crisis, and a vehement rejection of institutions that exploit people in those moments for monetary or ecclesiastical gain.
"It's about feeling completely foreign in your mind and body. It's about finding solace in a burned bridge rather than severed a tie."
"Casual Drugs" is available starting today on all streaming platforms via Blackhouse Records. Stay tuned for release date info on the Blacktracks album coming later this year.
Blacktracks on social media: Facebook | Instagram | Bandcamp
***
Help Support What No Echo Does via Patreon:
***