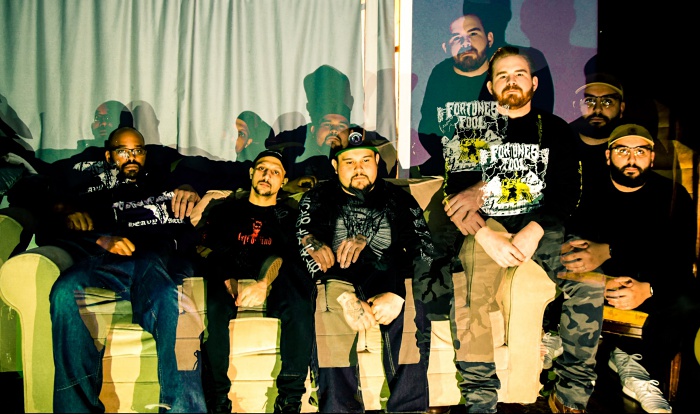 With members spread out between various cities in New Jersey and Pennsylvania, Dissent is a metallic hardcore quintet some of you might have seen at This Is Hardcore and/or East Coast Tsunami festivals in 2017, or at any other of their many tour stops throughout the past few years. On the discography front, Dissent have to date issued an EP in 2016 called Darker Days, a split with Iron Price that same year, and just last year, they teamed up with Upstate Records for their Athame EP.
Now featuring guitarist Mike Spanarkel (Grievance, ex-Dread) within its ranks, Dissent will be releasing debut full-length album later this year. Today, No Echo is presenting the premiere of "Echoes," a track from the forthcoming LP. "The song is the culmination of all the shifts and changes associated with a band that has had member changes and growth as musicians and friends," says Dissent guitarist Len Carmichael, who also recorded the cut at Landmine Studios and who you might also know from his work with Sunny Singh at Hate5Six.
Len also offers up some thoughts on the lyrics to the song: "It is about the feeling of impending doom and imminent danger. More importantly, finding the strength and inspiration to fight off the evil by becoming a monster yourself."
Another part of the story here reminds me about the familial aspect of the hardcore scene I love so much. "Most importantly, a friend of the band, Angela Fowler, has been diagnosed with terminal cancer and we want to help any way possible. 'Echoes' will be available for a $1 download. To help in their time of need, all proceeds from downloads will go directly to the Fowler family. You can donate more at the GoFundMe page."
Stay tuned to Dissent's social media pages (Facebook, Twitter, Instagram) for more info on their forthcoming debut album, which will be out later in 2019.
Upcoming Dissent shows:
March 14th - Fuze Box in Albany, NY (w/ Purgatory, Reserving Dirtnaps, Absoulte Suffering, No Option)
March 15th - Towson, MD @ The Raven Inn (w/ Iron Price, Ripped Away, No Convictions)
March 16th - Pittsburgh, PA @ Black Forge Coffee (w/ Iron Price, Ripped Away, No Convictions)
March 17th - Johnson City, NY @ Avenue DIY (w/ Iron Price, Ripped Away, No Convictions)
March 18th - Trenton, NJ @ Championship Bar (w/ Iron Price, Ripped Away, No Convictions)
April 26th - Brooklyn, NY @ The Kingsland (w/ Sworn Enemy, Mushmouth, Iron Price)
April 26th & 27th - Chicago, IL @ Cobra Lounge for the Rumble w/ Breakdown, Death Threat, Xibalba + more)
May 17th - Brooklyn, NY @ Brooklyn Bazaar (Diablo Fest/BNB Pre Show w/ M.O.P., Skarhead + more)
May 18th & 19th - San Antonio, TX @ The Guillotine (w/ Racetraitor, I Am, Easy Money, Reserving Dirtnaps, + more)
***
If you're shopping for vinyl, CD, and cassette hardcore titles, head to No Echo's partner store, Reverb LP, to see what they have available. Every purchase you make helps No Echo with site costs.
Tagged: dissent