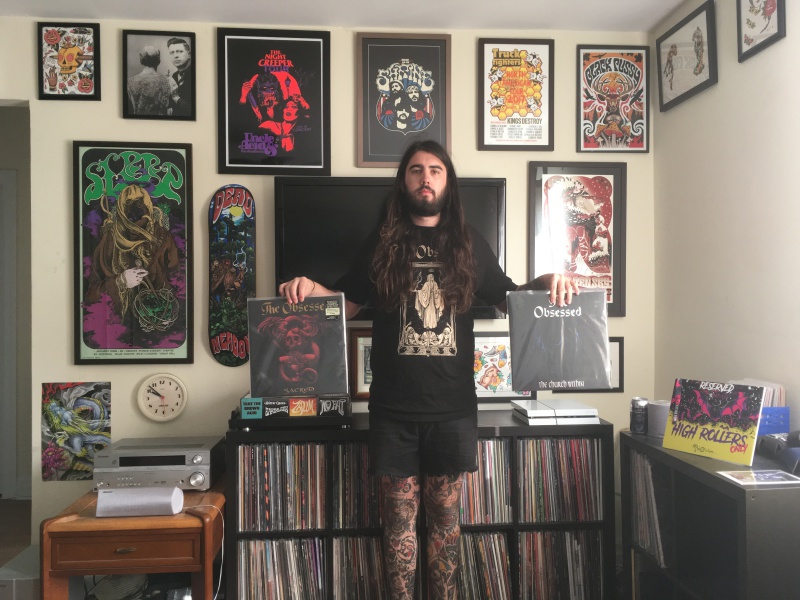 Connor Richard Joseph Babin tells me that he's "23 years younger than Matt Pike" when I ask him his age. So, right off the bat, I know the guy's a character. The Toronto music geek also tells me he worships at the altar of doom. From the photos he posts on his Instagram page, I know the guy isn't lying about his love of all things slow and riffy.
It's nice to have Connor join the other fine folks in the Record Collector club.
How long have you been collecting records?
I've been collecting records constantly for the past five years. It's something I can say I'm happily addicted to.
Where/how do you usually find your records these days?
Discogs, record labels, distros, and record stores in town like Stained Class, Rotate This, and Cosmos Records. All of those stores kick ass. Also, my good buddy and fellow Doom Warrior, Reg, and Luke. Both of these dudes are fucking legends. Reg has been sifting through his massive collection lately giving me some great deals on records I've been missing. Luke goes to the UK a couple times every year and brings back a heavy amount of wax. You can always find a sexy Vertigo pressing/other first pressings when digging through Luke's goods.
What is the most you paid for a single record, where/how did you obtain it and what was it?
It was actually my first time at the Toronto Night Time Record Show and also the first-time meeting Luke! Reg and Luke were selling wax and like I said, Luke goes to the UK and brings back a shit load of first pressings. I was digging through his wax and found a first pressing of Vol. 4 by Black Sabbath, Vertigo swirl and all! I was completely hypnotised by the damn thing. I ended getting a couple records from Luke that night, I think the Sabbath ended up being like $100.
Of everything in your current collection, what is your most prized record and why?
One year ago, my cousin Kevin (Jimmer), suddenly passed away last year. I was completely devastated, my whole family was. Kevin was and still is a massive influence to me. He's the one that got me into stoner rock, desert rock, and the low 'n' slow. Over the past year, my aunt has been kind enough to let me take some of Kev's records. Every single one of those records I cherish, but a couple really stand out to me, like the first repress of Sleep's Holy Mountain on transparent green wax, Lowrider and Nebula split on I Use to Fuck People Like You In Prison Records, same with Lowrider Ode to Io, also on I Use to Fuck People Like You In Prison Records on that milky clear wax. Those are extremely rare, check Discogs if you're interested in the prices.
Is there anything that frustrates you about the current record collecting scene?
I hate shitty turntables! It blows my mind that some people you see on Instagram with fucking outstanding record collections but have a horrible, horrible turntable. That doesn't make sense to me. If you're spending all that time and money on growing your collection, why don't you take a break and upgrade your fucking turntable. Everything will be better in the long run, and your records won't be getting eaten by that vinyl shredder you call a turntable. PUT YOUR COLLECTION ON PAUSE AND UPGRADE YOUR TURNTABLE!
Which records are still on your want list that you've had a tough time tracking down through the years?
My want list is forever growing. It's like my hair, a decent length and looks great. Seriously though, I just want Vertigo swirls and Japanese pressings. I've been on the hunt for this Thin Lizzy Black Rose Vertigo swirl. I found one for a pretty fair price, just haven't pulled the trigger yet. Time will tell.
***
Follow Connor on Instagram.
Tagged: record collector