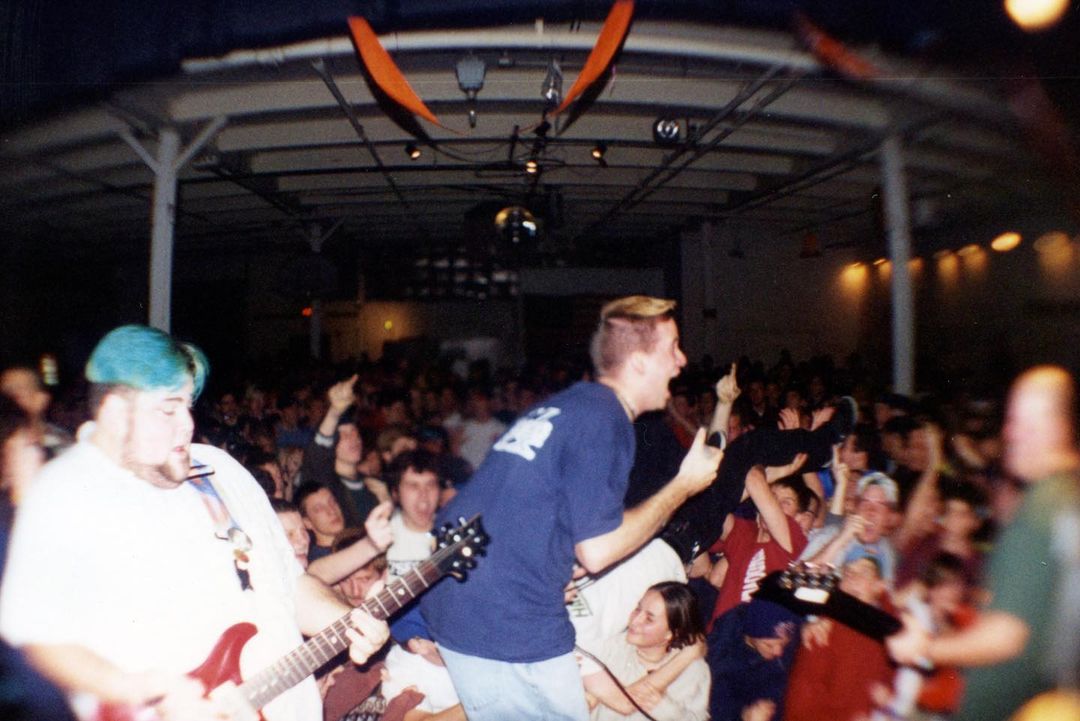 It is not hyperbolic to say that the music world lost a legend on April 4, 2023. While Rich Jacovina was a founding member and guitarist of a band that has posthumously become beloved by the worldwide hardcore community after they broke up in 2001, Silent Majority have been hometown heroes on Long Island, New York since the 1990s.
To learn of Rich's untimely passing was devastating and demoralizing news to read on our mobile devices. In lurking at a lot of tributes circulating online, the distinction between fans and friends is somewhat blurry.
Hell, I might be one of the few firmly in the "fans" category, yet even I remember spending an entire Saturday in Rich's backyard for a show that included Glassjaw, Kill Your Idols, and, of course, the almighty kings of Long Island Hardcore: Silent Majority. He opened up his home for friends and strangers alike to eat his food, watch our favorite bands for free, and drive his neighbors nuts.
When I first discovered the band in 1996, Silent Majority were already established as the centerpiece of the burgeoning LIHC, but I was a bit leery to dive in. Although my understanding of US history and politics were not well developed yet, I was aware that the band's namesake was a reference to Richard Nixon's populist appeals against the counter-culture movements of the late 1960s.
At the same time, I heard that Silent Majority once had a song called "Abortion Clinic in my Bedroom." Despite any connotations with the band name or a few select song titles, the lyrics were not about restoring the status quo, nor were they rallying cries for a generational revolution; Tom Corrigan wrote introspective tales in a way that was relatable, yet totally unique. But the lyrics to "Expectations," one of Silent Majority's earliest and most essential anthems, were penned by Rich Jacovina.
When Silent Majority finally released their full-length album Life of a Spectator in the spring of 1997, music was never the same again. Every song on the album is memorable and distinguishable, yet they all fit together as a cohesive work of art. But it was more than just an enjoyable listening experience; Life of a Spectator single-handedly expanded our understanding of the range of emotions that can be conveyed in a song.
Silent Majority defied the unspoken rules about what defines a hardcore band as they explored unconventional musical arrangements without alienating the hardcore purist. And while they weren't the first band to incorporate melody into the genre, they somehow got the formula correct. They set the blueprint for how to construct songs that included hummable guitar riffs and decipherable lyrics without sacrificing any of the urgency or authenticity that goes along with being a hardcore band.
This is why a quarter of a century later, their music is still relevant and not merely a relic of the 1990s (despite what handheld video footage of the band performing in oversized jorts might suggest).
Silent Majority were also one of the few bands that could potentially win over a cynical musician snob who dismissed all hardcore as "three-chord punk garbage." In the pre-broadband internet era, making a counterargument was not so easy. As far as physically released music, all that existed was a cassette demo and two 7"s that are legendary but were not adequate representations of how the band sounded by 1997.
And while part of the magic of Silent Majority was seeing them live, there was now a physical and convenient recording with just enough production values so that every note could be heard. It was affirming when the same people who worship Frank Zappa and Dream Theater had to acknowledge how talented Silent Majority were as musicians. "Wow, these guys can really play!"
Unfortunately, Life of a Spectator would be the only full length album that they would release. However, the discography does not end here as the You Would Love to Know EP from 1999 includes five masterpieces where the band pushes the boundaries even further – with longer song lengths and more intricate playing than on their previous release.
It might be a stretch to say that they were on their way to becoming a prog rock band but they had the chops as musicians to flirt with odd time signatures and pull off stuff that was not expected from a hardcore band in the 1990s. Shortly after that EP was released, the band broke up. Just as with the final EPs by Youth of Today and Turning Point, Silent Majority's You Would Love to Know EP foreshadows the greatness of what could have been.
Before Rich Jacovina left this world, my understanding is that he was already unable to perform at any of the 2023 reunion shows, yet he was enthusiastic that his bandmates carry on. This selflessness is further testimony to the character of a man who was so widely admired and loved.
In a scene that has unfortunately often been plagued by competing personalities, petty gossip, and shit-talking (even in the pre-social media or message board era), there were never any negative stories floating around about Rich.
In reading the tributes online, I realized that I could only offer condolences from the perspective of a fan as I had no interpersonal communication with the now deceased guitarist (I am restraining myself from incorporating a "Life of a Spectator" pun here.) Then in a flash, I had a memory of a brief encounter with Rich that was more significant than I ever realized.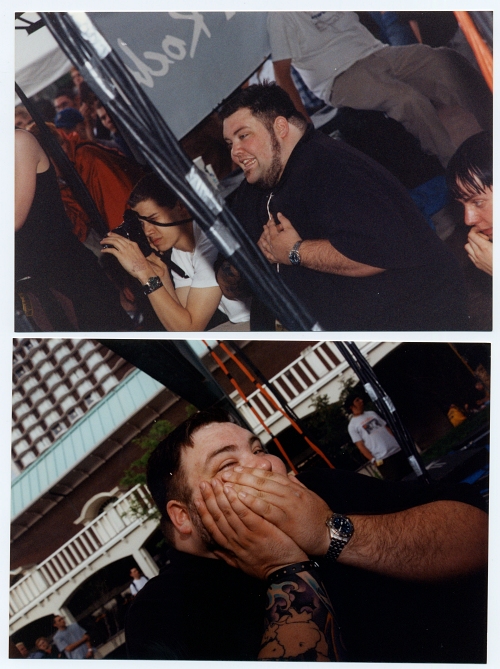 In 11th grade – which means I had the maturity level of an 8th grader, at best – my friends and I attended a show at a short-lived venue in Bayshore, Long Island. Silent Majority were not even on the bill this night, but Rich was part of the collective responsible for booking and promoting these shows. Immediately upon entry, I was hovering over the merch tables, anxious to spend the lunch money that I didn't use all week. My eyes were immediately fixated on the most aesthetically pleasing Tripface t-shirt that I have ever seen.
In an era before kids walked around with credit cards and apps to purchase items, we used cash. Cold-hearted cash. And the merch guy didn't have exact change, so he kindly instructed me to get change from the man at the door. There were no advance tickets so everyone paid in cash as they entered (once again, it was a different world). And the person sitting at the entry point, with the cash register, was Mr. Rich Jacovina.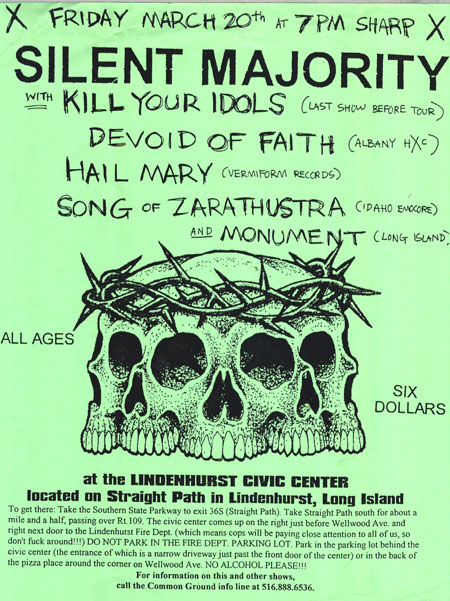 At this point, I knew Rich was the guitarist of Silent Majority as I was already a fan. My friends and I even listened to a cassette copy of the newly released Life of a Spectator CD on that drive to Bayshore. In other words, besides having manners and common decency, there were additional reasons why I should have been respectful and humble in approaching Rich. I honestly can't recall exactly how I asked, but I will never forget Rich's response: "Gimme? I'm not giving you anything because you said gimme."
I was temporarily paralyzed as not only was my quest for the t-shirt halted by my idiocy, but one of my favorite guitarists had put me in my place for behaving like an entitled brat. Maybe he was legitimately annoyed at my audacity or perhaps he was just busting balls (and by reading a lot of the tributes from people who knew him well, the latter is a bigger possibility than I ever thought). It probably took less than 60 seconds for me to gain some composure and politely try again.
This time I asked, "May I please have change?" And Rich was more than gracious.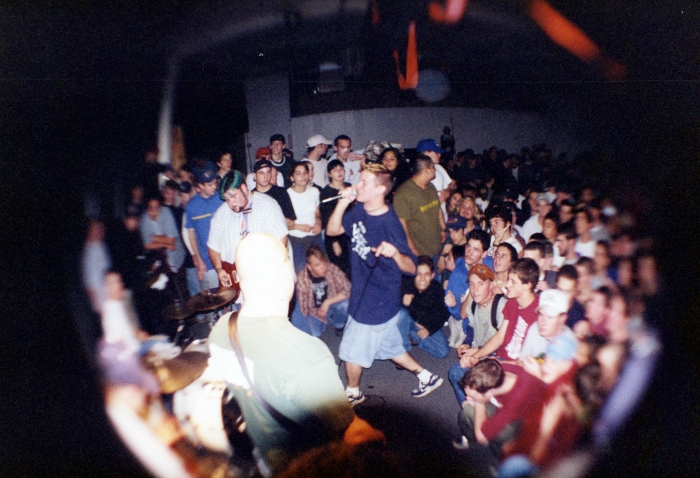 I can guarantee that ever since that incident, regardless of the circumstances, whether it is someone working a shift or people just volunteering their time, I am careful with how I make such requests. In an alternate universe without Rich Jacovina, I certainly would not have Silent Majority records to listen to, but I might also go to restaurants and demand that the waiters "gimme" my food and then be totally clueless as I eat the snot that is camouflaged in the meal that I ordered.
But whether you were a close friend or an acquaintance, got tickets for the reunion shows or a totally lapsed fan, had a friendly exchange or were the recipient of a lesson on etiquette, Rich was a key member of a band that offered so much more than they ever received.
There are bands that currently play arenas that wouldn't exist if Tom and Rich didn't happen to live a few houses away from each other in Lindenhurst, New York. And while they might not have attained the success of the bands that followed in their footsteps, Silent Majority will always be the headlining band.
Rest easy, Rich!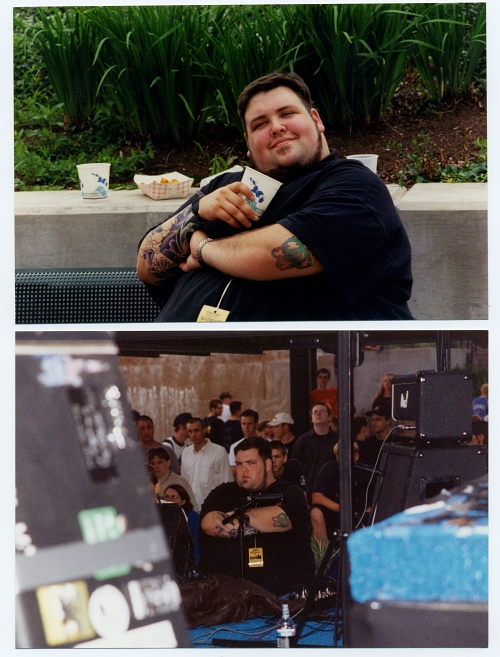 ***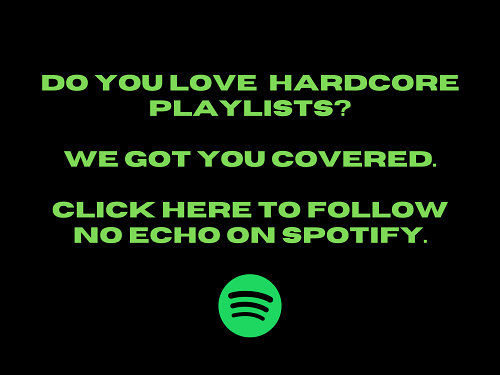 Tagged: silent majority