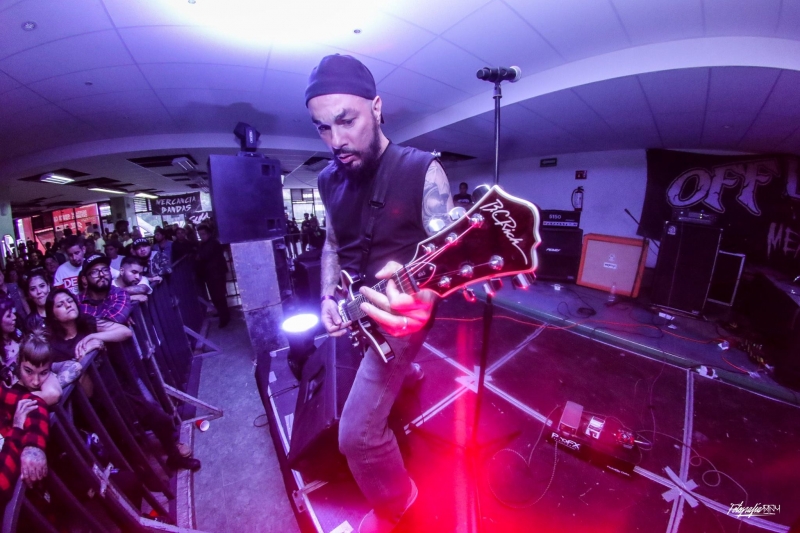 Last month, No Echo partnered with Integrity to hook up one talented guitarist with a ridiculously sick prize package. To enter, we asked axe-slingers to upload their own version of a guitar solo to Integrity's "Burning Beneath the Devil's Cross" from their latest album, Howling, For the Nightmare Shall Consume.
Each entry had to use the tag #IntegrityGuitarContest on social media, and 1 Grand Prize Winner and 3 Runners Up would be selected by the band.
Grand Prize: BC Rich Mockingbird, Ernie Ball Strings, Lace Pickups, Integrity: Howling, For the Nightmare Shall Consume (CD + Vinyl), Integrity T-Shirt
Runners Up (3): Integrity: Howling, For the Nightmare Shall Consume (CD + Vinyl), Integrity T-Shirt, Ernie Ball Strings
Well, Integrity guitarist Dom Romeo has chosen the winners! Watch the entries below, and check out his thoughts for each beneath the videos.
***If you're one of the four winners, please email carlos@noecho.net your full name and mailing address for your prizing. As a bonus, and to show gratitude for all of the entries, Dom wants to send every guitarist who entered a special gift as a thank you. Just email me your address.***
Grand Prize Winner: Adam Kelly
Your sweeping and sizzling licks and tasteful use melody won me over. Fantastic job, Adam, congratulations!
Runner Up #1: Jose Carrasco
Rollercoaster ride of evil licks! Excellent composition/tight shred and great tapping! Powerful stuff!
Runner Up #2: Zeon Graind
You kept me on the edge of seat with plenty of crisp runs and sinister melody. Awesome job, Zeon!
Runner Up #3: Marshall Matson
I loved this! Great idea to use slide guitar. It's like the soundtrack to some evil mission on Route 66. Awesome work, Marshall!
The Other Entries:
Dottie Heck
Nice work I loved the latin sounding double stops at around 0:43.
Tommy Robinson
Great solo / tasteful licks and nice melody especially at 0:42.
Elias Brunelle
Nice runs I liked your use of the whammy bar.
Yavé Rust
Great job I loved your abuse of the whammy bar. Also couldn't stop staring at the green pickups.
Rodrigo Luz
I loved the pedal note run at the start / great job!
Kir Guskov
Great solo! Loved the sweeps at 0:38.
Tomás Soares
Interesting phrasing on your licks especially the theme at approx. 0:20.
Vitaly Shemetovets
Excellent solo / nice clean runs…pure evil!
Dan Donahue
Nice variety of licks and styles thrown in / just the way I like it.
Patrick Franck
I enjoyed your haywire/ frantic approach. Nice melody to end it off.
Chris Incarnate
Dark passages. I loved the tail licks at 0 33
Josh Fury
Nice work. I liked the solid bluesy runs and bends.
Keytar Shredder
This was unbelievable / great licks / very inventive idea.
Oamatterickson
Great intro reverse divebomb! Awesome licks too!
Ifvoiddeath
Nice tasteful runs and good use of unison bends.
Party Marty
Nice tapping and the evil harmony was a nice surprise!
Papascottp
I loved the chaos in this solo. Great job!
Tom D.
Evil. I really liked the stretch licks and double stops.
***
Integrity's Howling, For the Nightmare Shall Consume is available now in the Relapse Records store.
Tagged: integrity