If you go into seeing Wear Your Wounds live and expect a Converge show, do yourself a favor: set your expectations aside. I headed into the Satellite, a bar venue located in the Silver Lake neighborhood of Los Angeles, looking forward to an eclectic mix of music. The music of Xasthur, Wear Your Wounds, and Author & Punisher couldn't be more different in some ways and yet all three sets very much made sense as a tour package. It was great to be reminded of how music can quite literally knock you off your balance.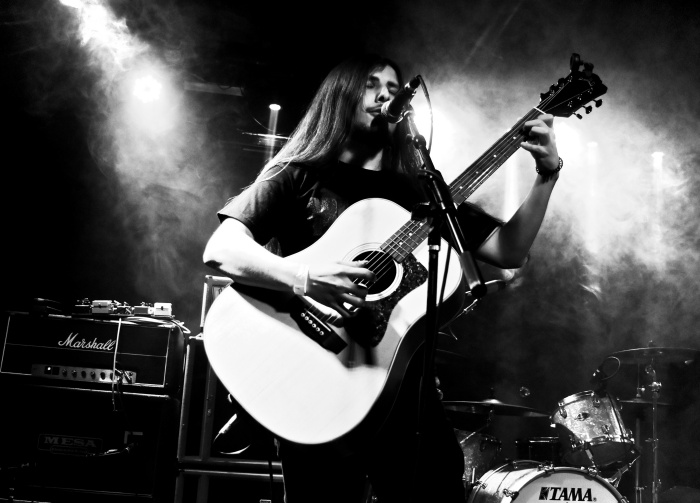 Out of respect for Xasthur, I'm going to trust that those that are familiar with the earlier black metal material know that things have changed somewhat since Xasthur became a more active live band. I had the privilege of seeing Xasthur play live at the most recent Power of the Riff festival last November. The set this past week would be slightly different in that at Power of the Riff they featured a bass player in their lineup, while it was primarily either 6 or 12-string guitars. For fans familiar with the black metal era of Xasthur, there is still the overall despair filled personality that comes through the music; but with the more intimate and raw environment of vocals and acoustic instrumentation, songs like "Postponing my Funeral" and "Shit Creek" gripped the entire audience.
Whether you regularly listen to folk/acoustic music or not, especially if you enjoy the black metal records from Xasthur, I highly recommend keeping an eye out for their new recordings as well as for any time they play live. It is an intimate and startling experience.
Originally, Wear Your Wounds (as Jacob Bannon mentioned on stage) started as a "bedroom" project of sorts to express musical ideas. Music by Wear Your Wounds first became public through a split release with Revelator (a project by musician Ben Chisholm who is primarily known as the guitarist for Chelsea Wolfe).
As of 2017, WYW, Dunedevil, and Arthritic Heart have been released and Rust on the Gates of Heaven is set for release on the 12th of July. In order to bring these songs to life, Jacob Bannon brought together a group of various talented musicians many of us are likely familiar with such as F. Sean Martin (Hatebreed, Twitching Tongues, 100 Demons, etc.), Adam McGrath (Cave In, Zozobra, Nomad Stones, etc.), Mike McKenzie (The Red Chord, Stomach Earth, etc.), and Chris Maggio (Trap Them, Coliseum, etc.).
It was a special set in that most of the setlist was actually unreleased material that will be part of Rust on the Gates of Heaven, which I greatly appreciated.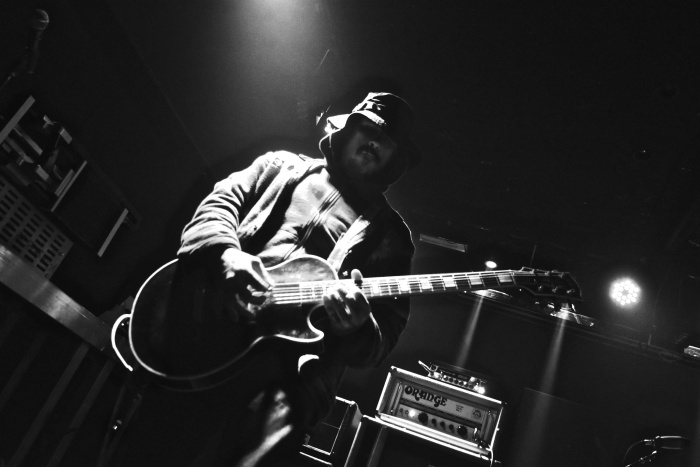 It's clear that all five musicians that make Wear Your Wounds a band are good friends that have come together not only to write music but to give each other a new way to express themselves as creators that even longtime fans of their various bands may not immediately expect.
Equal parts experimental and evocative, as well as heavy and emotional; Wear Your Wounds is a full-fledged band of musicians who are not limited one genre and I'm already excited to possibly be seeing them again when they open for Torche later this summer.
While I, unfortunately, had to leave a bit early due to some complications with my eyes and the lighting situation; I was very glad to see Author & Punisher again. Tristan Shone, the artist who has become known as Author & Punisher, is incredibly inspiring in his ability to harness a venue as a solo artist and completely define the atmosphere for the length of his set.
Utilizing one of a kind instruments of his design for a uniquely envisioned mix of electronic/industrial music with clear links and influence from drone music as well as metal, the live setting is where the visceral nature of Author & Punisher's music is almost inescapable. I have no doubt that there were new fans made that night for all three bands/artists and I hope to see more similarly eclectic lineups touring together in the future.
Thanks to The Satellite/Spaceland Presents for hosting the show as well.
Tagged: author and punisher, converge, wear your wounds, xasthur