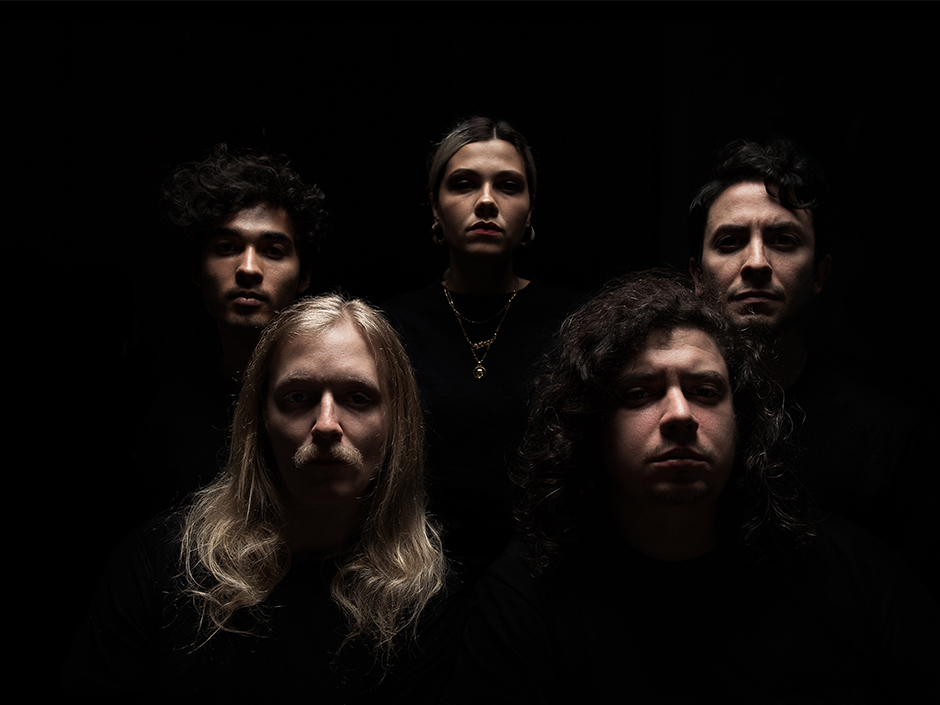 Richmond, VA gets a lot of love on No Echo, but it's usually centered around one of the city's many killer hardcore bands. Spooky Cool is definitely not a hardcore band, but that doesn't mean they're any less crazy.
Formed in 2015 by singer/guitarist and songwriter Zac Hryciak, along with drummer Lee Spratley and bassist Sean Williams, Spooky Cool play a style of music that is a motherfucker to try and categorize. It's catchy yet complex and melodic yet unconventional. The band just dropped Every Thing Ever, a collection of songs that I can best describe as a mind-melting blend of Deehoof, Jellyfish, and Pixies. Listen for yourself below:
In this exclusive No Echo list, Lee Spratley and Zac from Spooky Cool tell us their picks for 5 Dank Nugs. I know, I was as perplexed as you probably are right now, but if you read on, you'll understand what they mean.
***
Tchaikovsky — Symphony #6
For the last few years, I've listened to very little indie-rock as a source of inspiration. One takes things for granted growing up, and I unfortunately focused on rock music at the expense of all else. Tchaikovsky's final symphony uses dissonance and structural complexity without ever losing sight of melody, which, for Spooky Cool, is an almost all-encompassing principle. And the piece understands the balance between sadness and joy, old age, and youth, in a way I'm always looking to emulate. -Lee Spratley
Wand — Perfume
Holy shit. There have been a handful of times in my life that I've wanted to quit making music because of someone else's. Wand has struck that chord with me more times than most. Their latest EP, Perfume, like a great deal of their work is an exercise in patience and growth on the side of the listener. Like much of the music I have come to revere I wasn't sure if I liked it right away. That's a good thing, I crave that uneasiness. But by the second track, (and probably my favorite on the record) "Town Meeting," I was laughing out loud in my living room because I couldn't believe the technical prowess and newfangled feat I was witnessing. Perfume is the next step in what is positively a boundless career. -Zac Hryciak
Franz Schubert — String Quintet in C Major
Zac and I are forever discussing our desire for every instrument, every voice, to be essential to the overall composition. Vague atmospheric business, superfluous filler: we strive for instrumental clarity above all else. This quintet seems to me to be a kind of high water mark in that sense; every voice feels vital and permanent. And again, those friggin' melodies... -Lee Spratley
Kendrick Lamar — To Pimp a Butterfly
The master. This record really puts matters into perspective, making most rock albums I've recently heard seem downright tame and, to be frank, kind of inconsequential. Kendrick Lamar, at his best, seems to me to be a maximalist of the highest degree; every second is jam-packed with unpredictable sonic and lyrical detail. Spooky Cool can only hope to make music a fifth as dense with ideas as Lamar's. -Lee Spratley
Jean Sibelius — Symphony No. 5 in E flat major
Barbarian! Undoubtedly used before to describe Sibelius' work but I can't seem to get away from the word. When I first heard Jean Sibelius' 5th symphony I had bought it from an antique store unaware of the power it held and the impact it would have on me. In particular, the third movement which dances around its own otherworldly sorrow, undulating from terrifying to refined beauty in an instant has forever framed the way I aspire to write music. And that damn melody! -Zac Hryciak
***
Spooky Cool's Every Thing Ever EP is out now and available for download and cassette on Bandcamp via Citrus City Records.
Tagged: spooky cool