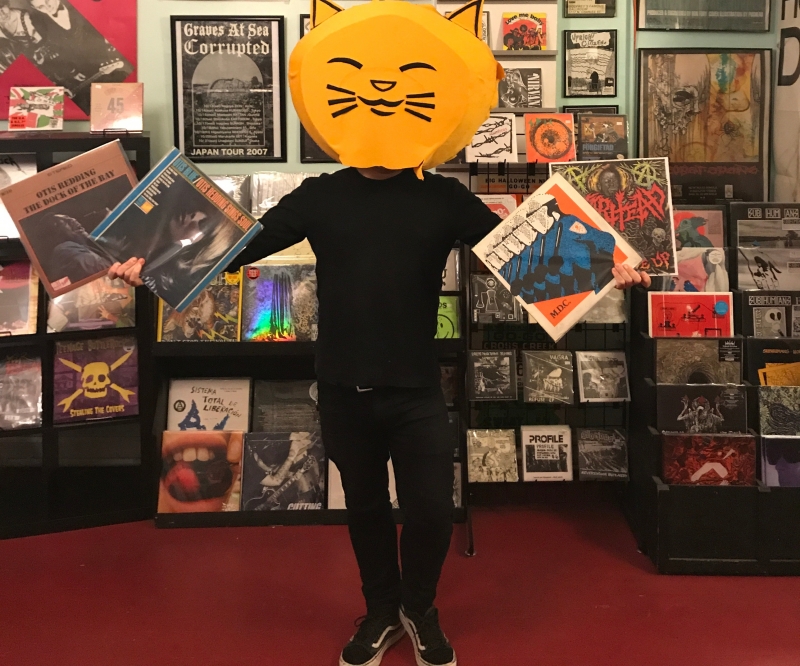 Tony Pence has been on this toilet Earth for 44 years now, and during most of that time, he's dedicated his life to all-things music. Not only is he the singer of the bands WarxGames, Deep Sleep, and Glue Traps, he's also been a roadie for such acts as Strike Anywhere and Night Birds. But most of all, Tony has put his blood, sweat, an (no) tears to Celebrated Summer Records, the retail store he's owned and operated since 2006.
A vinyl connoisseur of the highest order, it's with much pride that I announce the addition of Tony to the Record Collector club.
When did you start collecting records?
It all started when a older girl in my neighborhood gave me a copy of AC/DC's Back In Black when I was probably 13-years-old, that got the ball rolling, and afterwards, I was frequently buying records at the flea markets my parents would take me to. I think the first record I bought with my own money was Ozzy Osborne Diary of a Madman. As for proper "collecting," that took awhile longer because as a teenage metalhead in the mid-'80s, I had switched to mostly buying cassettes.
I liked stuff like Slayer, Voivod, Anthrax, NWA, and Public Enemy were in constant rotation, but always on a boombox or cassette deck [laughs]. I think around 1991 is when I started buying vinyl again, at least seriously, and by the time I was working at Reptilian Records in 1995, I was full-on collecting.
Where/how do you usually find your records these days?
Well, I own my own record store, so in the course of buying collections, I certainly keep some things for myself, but I make sure it is not too much because in the end it's more important for me to have a well stocked shop than a killer personal collection. I actually go to a lot of local and not so local stores to buy things for myself though. I love chatting with other store owners and getting their perspective on things and seeing what is out there. I've never gotten tired of crate digging! In Baltimore, The True Vine, Normal's, and Trax on Wax get a bunch of my business. On the road, Joint Custody, Vinyl Conflict, Sit and Spin, Smash!, and tons more.
I've also been really lucky in being able to travel so I've brought back great records from killer shops across Europe, Japan, and Australia. I prefer the excitement of finding things in the wild so I don't do much online buying.
What is the most you paid for a single record, where/how did you obtain it, and what was it?
Although I would gladly pay more for things on my want list, somehow about $150 each for a handful of band-made and assembled El Saturn Sun Ra LPs has been the highest. I got them between Beautiful World Syndicate in Philadelphia and The Record Exchange in Fredrick, MD. Luckily, working at a record store in the '90s allowed me to grab a lot of heavy hitters for reasonable prices. I paid 50 dollars or less for my copies of Minor Threat Filler, Teen Idles, Necros, Negative Approach, SSD both (LPs), Electric Deads singles, and a bunch more. On the other hand, in my Job as record store owner, I have paid thousands and thousands of dollars in the blink of an eye for cool collections, so it's all a matter of perspective, I suppose.
If you to pick one record label you feel had/has the best track record of quality releases, who would that be and what are some key titles you love?
My all-time favorite record label is Stax and all of its subsidiaries (Volt, Enterprise, Ardent, etc.). I feel like it has a untouchable history, aesthetic and selection of releases. I am in the process of trying to collect every single LP they ever released. I have about 100 or so currently and even though it might be a fool's errand to think I'll ever finish, but it's super fun to try! Any of their releases by Otis Redding, Rufus or Carla Thomas, The Staple Singers, and Sam and Dave are beyond worth owning. I would actually go so far as to say that if a record has the words Stax or Volt on it, it's worth owning flat out. Slap a Ham and Impulse! are close seconds!
Since you own an actual record store, I would imagine you constantly have to fight the urge to hold records on the side for yourself instead of putting them out for sale.
Oh yeah, as I mentioned above, it's more important for me to have a well stocked store than a crazy personal collection but I really do try to have them both! When Celebrated Summer first opened in 2006, I probably had about 5000 LPs and several thousand singles. I sat myself down and asked myself if I really wanted to own a record store and when I responded in the affirmative, I painfully cut about 3500 LPs, and a thousand or so singles, out of my collection to start the shop, just slashed it down to bare bones! Slowly, over the past 11 years, I have built my collection back up, but with certain strict rules I give myself so the store always comes first.
My first rule is: Only keep what I really need and am going to play. If I can't remember the last time I listened to a record, or cannot imagine the next time I would want to, it goes straight to the chopping block and sold at the store. I also try to have very few doubles or multiple pressings. There are for sure exceptions to this rule as I do collect the various SST color pressings from the '90s and have some US and Japanese pressings of the same record, but overall, I just have one copy of Chain of Strength and Judge records, for example [laughs].
The last rule is the one I think that separates me from most people that collect: I keep the more beat up shit. If I have a pristine copy of John and Alice Coltrane Cosmic Music and someone brings one in that looks scuffed and banged up, I'll keep the beater copy (as long as it plays all the way through) and sell the nice one. This will be my final joke on the world when I die and the hyenas come out to get my collection, they will be disappointed, for sure!
Of everything in your current collection, what is your most prized record and why?
My most cherished records in my collection are the four that I have that were previously owned by my aunt, Beth Dell'aqua. She was instrumental in expanding my taste in music when I was a young teenager. Those are T-Rex Electric Warrior, Pink Floyd Animals, King Crimson In the Court of the Crimson King, and Ruth Copeland I Am What I Am. All four beyond important to me and more so that they were her personal copies.
Is there anything that frustrates you about the current record collecting scene?
My biggest frustration(s) about current record collecting is the general snobbish attitude, gate-keeping, and lack of fun injected into it by older, stuck in their ways collectors that want to yell at a 16-year-old kid for accidentally saying "vinyls." Lighten the heck up.
Which records are still on your want list that you've had a tough time tracking down through the years?
My want list is ever expanding. I feel like if I got to the end of it why even own a record store? Still hunting all the Stax/Volt LPs I need, but beyond that, I would really like a Chicken Bowels single!
BONUS: Here's a photo of Tony (on the right side) with fellow Record Collector club member, Tom Lyle:
***
Follow Tony/Celebrated Summer Records on Instagram, and if you're ever in Baltimore, say hello to him at the store: 3616 Falls Rd, Baltimore, MD 21211.
Tagged: record collector