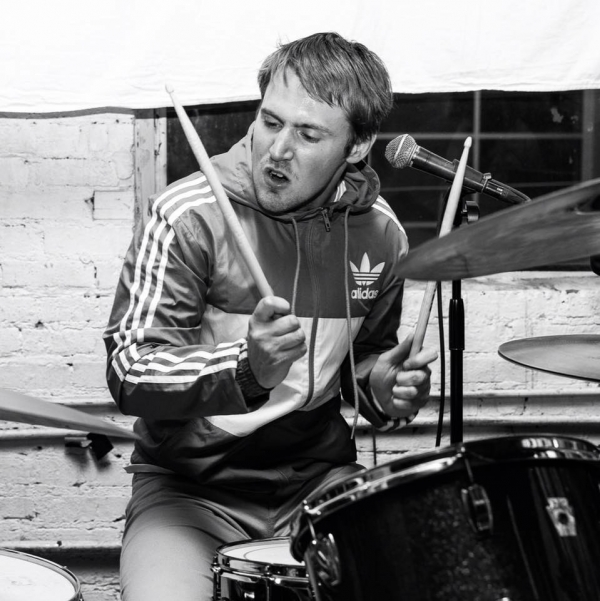 In a recent list feature on the site, Drug Control guitarist Derek Sinock tipped us off on Regional Justice Center, the new hardcore project from Ian Shelton. Some of you might know Ian from his drum work in such bands as Self Defense Family, FOCUSEDxMINDS and Clarity, but on the RJC stuff, homeboy is handling all of the instrumentation and vocals. Take a listen to the demo below if you dig on the harsher side of the hardcore spectrum, ala Infest.
Outside of his band-related schedule, Ian has been spending time on a new photo zine, The User's Guide To: Going Fast and Merging. Available for pre-order here, the zine contains a new collection of photos taken on music video shoots and tours with the likes of Angel Du$t, Self Defense Family, Tony Molina and many more artists. Oh, Ian is also behind Alternatives Label, dropping releases from bands like Lower Species and Ingrown, and if that weren't already enough, he's a talented director who has shot music videos for Angel Du$t and Bayside, among others.
Since Ian is so tapped into the scene up in the Seattle area, I asked him if he would hip me to some new groups to check out. So, here is his list of five hardcore bands from the Northwest he thinks is worth everyone's time.
Sidetracked
Sidetracked is one of the most creatively hardworking and prolific bands in the Northwest that gets very little love from within the hardcore community. The first show I ever booked was in 2007 and Sidetracked was going to play. I thought hundreds of people would show up because they were already signed and had released a 7''. Turns out that wasn't the case at all, but it was still a great time and my love for them began that night.
I felt the band really started coming into what it is now when they did the Uniform and Forfeit EPs, Jay (the creative force behind the band) took the sound of the "Hustle" tape and fully realized it with those records. It's as many riffs and break neck speed changes as you can get packed into as short of songs as possible. Lately, there has been a lot more noisecore releases coming out, but Sidetracked are working on an LP that I believe is more in the vein of the other material I referenced. I'm anticipating it more than any other release right now.
Dreamdecay
Dreamdecay is in no way a hardcore band by the classic definition of the genre, but they are a band that takes elements of its vibe and sound and elevates them to a new level. Their new full-length, YU, is something I can't stop listening to because it takes elements of punk, krautrock, noise rock, and all-around pop, and just ties them together in a way that I find perfect.
I read an interview where they described their goals for the sound in the term of dynamics instead of stating what bands they wanted to sound like and that seems to really be the best way to describe them; they are dynamic. The songs are noisy then poppy, quiet then loud, abrasive yet also make you want to dance. I think they will find wider spread appreciation in the coming years, so people should jump on now.
Division
This was a long brewing project that when it finally came out it wasn't in vogue with whatever what was popular at the time so I think most people didn't know what buzz words to use to talk about it. The record is non-stop catchy riffs and catchy vocal parts, not shying away from melody while also maintaining aggression similar to ways Minor Threat and Bad Brains did as well.
One of my biggest gripes with modern hardcore is the way I hear fast parts being phoned in as just a way to get to a breakdown, but with Division, the fast parts are one of the catchiest moments in their songs, so if they take up the bulk of it, you don't mind because that time is spent with a great riff and a cool vocal part. They are great live and their record is short, so it won't take much to check them out.
Private Room
Private Room is a band that also doesn't cleanly fit under the banner of "hardcore" but their LP, Forever and Ever, feels more aggressive in it's deadpan delivery than most bands can achieve when they try really hard to. Their record sounds like no other with every instrument somehow being right in the front of the mix just battering you. The rhythm section leads everything with building and breaking hard grooves where at any second everything can devolve into noise.
Somehow, among all these individually punishing pieces, a catchiness emerges and burrows its way into your brain where you will all of a sudden realize you are lap-drumming or humming a dual-shouted vocal part from the record. I can't recommend Private Room enough.
Instant Death

This is the Northwest's newest band and it's one of the groups of hardcore musicians I get the most excited to watch. Casey Shaw is maybe the only good frontman in the current hardcore scene, finding the balance between being intimidating while also finding places to fit in humor and undermine and parody the idea of the hardcore singer. Good drumming is one of the biggest factors for me with whether or not I think a hardcore band is good, and Instant Death's Alex Scholen hits hard and finds interesting places to fit in rhythms you wouldn't expect. Some of these songs were jammed towards the end of The Scare (a band I was in briefly) but I'm really grateful a different group of musicians interpreted these songs because they had the tools to make them more interesting, hard and all around fully realized. You can't listen to Instant Death online quite yet, but when it drops I imagine it'll get the recognition it deserves.
***