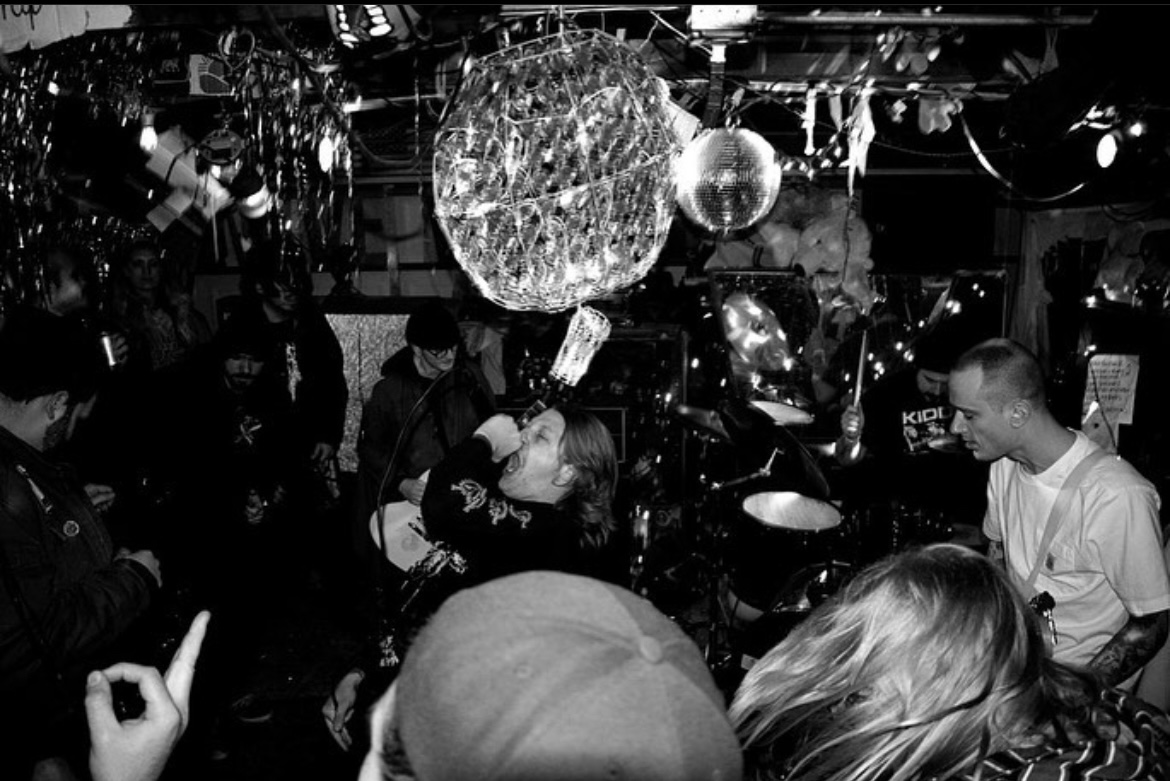 L.I.B. (aka Life Is Beautiful) is a power violence band that formed in 2019 out of Indianapolis. With a demo, the D.I.E. EP, and Men's Health album already under their belt, the quartet has toured throughout the East Coast and Midwest, including appearances at 2021's Convulse Records 3-Year Anniversary festival in Denver and Sweat Fest in Michigan.
For their next move, L.I.B. is teaming up with Ohio metallic hardcore combo Rejoice for Life Is Beautiful, Rejoice, a 7-song split EP. If you aren't already up on the band, Rejoice started playing together in 2018, dropping a demo, the "Promethean Flame" single in 2019, their debut EP, Damnation No Longer Hurts, and earlier this year, a promo cassette.
Rejoice have also been keeping busy on the show front, performing at the inaugural Delayed Gratification Records showcase in July 2021, and playing all around the Midwest, including a run of shows with L.I.B. this past spring. Following this new split EP, the group will begin work on the follow-up to Damnation No Longer Hurts, an EP which is expected in early 2023.
Today, No Echo has teamed with Delayed Gratification Records and Noose Knot Records to present the premiere of Life Is Beautiful, Rejoice. This is quality stuff, my friends:
Rejoice vocalist Nate Snitchler says the following about their contribution to the new split:
"For our half of the split with L.I.B., we decided to lean into our love of death metal bands and incorporate that energy in hardcore songs. Leaning into the irony of the sentiment of 'Life is Beautiful, Rejoice!,' the songs are about my overwhelming fear of death and dying, and reconciling said fear with the fact that nothing lives forever."
L.I.B. vocalist Alex Helvie also offers up some context to their side of the EP:
"'Life Is Beautiful, Rejoice' is the fourth installment and first joint venture of Indianapolis power violence quarter L.I.B. True to L.I.B.'s thematic form, behind the albums tongue-in-cheek title, the topics on the band's side of the release swipes any smile off the face.

"These four songs are about the death of my mother. How I've had to come to terms with her passing, how I felt during the process watching her get worse, my regret of not being able to be around because I couldn't handle it. LIFE IS BEAUTIFUL X DEATH IS EXPECTED."
With recent must-hear releases by Slug, You Should Be With Us, and Rabbit, Delayed Gratification Records continues its winning run, and the label's founder, Vladimir Necovski, is clearly stoked on the new drop. "I'm excited to be working on this split with the people in L.I.B. and Rejoice as well as Noose Knot Records. DGR has been with Rejoice since the start so it's great to continue the working relationship with them as well as seeing their song writing grow to what it is now. These songs are a little bit different than what Rejoice has been building on, but it's a perfect place to showcase the range of what they can do.
"Additionally, I'm happy to be working with L.I.B. and Noose Knot Records (who's run by a couple members of L.I.B.). I first saw them at Sweat Fest last year and was very impressed. They were like nothing else the entire day and I became a fan after the set. After getting to see them in Columbus a few months later with Rejoice and chat with them, I was beyond sold.
"When Nate from Rejoice approached me about being apart of releasing a split with the two bands, it was a no brainer. Further, to be co-releasing this with Noose Knot Records, and this being their second release, is special."
Life Is Beautiful, Rejoice is available now digitally and cassette via Delayed Gratification Records and Noose Knot Records.
***
Help Support What No Echo Does via Patreon:
***