Unarmed is a new musical quartet from Portland, Oregon featuring It Prevails vocalist/bassist Ian Fike, guitarist Therron Francis (It Prevails, Scars of Tomorrow), guitarist Brian Wilson (American Me), and drummer Aaron Marsh (ex-It Prevails, American Me).
"After It Prevails' hiatus in 2020, Ian Fike (vocals/bass) and Aaron Marsh (drums) began to put together some ideas and skeletons of the songs that later became our debut EP, It's Like That," Therron tells No Echo about their start together. "Brian Wilson and myself had both recently relocated back to Portland, and were brought into the fold to help round out Unarmed.
"Every member of Unarmed has nearly two decades of collaborative history together, playing together in not just It Prevails, but also American Me (Rise Records); among other bands. It felt pretty organic and serendipitous in the way that things came together. We're all very similar in what music has inspired us, but diverse enough to where what comes out is a solid amalgam of our combined influences."
Released last month, It's Like That was produced by Ryan Furlott (It Prevails, MxPx) and finds Unarmed bringing forth a melodic strain of post-hardcore that could have easily come out in the late '90s, early '00s.
Therron says this about their style: "If I had to use one word that would encapsulate our sound, it'd be 'earnest.' It's difficult for me to describe how I've arrived at that, but perhaps it's because I understand the spirit and intent behind what's gone into this EP. Anyway, I hope that it comes across when people listen to the record.
"Our combined influences are going to be rooted in both hardcore and punk, but some shared loves would be bands like Hot Water Music, Lifetime, Shai Hulud, Polar Bear Club, and Further Seems Forever."
The guitarist also offers some insight on the songwriting found on the It's Like That: "Lyrically, this EP explores so much in such a short amount of time. Ian Fike, our vocalist/bassist touches on young love, romanticization, retrospection of adolescence, living and growing from short-sighted decisions, and finding strength and inspiration through close familial relationships."
With the EP out now, the conversation shifts to the live music scene Unarmed is based out of. "Portland has always had, as long as I've been privy to it, a very robust punk, DIY scene. In my years before moving here, I looked forward to touring because of how vibrant the scene was. No music community went unscathed during the pandemic, but Portland is resilient and bounced back with an outpouring of support for shows to come back.
"Some of my current favorites from Portland would be Glacier Veins who put out a new LP last year via Equal Vision. They've got this groovy, spacey, atmospheric indie-rock sound that I absolutely love. There's also this female, hauntingly dark, yet beautifully catchy duo called Hoaxed who put out a record last year via Relapse that I'm super into. Kind of reminds me of Battle of Mice meets Emma Ruth Rundle.
"Lastly, there's this phenomenal grindy, thrashy band called Lesser Animal which features members of Arsonists Get All The Girls, Thy Art Is Murder, and American Me. Cannot recommend this band enough!"
Therron ends our chat with some thoughts about Unarmed's future:
"Shifting from most of us only playing in hardcore bands to now shifting to the post-punk arena has been incredibly fun and opened up a lot of opportunities that we haven't necessarily experienced before. We're super excited to continue to play shows, do some light touring, and hopefully record a proper LP this year."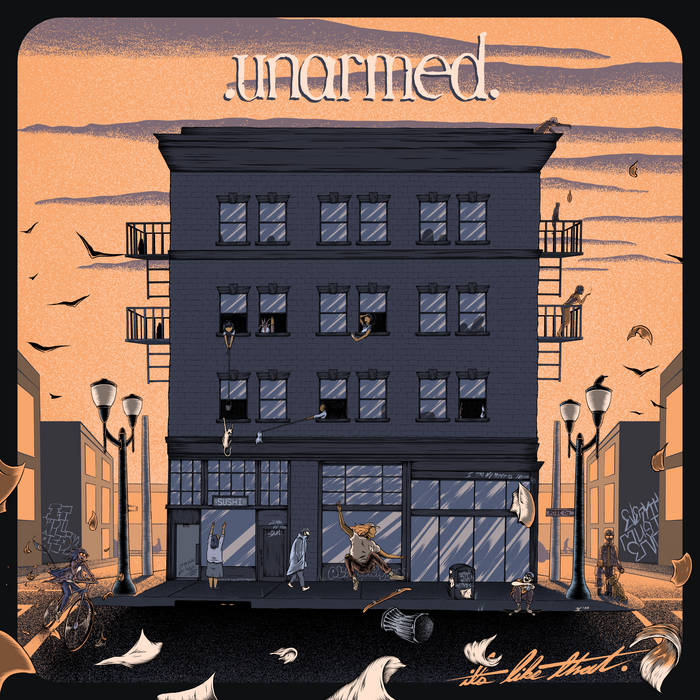 ***
It's Like That is available across all streaming outlets. Hit the Unarmed Linktree to find all of their social media pages.
***
Help Support What No Echo Does via Patreon:
***
Tagged: unarmed