Mainstrike was a Dutch straight edge hardcore band that had a roughly 5-year run in '90s. Though their time together was brief, only yielding two full-length albums and assorted singles and compilation appearances, the group still had a big impact throughout Europe.
Along with groups like True Blue and Sportswear, and the many acts from the H8000 scene in Belgium, Mainstrike flew the hardcore flag proudly throughout their continent in the '90s.
Since breaking up in 1999, Mainstrike have reunited for live appearances, and were scheduled to appear on the Ieperfest this year before COVID-19 did away with it.
Earlier this week, No Echo caught up with vocalist Roland Roller, aka Lord Bigma, for a chat about all-things Mainstrike.
Tell me a bit about your personal story in regards to hardcore. Did you discover the music and scene on your own, or did you have a mentor of some sort that helped steer you towards everything?
I got into punkrock at a very early age. I was like 6 or 7 when my older brother at that time was 13 got into the Sex Pistols. Somehow, I was attracted by the music and all the posters and pictures in his bedroom. Of course, at that time, I wasn't a punk rocker because I was a little kid more interested in Playmobil, playing soldier, etc. But music wise, I grew up with the Iistols, KISS, the Police, Madness, and a lot of late '70s early '80s stuff.
My brother lost interest in the Pistols after a while and I got his records and some of the remaining posters and pictures, which I then decorated my bedroom with. Later on, a friend of my brother got me into the Exploited, Dead Kennedys, and some Dutch bands. It must been in 1982 that I started to have a little record collection myself with the records I mentioned, and the Punk and Disorderly samplers.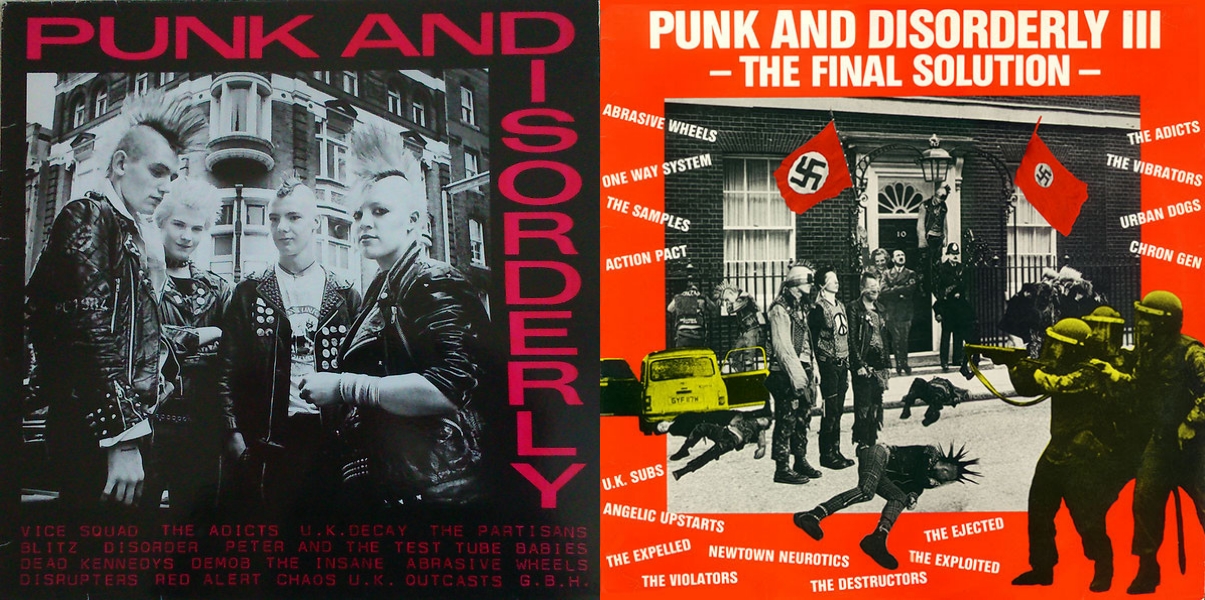 Genre compilations are a great way to discover music when you're a kid.
At the age of 13, I got into the skinhead thing through some skins who where hanging around the local punk kids I started to hang out with. One of the skins taped me the Oppressed, 4 skins, the Business, etc. One of the skins who turned rockabilly gave me his Last Resort A Way of Life: Skinhead Anthems record. And I bought the Oi! compilations which are basically my soundtrack to my early puberty.
Slowly I got involved in the white noise scene when I was 16, and before everything went out of hand, I luckily recognized the stupidity of those views and found my way back home.
Somewhere around that point, I also started to get into American hardcore, and although I had a tape with Agnostic Front and Minor Threat on it, my focus was always on British punk and Oi! At that time, Marcel introduced me to a lot of new bands and a whole different scene I didn't knew about.
I always loved punk rock and its look but finding out about Uniform Choice, 7 Seconds, Youth of Today and their message brought me a whole different level of being involved in the scene. It wasn't just about music, the look and being different, no, it was really about making a change and defining the way you look at the society you grow up in and the way you don't want to be part of that way of living.
Who were some of the local bands that you saw early on? Also, did many touring bands come through your region when you were first getting into hardcore?
My first punk show was the Toy Dolls somewhere in 1984. After that, I was at a local show seeing Totaal Verlept and the Magnificent. After that, I saw the Business and that was it for a while.
In 1986, I was at my first hardcore show and saw Dutch band Cry of Terror and WCF. After that, Marcel took me to Winterswijkse Chi Chi Club where some great shows at festivals took place seeing Negazione, Heresy, Lärm, and MDC. We went to Arnhem and Nijmegen and saw Gang Green, Circle Jerks, RKL, SNFU, and tons of Dutch and German bands coming through our time where some people at a squad started to organize shows.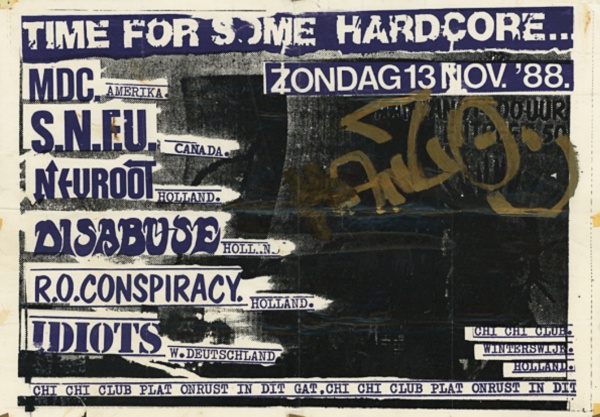 How did Mainstrike come to be, and who were some of the musical influences you guys keyed in on in the beginning?
Mainstrike started after Manliftingbanner broke up. Since I heard Youth of Today and that era of early Revelation Records and Schism Records, I wanted a band that played that kind of hardcore and brought that kind of message. I didn't like the way the hardcore scene was heading. There were too many bands slowing down and playing metal or emo. So, there are two things in life you can do when you are not satisfied with the situation: you can back down or you take the situation into your own hands and start your own thing.
Luckily, I found other guys with the same feeling and taste of music and message so that was when things happened and it seemed that within the scene there where more people waiting for such a band. We really had a big kickstart when we played our first show in January of 1995.
It was a great time as we stood at the beginning of a birth of a scene Europe had never seen before. We created our own Youth Crew straight edge scene with our own bands, zines, and shows.
Forgive me if I have the timeline wrong, but was the Youth Crew '95 cassette the first thing Mainstrike released?
Yeah, you are right, the Youth Crew '95 demo tape was our first release. The thought process behind that was quite old school. The first thing you do is a demo tape, as simple as that.
We recorded those songs in our local rehearsal place at that time in Arnhem. A friend of our bass player had an 8-track recorder and did the recording for us. I cut and pasted the layout and copied it at the local copy shop. We recorded all of the songs we had written at that time.
Mainstrike's first EP, Times Still Here, came out on Crucial Response Records, an influential label in European hardcore circles. You went on to do a few more releases through the label, so I'd love to learn more about the label.
I had already known Peter [Hoeren.] of Crucial Response Record since 1987. At that time, he came down to check out my first band I was playing guitar in, but we never came to record anything or put a record out. We really started to hang out when I joined Profound, which was soon renamed as Manliftingbanner.
So, I knew Peter very well after that period. He came down to Arnhem for our first show with Battery and Unbroken. After seeing the show, he immediately offered to put a record out, and later that year, the Time Still Here 7" came out.
After that, the scene throughout Europe started to grow and Crucial Response Records was the label that put out most of the leading Euro Youth Crew bands of that era like Eyeball and Sportswear. But to know all about Crucial Response Records, that would be a different interview on its own.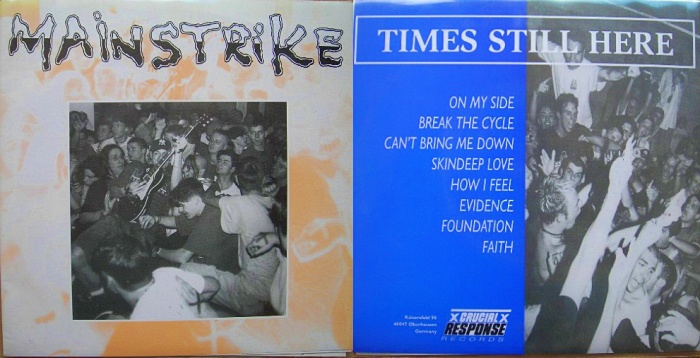 1997‬ brought on the first Mainstrike full-length, A Quest for the Answers. What do you remember about making the album? Did you track and mix everything down in a fast manner?
In 1997, we changed our bass player and we were searching what kind of direction we would take. Pepijn and Jonas, at that time, where heavily into Mouthpiece and Chain of Strength and wanted to head into that direction. It was never a secret that I was a Cro-Mags fan since I first gor into hardcore and wanted to go more into that direction.
That was also a difficult period in my life, so that was reflected in my lyrics, which differ from the typical Youth Crew topics. I guess that's why that record sounds so diverse. A Quest for the Answers was recorded in one weekend and mixed in another at bunts studio. I don't know if that is fast but that was the way to do it at that time.
What are some of the themes you tackled on A Quest for the Answers? Did you write all of the lyrics?
I wrote all the lyrics for Mainstrike, and besides typical topics like being true to yourself and where you stand on things, a big part on that record was influenced by my beliefs in Krishna Consciousness, and the discontent in society and the modern life we are sucked into. That was the running thread of the lyrics of that record. It was about searching for an alternative and truth about life.
How much touring did Mainstrike do after the album came out?
To be honest, we never really toured for any of our records. We did a short tour for the 7" in 1995 with Onward. Besides that, we did tons of weekend trips mostly in Belgium and Germany. We toured America after the No Passing Phase record came out, but when we went to the States, the scene over there was already a passing phase as a lot of bands from that era had broken up already.
You mentioned 1999's No Passing Phase, the second and final Mainstrike LP. Did you guys write that material and head into the studio knowing the band was going to break up? Also, tell me about the inspiration behind the title track.
At the time of that record, we hadn't thought about breaking up. Looking back at the time of the recording of the No Passing Phase album, the scene reached its peak and that reflects on material on that record. It was totally about being straight edge and staying true to your beliefs. It is really a product of that time and scene. I don't know, maybe we wanted to write the most straight edge Youth Crew record ever coming out of Europe.
The cover of the record, the title, what more can I say? I think Beertje came up with the title and I just wrote the lyrics around those 3 words and described the way I felt about straight edge and hardcore, nothing more nothing less.
So, why did Mainstrike break up in 1999? Was it a matter of feeling like you had already said what you wanted to with the band?
It was a time in everybody's life where you have to make decisions where to go with your life. Some of us were moving to other parts of the country and starting our first jobs. Maybe it was also that we did everything we could do with the band what was in our reach at that time. Although looking back, I regret that we never did any proper European tours for our records and made some proper merch. It was a natural end of the band, I guess. There were no hard feelings, just friends going different ways with great memories to share.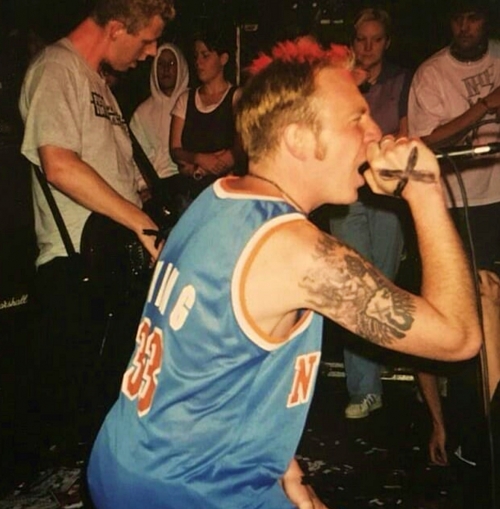 What's the status between you and the other guys in Mainstrike these days?
As you might know, we did some shows together recently and had a really good time together, although de Beer wasn't part of it because different circumstances, we are still in contact with each other throughout the Mainstrike WhatsApp group.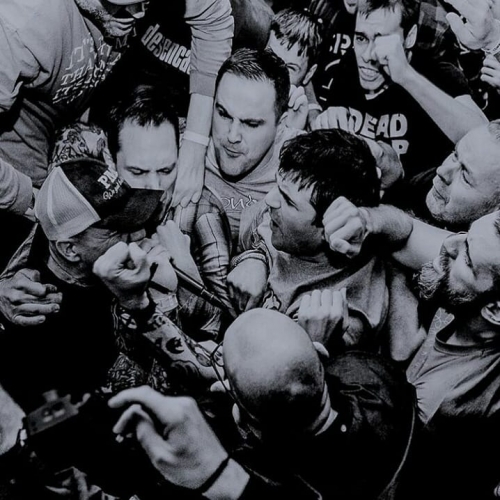 We all have our own lives and occupations and new circles of friends but the time spent together is just great. And it was great. The first time we went to rehearsal for the reunion shows, it felt like it was just last week. The jokes, the talks about music and all the stories, I felt like 20 years hadn't passed.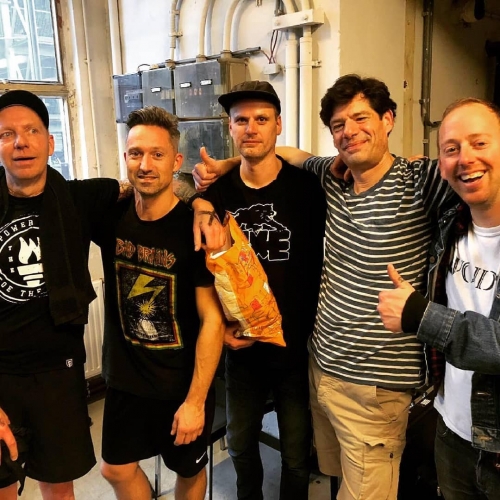 What is your all-time favorite Mainstrike track and why?
I like this question but it is also the hardest thing to answer. The first thing my wife asked me when the idea of the reunion occurred was, "can you still connect to those lyrics you wrote 25 years ago?" That was when I started to think about it and the strange thing is some of the lyrics are more relevant in this time than at the time I wrote them. It forced me to see what happened to me and where I am standing in life 25 years later.
This all happened 2 years ago exactly when I was on a turning point in my life. Although being a father and husband with a job and everything I unnoticed turned into a chubby grumpy guy with no physical conditioning anymore and a very negative outlook on life and my surrounding. Still being vegetarian and straight edge, I lived a very unhealthy lifestyle. Not exactly what I pictured myself 20 years ago rather the opposite.
It made me realize what kind of a example I wanted to show my kids. So, I made a change in my life again. I started to eat more healthy food, began training, and tried to be a person that showed compassion, empathy, and felt that lust for life again.
Coming back to your question about my favorite Mainstrike track, it has to be "Break the Cycle."
***
Mainstrike on social media: Facebook | Instagram
***
Donate a few bucks to help with No Echo's operating costs:
***
Tagged: mainstrike