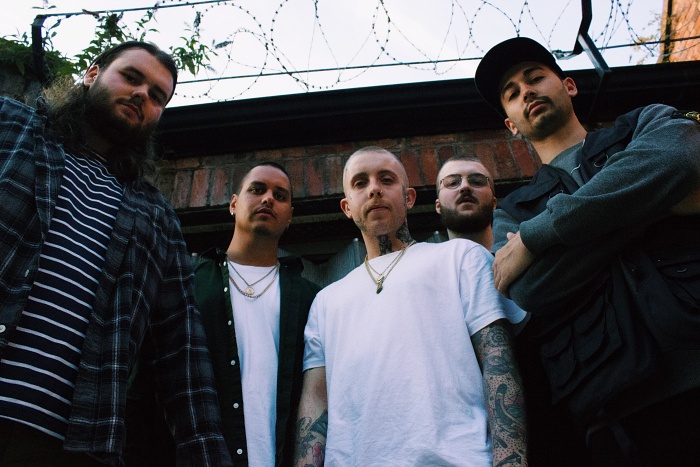 Claiming such influences as Day of Suffering, Animosity, and Prayer for Cleansing, English quintet Divine Hatred is a band with brutal riffing on its agenda.
Formed in 2019 in Northern England, Divine Hatred kept busy before the pandemic lockdown sharing bills with Cauldron, Desolated, and Guilt Trip, among other hardcore groups.
Translating to "destroyer of worlds," Al Mumit is the name of the new 3-track EP from Divine Hatred, which finds the band bringing in more deathcore flavor to the proceedings:
Having members with backgrounds from the Middle East and Asia, Divine Hatred incorporate a certain Eastern aesthetic into what they do, whether that's musically or visually.
Lyrically speaking, the group cover topics ranging from the political to the personal. Divine Hatred vocalist Bradlee Clarkson shares the following about EP track "My Search for Sanctuary" and its lyrics: "The narrative expresses fighting addiction and the wellbeing of being secluded and outcasted from society.
"It explores the path of fighting mental health and the war between each conscience — the negative overpowering and the positive decaying. I wrote the lyrics when I was having a bipolar depressive episode, and the song touches on the fight for acceptance and fighting anyone who opposes."
The cover for Al Mumit was designed by Simulakra vocalist Dominic Pabon, who has also worked on artwork for bands such as Jesus Piece and Year of the Knife.
Divine Hatred on social media: Facebook | Twitter | Instagram | Bandcamp
***
Donate a few bucks to help with No Echo's operating costs:
***
Tagged: divine hatred