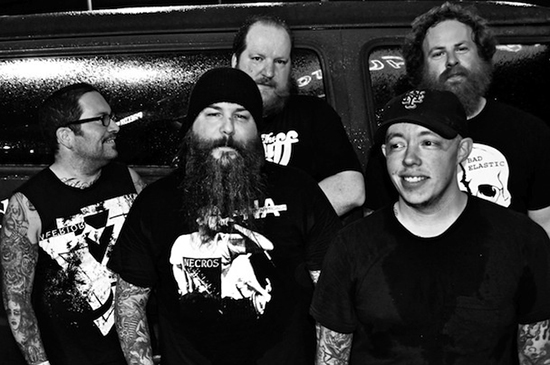 Combining the atmospherics of bands like the Swans and Mogwai with the punch of post-hardcore and stripped-down heavy metal, Heiress not only crushes live, but they also sound killer on your headphones. Formed in 2006, Heiress features former members of Himsa, Undertow, Jough Dawn Baker, and Shift. Formerly signed to Deathwish Inc., the group has two EPs, a split 7" with Narrows, and an album called Early Frost under their belts.
Now part of the roster at The Mylene Sheath, a label based out of Georgia, Heiress is gearing up to release Of Great Sorrow, their sophomore album. I recently chatted with Heiress guitarist Wes Reed about the group's previous, current, and future recordings.
Since it's the first time we're covering Heiress on the site, I wanted to see if you could give us a quick rundown on how the band came to be.
In 2006 I was toying with the idea of doing a project band where I would have played all the instruments and different people would record vocals, but a friend of mine named Adam Paysse talked me into forming a band with him instead. He had another guitarist lined up who didn't show for our first practice, so Adam and I started from scratch, recruited a drummer and bassist, and recorded a demo that year with Ben Verellen (Helms Alee, Harkonen). When our original drummer quit right after that recording, I called Justin Martinez, who I had played with in a couple bands throughout the previous decade. Adam left the band in early 2008, and when Justin ran into John Pettibone (Undertow, Himsa) at a show he said he was interested in singing for us. Mark Holcomb (Undertow, Shift, Dust Moth) joined us on guitar in 2013, and recently Jerad Shealey replaced our original bassist.
Your first album, Early Frost, garnered great reviews across the board. Writers used genre tags like "post-metal" to describe Heiress' sound. What's your take on that?
Post-metal is as good of a term as any, since it's pretty vague and we swing from sludge to rock to sparse, clean-channel stuff. We approach songwriting by ensuring we all like the riffs and the structure of a song rather than if it sounds similar to something we've done before, so that naturally leads to a variety of sounds. There's a lot of tension building to an often nontraditional resolution, melody (and discord) used in unanticipated ways, and sometimes a heavy part right where you'd expect it.
"'90s worship" is a phrase we've heard applied to us, which I take as a compliment. Our musical tastes were formed in the '90s, and it seems like there was more mixing of disparate genres back then. Conversations about bands from that era often get reduced to just loud/quiet and ignore the emotional aspect of a lot of dense and challenging songs.
Early Frost was recorded by Jack Endino, a producer/engineer who has worked with everyone from Nirvana to L7 to The Accüsed. What was that experience like?
A lot of the songs we had for that album were stripped down compared to our earlier material, so we felt they would benefit from Jack Endino's producing technique. He was great to work with, and his attention to detail really helped make Early Frost a better record. His approach to tracking definitely made me start paying closer attention to the very small details. We talked about basics like notes going sharp when fretted too hard, intonation, and string size as related to drop-tuning, so that by the end of our time together I felt like I had a better grasp of some of the fundamentals I skipped over by being a mostly self-taught guitarist.
As older dudes ourselves, we like to record with people who have been around long enough to recognize the difference between timeless elements of heavy music and recent developments that may or may not stick around. That's probably the main reason why we've never recorded with anyone more than a year or two younger than ourselves. We also use dissonance fairly liberally, switch between major and minor keys, leave progressions unresolved, etc. Jack has heard it all before, so there was no problem with our "wrong" notes. He would point out things that sounded strange, and we'd say they were intentional and move on to the next part.
SEE ALSO: 2014 interview with Keith Huckins (Deadguy, Rorshach, Kiss It Goodbye).
How did you hook up with The Mylene Sheath, the label Heiress is signed to these days?
The Mylene Sheath has put out records for a couple different bands our guitarist Mark Holcomb has been in over the last few years (Dust Moth, Aeges, San Angelus), plus we love a ton of their roster, so it seemed like a great fit. Mark floated the idea of releasing some of our music to them and they were on board. All of our interactions with The Mylene Sheath have been great, especially considering that we haven't been able to tour to support our albums in the past, and probably won't be able to go on the road that much in the future due to jobs and kids, etc.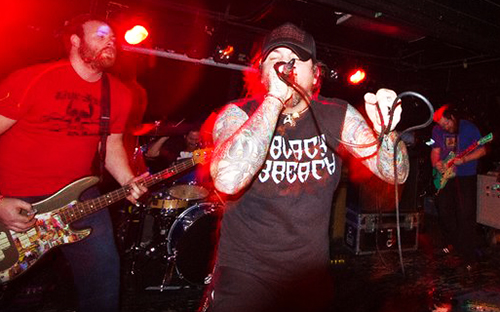 Of Great Sorrow was recorded with Tad Doyle (Tad, Lumbar, Brothers of the Sonic Cloth) behind the board.
Heiress has recorded 16 songs with Tad spread across four or so years, three of us have recorded with him in our other bands, and we all love him as a person. Tad is another guy with great ears and years of hands-on music experience. He plays guitar, he sings, he drums, he records, etc. He also has a wonderful sense of humor and is a very warm presence in the studio. He was particularly good in soothing anyone (mostly me) who got frustrated or too far gone in their own head. For the most part, our songs are completely written by the time we get into the studio, so there isn't a lot of room for songwriting, but there are at least two songs yet to be released with Tad singing and/or playing guitar on them.
A lot of the material on Of Great Sorrow has a slow burn kind of approach to it. "Held" patiently builds for close to three minutes before it opens up and introduces vocals. "Old Haunts" takes it one step further, coming off like a soundscape segue from one track to other.
There are four songs on this album that play with the idea of at least one drum pattern or melody line remaining completely static while everything else changes around it to various degrees. Our longer songs on the album are more traditionally constructed so these shorter pieces fill different roles. "Dehumaned" is a wall of guitars and vocals that functions as a palate cleanser, "Held" is one riff of catharsis, and "Just Two Figures" is meditative and restful.
"Old Haunts" was written after almost all the other instruments on the album had been recorded. We had a song that wasn't quite working with the other nine, so I came up with the arpeggiated riff before one of our last sessions for tracking guitar. Justin couldn't make it in, so I borrowed Tad's drums and played that simple pattern on a kick and two floor toms, and Jeremy McAllister (our other guitarist at the time) knocked it out of the park using tons of effects and a borrowed lap guitar. Since we wanted it to sound a little disquieting, we chose to not record bass for it, which lets everything else settle in the mix in unusual ways.
I think leaking "Hover" as the first track stream from the album was a smart move, since it represents both the atmospheric and more metal side of the Heiress sound.
Yes, definitely that was the intent. Picking a representative song off of a release always involves finding one that has at least a couple different feels to let listeners get a handle on how we tend to draw from multiple genres. We went over a couple choices for the first song with the label and everyone agreed that "Hover" was the strongest choice.
"Hover" was written with the idea of using the guitar break and tempo change at 2:59 to change the character of the song, rather than our standard method of going from clean into distorted guitar for the crescendo. So we have a uniform guitar tone throughout, with minimal playing in the beginning to set a more contemplative mood. When we play this song live, we often transition straight into the next song on the album, "Lashings," so that they blend together into 12 minutes of alternating heaviness and melancholy. Jeremy and I were listening to a lot of contemporary progressive/black metal bands at the time, and the idea of keeping the audience engaged for that long made us push through the point where we might have ended either song earlier had they been arranged for Early Frost.
The feedback to "Hover" seems really strong so far. Do you pay attention to what people say about the band online?
Good reviews are great, but we don't aim for them. We've all been doing this long enough that we know the only way to stay involved in our music is for each of us to write and play what we like and find interesting, and then make sure everyone else in the band is cool with it. For example, we've started using slower and slower tempos as the years go by because that's what we have the most fun playing live.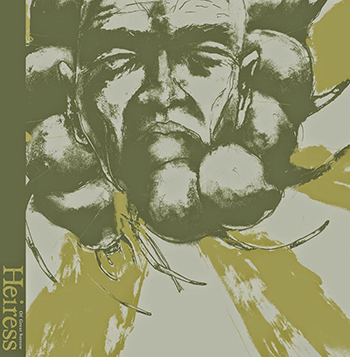 The one time I saw Heiress live you were playing a vintage-looking Charvel. It was cool seeing more and more musicians in the heavy music community playing guitars like that. Have you always been a "vintage guy" when it comes to your guitars?
I'm not overly concerned with the age of my gear. What I do is find something I like the sound of and keep it as long as possible. That applies to guitars (I bought that one from a friend after playing it for years and it's been my main guitar since around 2000), as well as heads and pedals. But you are right about the vintage look being interesting in metal. My back-up is a Fernandes Vertigo, which looks like a blue Art Deco coffee table, so there's definitely something appealing to me about the idea of using nontraditional guitars for the style of music we play.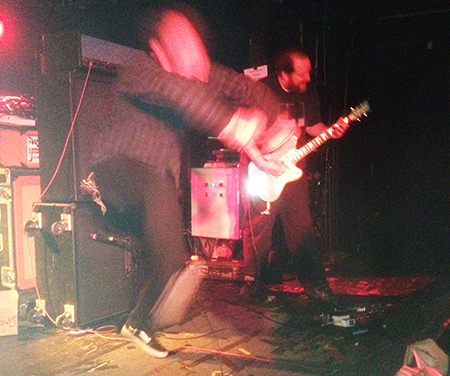 Your publicist let me know that you're already working on a new album with Matt Bayles (Minus the Bear, Cursive) producing the sessions. Back in the '60s and '70s, no one batted an eyelash if a rock band released two or three albums in one year, but that's definitely not the case these days.
We tracked and mixed Of Great Sorrow off and on for over a year starting in 2012, but a couple minor issues kept it from being ready to be released 'til late 2014. When we started recording our third album earlier this year, the plan was for it to be our only album coming out in 2015, but Of Great Sorrow was pushed into the next calendar year due to a pressing plant delay, much like what happened with Early Frost. Our label is fine with both records coming out in the same year, and we have no problem with it either. Since we usually sit on songs for a little too long before recording and releasing them, I look forward to the pendulum swinging the other way. I hear that a lot of pressing plants are behind schedule due to the renewed interest in vinyl, and smaller batches for independent labels get pushed to the side when major labels order something like, for example, a $300 16-disc set discography of The Beatles.
SEE ALSO: The Backpatches of the 2014 Maryland Deathfest, by Adel Souto
Heiress is obviously keeping you busy, but do you have any other projects you're working on at the moment?
Our guitarist, Mark, is in Dust Moth; our drummer, Justin, is in Eternal Bad; our bassist, Jerad, is in Old Iron; and I have a doomy side project with the original Heiress vocalist called Theist. We recorded a full-length with Tad this year and are currently in the middle of mixing it.
***
Of Great Sorrow will hit stores on Feb. 10 via The Mylene Sheath.
Tagged: heiress