One of the latest additions to the roster of hardcore music staple Revelation Records is Big Laugh. The Milwaukee-based band's no-nonsense writing style made the label's Adam Lentz an instant fan, even profiling them on No Echo before they even joined the label.
The first order of business was Revelation reissuing Big Laugh's 2020 Manic Revision EP, and this past February the label dropped the group's debut LP, Consume Me.
Big Laugh is about to head out on a California tour in support of the record, so I checked in with guitarist Zach Moffet. Since Revelation Records head honcho Jordan Cooper is known for his pizza-making skills, I also brought that up to Zach, because, well, who doesn't love a slice?
It feels like the band has been working the road a lot since you've joined the Revelation roster. How has it been balancing the traveling with your work responsibilities in Milwaukee?
Despite losing social lives doing so, I feel we are all pretty lucky with our respective jobs making it work. Our singer Drew is definitely the most amenable, being a tattoo artist. But we just sacrifice any real vacation for tours. For a couple of us, I'm sure a change in careers will be in our immediate future.
Tell me about this California run you're about head out on. Who are some of the other bands you'll be sharing bills with and how it came together?
With the LP coming out on Rev, we figured it would make sense to celebrate it with a little saunter out to the West Coast and hitting the beach and eat burritos. Any excuse to play dope shows and hang out with friends really.
Besides, the NorCal dates being with the absolute homies in Urban Sprawl, the other shows are with some solid locals we are stoked on checking out properly in their element. Heard Wharf play in gilly suits or something? Either way, I'm all in.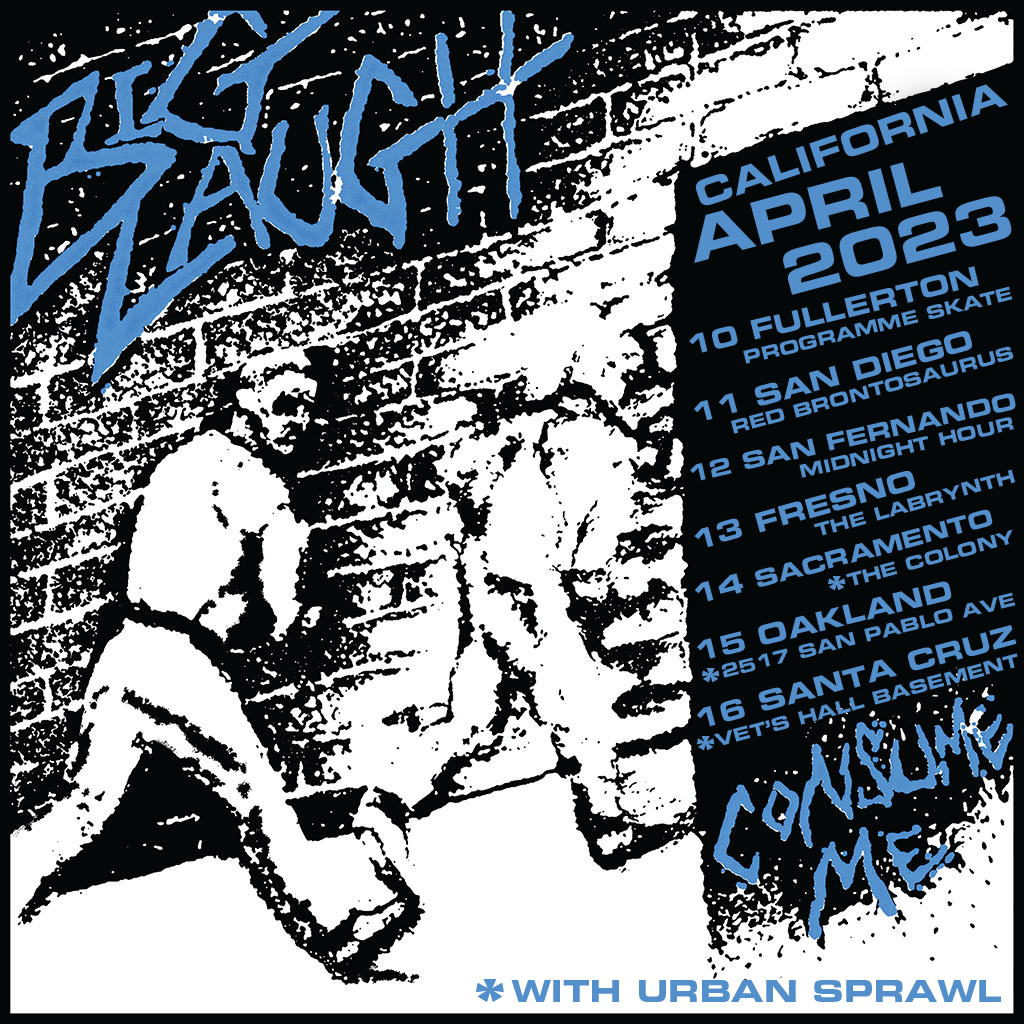 You're also going to be on The Rumble this summer in Chicago.
Stoked to be on it. I remember going to the first couple of years and seeing incredible legacy bands, as well as solid contemporaries of the time.
The Rumble folk kindly asked us and it was a no brainer. We definitely aren't the hardest band, but I like being part of the odd duck or two to make it interesting. Plus we all love hardcore of every flavor.
I'm super-pumped to kick my own ass to Killing Time and the well-rounded lineup of contemporary bands like the hometown boys in World I Hate, homies in Spaced, and definitely bringing it back for The Killer.
What's the plan for Big Laugh outside of these shows?
As of right now, just trying to round out the rest of the year with a couple more tours that I can't speak on yet. We started writing some new material as well, and really taking our time with it. Definitely a solid natural progression with what we've always been doing.
Outside of the band, we all do other bands/labels/camping, etc. Big Laugh is just a natural extension of our personal lives. Breathe this shit.
Now that you're part of the Rev family, have you had a chance to have any of Jordan's pizza yet?
This is complete news to me! He has imparted his yo-yo wizardry though. Our drummer Jesse is definitely his most esteemed student. Excuse me, I'll have to make some phone calls now....
***
Consume Me is out now via Revelation Records
***

Tagged: big laugh