"I've often said we are the least straight edge straight edge band; we aren't like clean-cut dudes in varsity jackets," Jeff DeSantis says of his band, Wall Breaker. That's the bassist's reaction to my observation that when I listen to Wall Breaker, I hear Youth Crew-like breakdowns but also a certain 625 Productions-esque vibe to it all.
Jeff continues to break it down for me: "We talk more about Lack of Interest more than Bold at practice, that's for sure. I think the sound we go for is the early '80s Boston bands (SSD, Slapshot) and the more fringe NYHC bands of the late '80s (Citizen's Arrest, Life's Blood). I think the comparisons to like the '00s thrashcore scene come because bands really aren't playing that fast these days, so in some respect we are an outlier. I like to joke that this is Ben's slowest band, as he has only done grindcore bands previously."
Wall Breaker's forthcoming LP is called Democracy Dies, so with the political nightmare we're living here in the States, one doesn't have to guess too hard on what fueled the record's lyrics. "I'd say it's inspiring and terrifying. We aren't a totally political band, but there is certainly some biting social commentary."
So, with that in mind, let's get into "AmeriKKA," a track from the new LP that Jeff hooked the site up with today.
"The song 'AmeriKKKa' is about the rise of just flat out accepted racism by our president and his ignorant followers."
For those of you who don't already know, Wall Breaker is comprised of musicians who have played in such bands as Coke Bust, Blunt Force, Amputee, Glory Fades, WarxGames, and many other rippers. "[Guitarist] Jeremy [Evans] and I had been wanting to do a project for a while, and wrote a bunch of songs with another drummer, but it didn't work out. Flash forward like 4 years and those 5 songs we wrote were still cool sounding, and I roped in Ben [138] and Ken [Ramsey] (who I knew are straight edge) who both live in NJ. Jeremy now lives in Baltimore, so it's about a 2-hr drive for practice in NJ. Those 5 songs became our demo from last year, so this 12 song LP is the first songs we wrote from the ground up together."
Democracy Dies will be issued on CD in the States by Absolute Contempt Records, while Refuse Records will be handling its vinyl release. The latter label was profiled on the site earlier this year via an interview with its owner, Robert Refuse. "Ken is a longtime friend of Robert, and Jeremy and I met him on the first Coke Bust European tour, so he was one of the first people we sent our demo to. He liked it, but wanted us to sort of grow a bit. After some shows and the demo tapes being almost sold out, he agreed to press the demo to vinyl. When he asked if we had new songs, we had like 7 and he suggested a 12", so we set a goal to write 12 songs and have it out to coincide with his REF 25 festival in Poland. Robert has been incredibly supportive, and even booked our tour."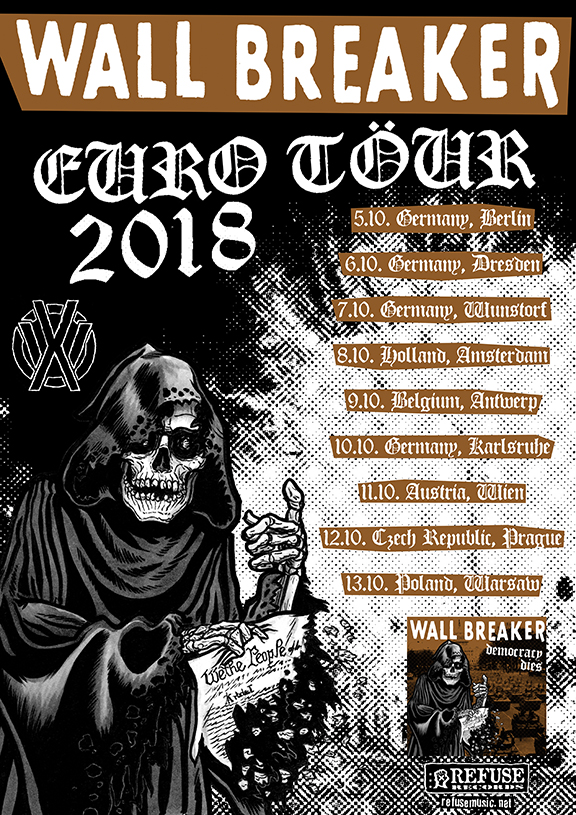 In true hardcore fashion, Jeff and the Wall Breaker dudes are looking forward to hitting the road. "The tour will serve as a record release for the LP. When we get back, we are playing one of the record release shows for our friends Night Birds in New Jersey. There will be a CD pressing of the LP with the demo/EP and an unreleased Negative Approach cover on Absolute Contempt Records soon, with streaming being handled by Panic State Records."
***
Democracy Dies can be pre-ordered on vinyl via Refuse Records. If you want the CD version, Absolute Contempt Records have the pre-order ready for you.
If you're a fan of '00s thrashcore (Life's Halt, Scholastic Deth), Wall Breaker singer, Ken Ramsey, is working on a book about that scene and era of hardcore. Follow him on Instagram for updates on that project.
Tagged: wall breaker