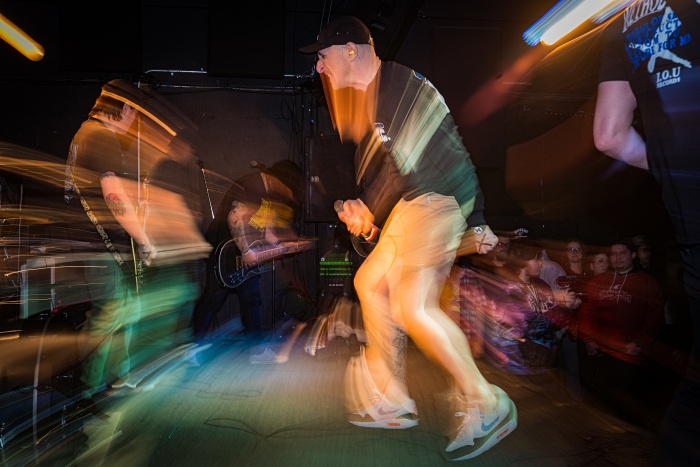 Before we get to the point of this story, I should give you some background on Change. The Canadian/US hardcore band features musicians who have played in such bands as Betrayed, Keep it Clear, and Champion. Their debut album, Closer Still, is excellent, but more on that coming to the site at a later date.
The important thing today is what Change is up to tomorrow (Oct. 8).
Starting at 3PM PT/6PM ET, Change will be hosting a virtual record release event which will also serve as a benefit and discussion with the Coalition to Stop Violence Against Native Women. For the collectors, the group will also be offering the usual records and merch during the event, plus a raffle.
No Echo spoke with Change guitarist Chris Williams to get the complete rundown on the event.
Tell me a bit about Coalition to Stop Violence Against Native Women.
Coalition to Stop Violence Against Native Women (CSVANW) is an Indigenous-run non-profit organization based in New Mexico that works to provide support, education and advocacy within communities to stop a cycle of violence against Native women and children.
Their work addresses issues such as missing and murdered Indigenous women, domestic abuse, sexual assault, human trafficking and more issues of violence that disproportionately affect Native communities, and are under-reported due to systematic shortcomings in how the government tracks these stats for Indigenous communities.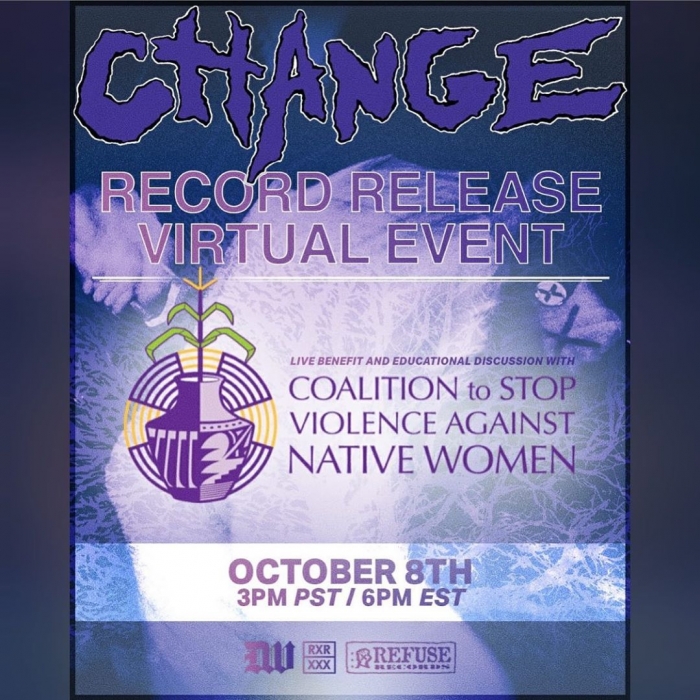 As everyone in hardcore knows, record release shows are important, special moments for any band. It's an opportunity to get together with friends and hardcore family to celebrate all the hard work that went into producing these pieces of wax.
When we realized we wouldn't be able to play a record release show anytime soon due to COVID, it was a no-brainer for us that if we couldn't get into a sweaty room with all our friends, we wanted to take that same energy and shift it to something even more important.
And we've been so moved by so many in this hardcore community who have done benefits for social efforts such as Black Lives Matter, healthcare orgs, Trans rights and more. Despite all the ugly happening in this world right now it's been so inspiring to see so much focus from people in this community to bring some light into the darkness.
How did you first become aware of what they do?
We hadn't actually heard of CSVANW before this summer. But we researched a bunch of different social causes and knew that violence and oppression against Native Americans is a big problem that is particularly evident in the Pacific Northwest, both in the US and Canada where this band has members on both sides of the border.
So we researched a dozen or so non-profits and CSVANW just really stood out to us as an organization that was truly working to make the world a better place, and using their platform to advocate for more than just their own causes. We thought that was really powerful and all agreed this was the org we wanted to support.
Who will be part of the virtual event, and what can we expect to see when we tune in?
On the stream it will be the band and representatives from CSVANW, plus our friend Tish from the killer PNW band WithXWar, who will help moderate a Q&A with the org. But there are a bunch of people that are helping behind the scenes to manage the technicals and make sure everything runs smoothly including Sunny from Hate5six, Rich and team from Deathwish, Ev from React! and a ton more.
What the event will look like; if you visit the "Change" "collections" page on Deathwish Inc. there will be a video embedded up top and the livestream will run Thurs, Oct 8 3-4pm PT. This is the same page where the 90 record release LPs will be available for purchase during that window.
So, people are free to drop in and just purchase the record if they want, but we hope that most will check out the stream and we hope that people that don't even care about this band will also join to support and learn from this awesome team of people at CSVANW doing such important work.

The stream will include an educational presentation from CSVANW about their work and why it's important and how people can help. This will be followed by some words from the band, then a live Q&A with the org. Viewers can ask questions via a chat below the stream.
We'll also announce the winners of the Test Press raffle live on the stream. Raffle tickets are $5 each and people can buy as many as they want to increase their odds; all money goes to CSVANW. Nine winners will be chosen to win a test press from Change, Betrayed, Get the Most, Mouthpiece, I Hate You, Odd Man Out, Peace, Punitive Damage or True Love.

Speaking to my earlier point of being so inspired by the generosity and love from this hardcore community, our original test press raffle announcement was for six records. In the two days following the raffle announcement, we had a few people reach out unsolicited asking if they could donate additional test presses, and that is so sick. So, we have nine records now, from a pretty impressive collection of bands!

Every penny from the record release LP, as well as the special record release T-shirt and the raffle will go direct to CSVANW. We'll also have a "donate" button if people watching want to contribute additional money to the non-profit group.
But beyond the financial contributions, we hope that people are touched by the presentation and the impacts are more longterm and meaningful for CSVANW and anyone who joins.
What's next for Change now that the album is out?
This is a really tough question because we have members in Vancouver BC and in Seattle, so beyond the social distancing best practices right now, we have a closed border preventing us from doing anything like jamming, or even just hanging out as friends.
We have some tentative plans for some touring, but it really all depends on how soon that will be safe and responsible to do. But we're also not a working band. We love doing this and want to do it as soon as possible, but realize that there are bands that it's more crucial for them to get back on the road. So, we also want to be respectful of that dynamic.
As this point the only thing we can say for certain is that I'll be hanging out in the mountains, Jeff [Caffey] will be skateboarding, Aram [Arslanian] will be on a boat, Matt [Bertell] will be riding his motorcycle and Mike [Jurek] will be on a bicycle and we'll all be on a group chat sharing pictures, joking around and missing hanging out together in person.
***
Get more information about the event on the Change Instagram page.
Tagged: change