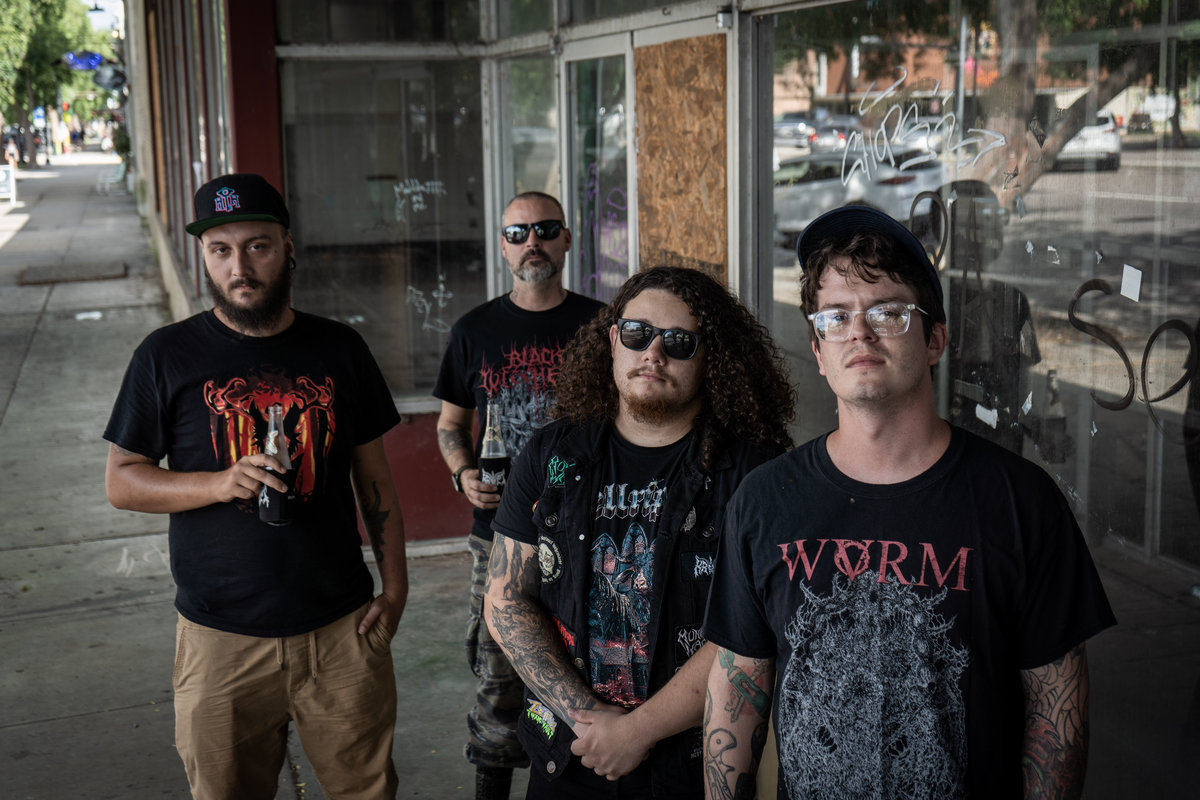 Roast me if I'm wrong but thrash is having a moment. In an attempt to analyze this trend, I spoke of it to anyone who'd listen. I was only satisfied when finally a friend told me, "Power Trip left a hole." This seemed to explain it. Whatever the reasoning, we love to see it. Riffs for all, forever.
I'm seeing thrash (and thrash crossover) bands crop up anew in Florida, The Carolinas, and in the case of Krypt, Georgia—Augusta, to be precise. Of their contemporaries I'd say, the gang is in good company with cuties like No Coffin and Neverfall also touring and on the rise.
Krypt is Julian Chew (guitar, vocals), Mikey Rhodes (guitar), Brandon Carpenter (bass), and Adam Dickerson (drums). The band first formed in early 2019 with original bassist Jesse Clay. Following Jesse's untimely departure from this earth, Brandon stepped in and has been playing with them ever since.
Since inception, the gang has released their debut EP, Enter the Krypt. This 5-song beauty is feisty as fuck. It's the kind of record that makes you want to rip up a driveway with your bare hands. It goes that hard. Riffs like these birth circle pits that bring on orthopedic consultations for the associated broken bones.
This riff lord level mastery continues on more recent release, Nosophobic. An aptly named drop in these, our pandemic times. The single was recorded, mixed, and mastered by Paul Golden at Atlanta's Crow Altar studio. It was then dropped on kingship label, Terminus Hate City.
Both drops would be miscategorized as anything other than thrash and when asked, this is how the Krypt self-describes. That said, vocals tend to lean towards hardcore and punk. This is exemplified best on track "Blasphemy," with unified chants like those common to classic hardcore.
The band tells me they're influenced by "all ends of metal and punk" which reflects in the singularity of their style. A purists dream.
The crew has been steadily gaining momentum since inception, recently playing with Sadistic Ritual, Black Mass, and Subdivisions. They've also just completed a weekend tour with Dungeon Filth, Pure Death, and Triangle Fire.
When I asked friends which bands they were most reminded of in listening Exodus and Warbringer were common replies.
Krypt's music is available on all streaming platforms. For up to date info on shows and releases, be sure to give them a follow on The Gram. Keep an eye out for the band in your city and catch some of that almighty riff live if you can.
***
Help Support What No Echo Does via Patreon:
***
Tagged: krypt