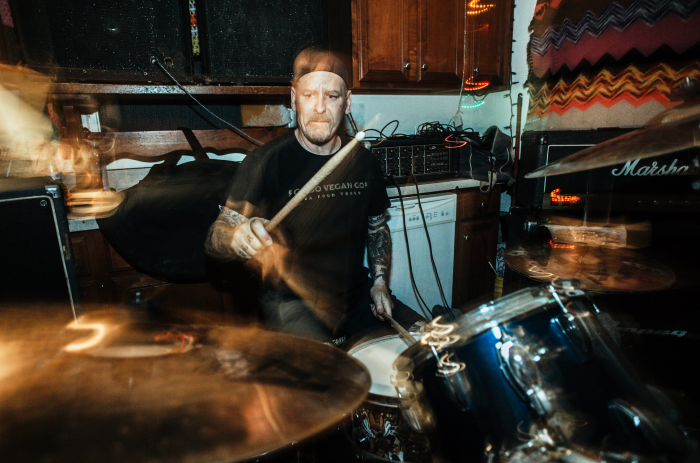 It's almost a given whenever someone mentions Dave Witte, they'll make a big fuss about all of the different bands the drummer has played in throughout the years. I get it. Heck, I've even played in three groups with the man since the '90s. A full-time musician as the rhythm-keeper in Municipal Waste, plus a co-owner of two businesses in Richmond, VA (Go Go Vegan Go, Hang Space), it would seem nuts for Dave to start a new band, but as long as I've known him, the dude never stops working.
"I felt like It was missing in my life," Dave told me via text message. "I needed to do something dark and aggressive, like I was hanging on by the seat of my pants. I get restless and I'm always guilty of doing too many things at once. I don't think I'll ever grow out of that," laughs the drummer. The "dark and aggressive" project he's referring to is Under Attack, a hardcore band also featuring guitarist Mark Telfian (Devoid of Faith, Limp Wrist, Hail Mary), bassist Jason Hodges (Suppression, Oozing Meat), and vocalist Alex Copeland.
Mark gives me the background to Under Attack's formation: "Dave asked me if I was still playing music, and when I said I hadn't since 2003, he asked me if I would be into doing a band with him. It wasn't that I had been opposed to playing music, I had just gotten burned out after one of the last bands I did turned into a bigger gimmick than its true purpose. We talked off and on for about two years about getting together for the band, but once we started jamming with Jason and Alex, everything fell into place."
Under Attack recently unleashed itself into the world in the form of a 5-track demo:
In terms of style, I asked Mark if they discussed what direction they wanted to head in, or if that happened once they started writing and jamming. "For me, the idea of playing with a drummer as great as Witte was a little overwhelming. I had warned him, 'Dude, I'm not a very good guitar player'; he told me: 'I know what you bring to the table, so just do your thing and let's play brutal hardcore.' I have a unique playing and writing style, and anyone that's familiar with some of the other bands I've played in can recognize the music I've written. We wanted to play punk hardcore, but faster, more brutal, and with a dark side. We never really had to discuss the kind of music we wanted to play; we were all on the same page."
Mark got into some of his specific musical inspiration for Under Attack: "One band that has always influenced my writing style is Life's Blood; Adam Nathanson was originally the guy I tried to emulate playing guitar. Also, other huge influences on my playing style were Negative Approach, Minor Threat, Agnostic Front, and Sick of It All. I know one of Alex's big influences is Dino from Dystopia."
Under Attack just played its first show in their hometown. "We played a house show in Richmond, VA; it was awesome to be able to see many of our old friends and meet new people. Our demo had just come out that day, so I don't know if a lot of people knew what to expect out of us because we had made a point of not pushing our 'ex-members of' for the first show. But the feedback we've gotten so far makes me think that people get what we're trying to do and are into it."
Despite his hectic schedule—on and off tour—Dave is confident he could make Under Attack work. "I knew this is something I could do because it doesn't require a lot of effort and everyone lives in town. It's easy to crank out a bunch of songs in this style as we've all been doing it for years. Everyone on board is well versed in the territory. It's also pretty amazing exercise as we played our first show last week and played all the songs in a row without stopping basically. We were in and out and it felt great."
So, what is next for Under Attack? Mark broke it down for me: "Our demo came out April 11 on Vinyl Conflict in the US. The Euro release of the demo will be out shortly on Autoreverse Tapes. We've already recorded and mixed a six-song 7" titled Through the Blade, which will be coming out soon on Iron Lung Records. We have a few Richmond shows already booked; hopefully, we will play more shows and maybe fests. We have a lot of material already; and our goal is to hopefully do an LP, but before that, maybe do a split 7"."
The Under Attack demo is available in cassette form via Vinyl Conflict.
***
If you're shopping for vinyl, CD, and cassette hardcore titles, head to No Echo's partner store, Reverb LP, to see what they have available. Every purchase you make helps No Echo with site costs.
Tagged: black army jacket, deny the cross, devoid of faith, discordance axis, eucharist, hail mary, limp wrist, municipal waste, new artist focus, under attack