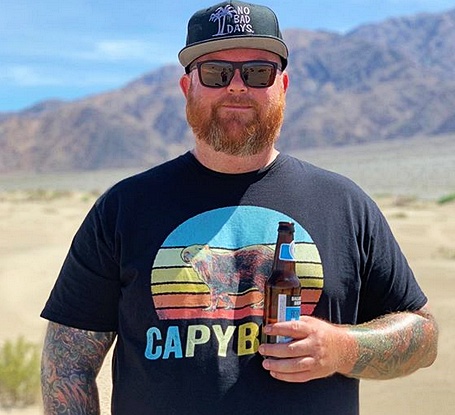 Zack Nelson is the host of 185 Miles South Podcast, a passion project that finds him chronicling the Oxnard/Ventura County and San Diego/Chula Vista punk scenes of Southern California. Recent guests have included Nick Jett (Terror, Piece by Piece), Big Bob (Agression), and Todd Jones (Nails, Betrayed).
No matter who he's chatting with, Zack's deep love and knowledge for the subject material comes shining through, so if you're a hardcore head, you should dig in.
No Echo spoke with Zack about his road to punk and the story behind his podcast.
Talk to me a bit about your background and how you came to discover hardcore.
I started getting into my own music when I was in 4th grade. My grandma used to come to Oxnard and we'd take the bus from Silverstrand Beach to the Center Point mall in South Oxnard to go to Warehouse Music and she'd let me buy a cassette. I can't remember if I got Shout at the Devil or Dr. Feelgood first, but it was definitely Mötley Crüe. I got pretty big into that butt rock stuff like Crüe, Poison, etc.
Inevitably, as I got older, my tastes went to Metallica, then Slayer, and then by the early '90s death metal was at its best. I loved the fury. The summer before 8th grade, one of my friends loaned me a tape that had Bad Religion Suffer on it and my mind was blown. How could a band mesh speed and melody like this? In my juvenile brain, it was like mixing the melody of Poison with the fury of Slayer. There was no turning back.
I got pretty big into the Fat Wreck/Epitaph stuff but eventually got sick of bands with stupid lyrics which lead to hardcore. This was right around the time when Ignite put out Past Our Means so that and Call On My Brothers really resonated with me, and anyone who is into hardcore knows how important the live experience is. So, maybe, my favorite bands were Chain of Strength, Uniform Choice, and Agnostic Front, but Ignite was the closest thing going in California to that stuff. We would travel all over the state to see them whenever they played.
When did you start 185 Miles South and what was the catalyst that inspired it?
I started 185 Miles South in May of 2019. I was a fan of the podcasts 100 Words or Less and especially Turned Out a Punk. In a lot of the earlier episodes, Damian from Turned Out a Punk would talk about some Nardcore bands and Mystic Records releases. I actually emailed Damian saying he should interview Tony Cortez of Ill Repute because he's such a rad dude who was super involved back in the beginning of Nardcore and is still around to this day playing music.
I never got a response and thought about following up, but then thought to myself: "hey dude, you're a grown ass man, why are you asking some other person to do something for you?" Shortly after I started 185 Miles South.
What are some of your favorite episodes so far and why? Maybe it's a good introduction for someone who hasn't checked it out yet.
Of course I love interviewing my Nardcore heros, so it was great interviewing all the guys from Ill Repute, Ismael from Dr. Know, Big Bob of Agression, and others. I do a lot of homework before I interview someone and try to hit their whole history, so a good example of that would be Ron Baird of Stalag 13 or Ryan Hoffman of Chain of Strength.
I also rotate bi-weekly from doing informative, long form interviews, and fun pods where I have friends on and we shoot the shit about favorite records, etc. A good example of that would be a recent episode called Super 7 where we built hardcore mixtapes fantasy football style.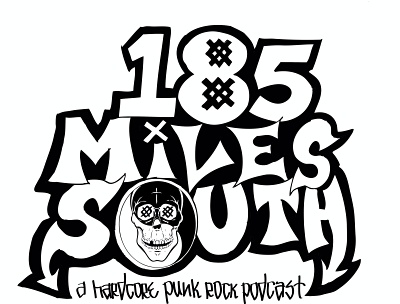 What have been some of the toughest aspects about doing 185 Miles South, and how much work has it been trying to get the word out about the show?
I never realized how time consuming the show would be or how expensive some aspects would be. I started with a laptop and two Snowball mics, but have upgraded everything since then thanks to a small diehard group of Patreons that I have. I had to learn basic audio editing and graphic design, the former which I took to pretty easily and the latter which I'm terrible at. I'm lucky to be surrounded with lots of supportive friends who help me build content but all the technical stuff is all me.
As far as getting the word out, it can be a struggle, mostly because like most 40-year-old people, I assume, I'm not a wiz at social media. So, I'll put out an episode, make art for it, post it on Instagram/Twitter/Facebook but beyond that, I don't really know how to reach out to people.
I also run an ad in every episode of Razorcake fanzine. Really, I think word of mouth is the most important. I've had a handful of people tell me that before 185 they had never even listened to a podcast and now they love the format.
Finally, what made you interested in the podcast format?
I enjoy pretty much all non-fiction. If there's a music documentary on a band, I want to watch it even if I'm not a fan of the band. I also love reading, unfortunately there aren't enough websites out like No Echo and fanzines aren't as prevelent as they were when I first got into hardcore.
Podcasts might be the most boring of all of these formats but there are a couple things that make them crucial. First, they capture a true primary source. You are not only doing an interview, but you're documenting the voice and the cadence of how people speak. This also makes some people nervous about the format, but to ease their anxiety I generally speak worse than anyone I have on the pod. I have more "uhhh's" "umm's" and "like's" than pretty much any guest.
Also, like websites, podcasts can be very current. If you need to, you can record something and get it out a few hours later.
***
Head to 185MilesSouth.com for more info. You can listen to the show wherever podcasts are streamed, including Stitcher, Apple Podcasts, and Spotify.
***
Donate a few bucks to help with No Echo's operating costs:
***
Tagged: 185 miles south, podcast