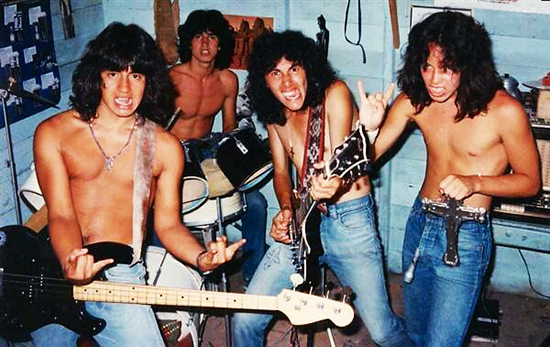 The history of heavy metal in Peru is a long, winding road paved with adversity and conflict coupled with unbridled enthusiasm overcoming all odds in the quest for the ultimate killer riff. This search assisted its practitioners to usher in an alternate reality that helped transcend the, at times, gruesome reality of daily life in the capital of Lima and its surrounding provinces during that era. Earlier groundwork was laid in the 1970s by such greats as Tarkus and Pax, both heavy rock bands that helped foster a tradition of electric guitar-based music in the nation's consciousness.
By the time the 1980s rolled around, a vicious trifecta effect of terrorism, corrupt government, and drug trafficking, coupled with outrageous inflation and social inequality, all pointed to Peru heading down a one-way apocalyptic path to Hell in a hand basket.
This was not exactly fertile ground for headbanging enthusiasts to get a heavy metal band off the ground. Kudos to the musicians that persevered during those dark days. Apart from the everyday terror of political violence perpetuated by the Maoist-inspired Shining Path, plus their counterparts in the Army and Police Force. On a musical level, they also had to deal with rudimentary equipment, indifferent studio engineers, frequent electricity outages, and makeshift concerts. Not to a mention a conservative catholic society that did not know what to make of leather-clad, long-haired kids playing loud music with "occult" lyrical themes and Satanic-inspired imagery.
I've chosen to highlight 10 of what I consider the most important bands of that tumultuous decade. They are evenly split between the early NWOBHM/hard rock-inspired ones to black/death metal groups and the thrash/crossover contingent. Scene veterans will argue about a particular band's omission, but, for the sake of brevity, these are my choices. At the end you'll find links for every imaginable band that ever gave the devil's horns salute in the land of the Incas.
Orgus
Orgus is a classic NWOBHM-inspired band that formed in '84. Like most groups from that period, Orgus left no vinyl documentation, just a demo from '87. Orgus periodically plays out and as of this writing, their singer, Ari "Coco" Gonzales, joins fellow '80s titans Armagedon on stage, bringing his charismatic vocal style to old and new fans alike. The song above is from a compilation that earned them first place in a national rock competition in '88, and is a call-to-arms for the metal militia in Lima.
Oxido
Oxido existed from '82 to '85 and always considered themselves a hard rock band with heavy metal flourishes. Their brief lifespan influenced countless bands, laying down the foundation for a thriving scene. No good quality recordings exist from that era. This is a new recording of a song from 1984, showing the power and range still intact. Proper documentation of all their old material, re-recorded, is due out for release sometime in 2014. Click on the link below for an interview I did with Oxido guitarist Javier Mosquera.
Oxido profile on Quixotic Dreams
Masacre
One of the few bands that actually managed to release an album in 1988, Masacre persevered throughout the years, updating their earlier Judas Priest/Iron Maiden sound to fit contemporary metal eras. The band relocated out of the Peru for a spell, then moved back to Lima and underwent various lineup changes. The only consistent members in Masacre have been the founding Tuesta brothers. The brothers have flown the heavy metal flag in Peru. Case in point is the tune I've embedded above taken from a rare 1984 cassette of the band.
Hadez
As the situation in Peru deteriorated by the mid-'80s, bands responded in equal measure by making their music as brutal as possible. These dark lords formed in '86 and laid down some of the most extreme sounds of that era. Euronymous from Mayhem wanted to put their material out, unfortunately that never came about, but they did release several albums throughout the years and are still active. Their legendary Guerreros de la Muerte demo from 1986 recently came out on Nuclear War Now! Records.
Hadez on Nuclear War Now!'s Bandcamp page
Mortem
Longstanding (since 1986) death metal practitioners Mortem are still going strong to this day. Their brutal sound inspired an international following, leading them to become the first Peruvian metal band to sign to a German label in the '90s (Merciless Records), and tour continuously throughout Europe and the States. A tribute record called Death Rules Supreme came out a couple of years ago featuring 11 international bands covering their songs, showing the extent of their influence. Their recent U.S. tour in 2012 brought them to Brooklyn, N.Y. with their bestial live sound on full display.
Kranium
Kranium are one of the earliest extreme death metal bands from Peru, forming in 1984. They did not get to release an actual demo until 1992. No good quality recordings exist of their earlier extreme beginnings, just memories of their raucous live shows. Their sound progressed throughout the years and started to incorporate longer musical passages interlaced with Peruvian folk instruments such as flutes/wind pipes. The end result, that thrives to this day, is a unique synthesis of Andean mystical themes with a heavy progressive vibe that updates and expands the heavy metal tradition in Peru. RIP to keyboard player Georgy Espiritu, who sadly passed away in 2012. The song above is a tune off their 1999 album, Testimonios.
Curriculum Mortis
Thrash metal outfit Curriculum Mortis existed from '87 to '89 during their initial run. Their raw sound combined hardcore and metal in the best crossover fashion. The members later went on to Nova Lima, an Afro-Peruvian folk ensemble that's gained international acclaim. Curriculum Mortis have recently reunited and have been playing live shows to coincide with the vinyl LP reissue of their amazing Sentencia de Muerte demo from '87. The LP is available from the Ultra-Sonido imprint out of Massachusetts.
Buy the Curriculum Mortis album
Situacion Hostil
The parallel '80s hardcore scene in Lima saw varied interaction with the heavy metal hordes so it was only natural that a band with roots in both camps would appear. Formed by the drummer of hardcore titans Ataque Frontal, along with members of thrash purveyors Sepulcro, Situacion Hostil's crossover sound appealed to thrashers of all stripes, leaving in their wake a legacy of memorable concerts and a killer demo from '88. The demo was reissued as a split CD with hardcore maniacs Kaos General in 1999. Situacion Hostil periodically reunite to write and record new material.
Buy the Situacion Hostil split
Sepulcro
Sepulcro was a great Bay Area thrash-influenced band that got together in '86. They put out a couple of demos; the first one came out in '89, and a later one, with lyrics, was unleashed in '90. Technically precise riffs and longer groove-oriented time signatures separated these guys from the earlier strain of classic heavy metal or the more extreme sounds of the day. This relaxed and confident pace is a fitting soundtrack to the end of that decade with the turning point of the 1990 presidential elections plus other factors that helped pull the country out of its self-inflicted downward spiral.
Pax
I have to include one more to the list, the aforementioned Pax. A sentimental favorite, the band started out in 1970 as a heavy guitar-based pyschedelic rock band, putting out a legendary heavy fuzz-laden LP along the way. In 1984, Pax released this 7" that shows the NWOBHM influence updating their hard rock sound. Whether they know it or not, heavy metal bands in Peru, owe a huge debt of influence to these pioneers.
Pax profile on Quixotic Dreams
Here's to the warriors from those days that toiled sweat, blood, and tears to make their visions come true. There are tons of other bands that deserve mention like Sacra, Mazo, Almas Immortales, Sentencia, Armagdeon, Jerusalem, Mortorio, Penitencia, Grael, Desarme, Hastur, Dharma, Desastre, Anal Vomit, and Insaner. Those are just bands from the 1980s. The story is being written as we speak.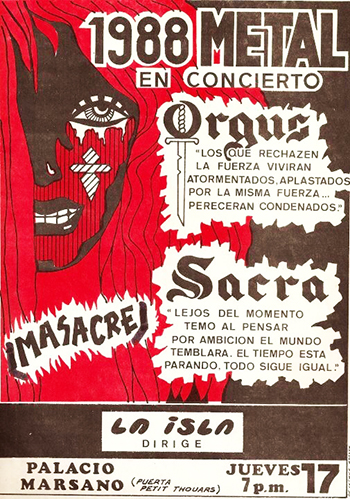 Great resources for Peruvian heavy metal: