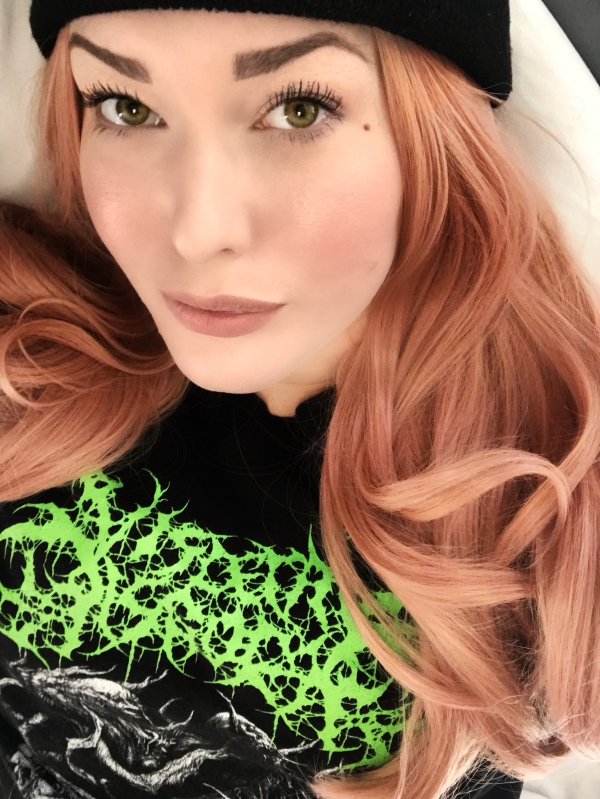 Rachel Kristine resides in Las Vegas, NV where she works as a nanny. So why would she be on No Echo? Well, it turns out that she's obsessed with music and films, especially that of the heavy metal and horror variety.
She's got a killer music and movie library at home, so it's about time we welcomed her to the Record Collector club.
How long have you been collecting records?
I could say since I was a teenager, but it would be more accurate to say it was 2011 that I really started collecting. That was the year they began releasing reissues of the Smashing Pumpkins discography, and I was absolutely hooked.
Where/how do you usually find your records these days?
When I'm not using Discogs, I can be found digging at local shops depending on the city. I've done a lot of traveling so my record collection has come from stores all over the country. My usuals are in Vegas and Arizona where I favor Zia Records. In Denver it's Twist and Shout, and I obviously don't make a trip to L.A. without stopping at Amoeba. Apart from supporting local stores as much as possible, I'm also obsessed with Waxwork Records so I'm pretty quick to grab anything they release from their website.
What is the most you paid for a single record, where/how did you obtain it, and what was it?
The most I've ever paid on a record was actually a gift to a friend. It was a 2007 Die-Hard edition reissue of Blasphemy's Fallen Angel of Doom, and Caller of the Storms. It cost me $150 (not including shipping) and I obtained it from Discogs. Could've paid less if I waited, but it was for a birthday, and I've got a thing for making shit happen [laughs].
The most I've ever paid for a record that is currently in my collection is my copy of King Diamond and Black Rose. It's a limited to 100 picture disc reissue from 2004, and I paid $70 for it in 2012.
If you to pick one record label you feel had/has the best track record of quality releases, who would that be and what are some key titles you love?
Picking one specific label is a tough one, but it's probably Relapse. Recent Favorites from their label are Gatecreeper's Sonoran Depravation, Primitive Man's Caustic, and Death Revenge from Exhumed.
Of everything in your current collection, what is your most prized record and why?
My copy of Foxy Shazam's Introducing. When I purchased it back in 2012 it was already hard to obtain, so when I found it I knew I'd never let it go. Foxy Shazam was one of those bands that helped me get over a lot of tough times in my life, and this particular album gives off an energy that really just makes you want to groove and fuck shit up. The album was done with the original lineup, so Eric Nally, Sky, and Daisy were kind enough to sign it for me when I brought it to one of their shows. It's not the most limited variant, but was limited to 700 so I often still get messages from people on Discogs begging me to purchase my copy. Even more so after Eric Nally's sucess with Macklemore.
Is there anything that frustrates you about the current record collecting scene?
Obviously, flippers are the biggest problem, but since I began sharing my collection on Instagram back in 2011, the vinyl community has become so overwhelming. In a lot of ways I'm insanely happy about the success of vinyl, but there's something very disenchanting about wealthy people buying up everything possible, and using their purchases to further their social media presence. I always try to give everyone the benefit of the doubt, but it's occasionally all too obvious when I spot people that aren't actually in it for the love of music.
Which records are still on your want list that you've had a tough time tracking down through the years?
Nuclear Blast released a limited edition pressing of Behemoth's Evangelion in 2009 that has been impossible to find since the last time I saw it. I've regretted not purchasing it since then, considering it's now doubtful I'll get that specific pressing for less than $100. Apart from metal, my white whale is currently an original pressing of the soundtrack to Vanilla Sky. It will never happen, but I keep dreaming!
***
Follow Rachel on Instagram.
Tagged: record collector