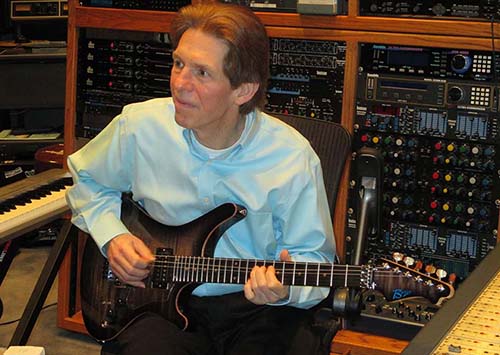 I've been a liner notes geek since I was a kid in the '80s. Throughout the years, one of the names that has popped up on album recording credits more times than I can count has been Jay Graydon's. The California native grew up around show business since his father, Joe Graydon, was a big band leader and television host. A young Jay made his singing debut on his second birthday on his father's televsion show, The Joe Graydon Show.
A gifted guitarist and songwriter, Jay began landing session work in the '60s and never looked back. One of the most sought-after session guitarists of the '70s, Jay's one-of-a-kind guitar work can be heard on recordings by such artists as The Jackson Five, Hall & Oates, Steely Dan, and Alice Cooper, among other music giants.
Jay has also left a mark on the production and songwriting side of pop music. The two-time Grammy winner (he's been nominated for 10 more) has album production credits including work with Al Jarreau, Kenny Rogers, and Patti LaBelle. In 1980, Jay and his friend, keyboardist/producer David Foster (Whitney Houston, Chicago), released an album under the name Airplay that folks in AOR and soft rock circles consider a lost classic. Speaking of AOR and soft rock, many people credit him for being one of the primary architects of "Westcoast AOR," a sound that blends both styles along with funky R&B and jazz.
Fellow music nerds undoubtedly already know this, but for those of you who aren't as inclined to know or care about these sorts of things, Jay is also the guy behind the renowned guitar solo on Steely Dan's "Peg." That's real deal type of shit right there!
I was delighted to recently chat with Jay about his illustrious career in the music business, and the stories behind some of his finest songs and recording sessions. After you check out the interview, head over to JayGraydon.com, JayGraydon.net, and JaRzone.com to find out more about his various projects.
Your father worked in show business. One would imagine that once you told him that you wanted to pursue a career as a musician, he would have understood, where most other parents would have tried to dissuade you. Was that the case for you?
Yes. I started playing gigs at age 14 and by my early 20s I was working as a studio musician, so both my mom and dad surely knew working in the music business was my destiny.
What was your first paid recording session and how did you land it?
When I was in college, I played in the Studio Band (a big band, you know, four trumpets, four trombones, five saxes, and rhythm section) that was loaded with great musicians since that was during the Vietnam war and attending college allowed for a military deferment.
Ray Jackson (a trombone player and a great arranger) was hired often to arrange R&B songs for demos and he hired me for many of those sessions. I can't remember what the sessions paid. One thing about these sessions is Al McKay was playing drums. Al also played guitar and as you may know, Al was the guitarist in Earth, Wind & Fire!
My first big time record date was when I was in the Don Ellis band probably in 1969. That gig paid union scale. I can't remember what scale was in those days.
A lot has been written about The Wrecking Crew and all of the session work they did in the '60s and '70s. But from all the records I own of that era, I've noticed another group of musicians, which you were part of, that seemed to work together a lot. Did you feel like you were a part of a specific club that was separate from The Wrecking Crew folks?
I worked with most all of The Wrecking Crew musicians in the early '70s, but, at that point, the next generation of musicians was taking over the record sessions. Other than myself, players such as Larry Carlton, Dean Parks, Louie Shelton, Ray Parker Jr., Lee Ritenour, David T. Walker, Dan Sawyer, Dan Ferguson, David Hungate, Scott Edwards, Ed Greene, James Gadson, Jeff Porcaro, David Foster, Clarence MacDonald, Sylvester Rivers, and many others. Most of The Wrecking Crew musicians by the mid '70s were doing mostly TV, film, and jingles.
Did you ever have a really horrible experience at one of your many sessions? Maybe an instance where you just couldn't nail a part or come up with something that satisfied the producer?
Fortunately, I had no problems on sessions as to nailing a part, but know this—every first call studio guitarist that has played solos has been replaced by another guitarist at least once. It's just part of being a studio musician.
I find the session work world fascinating. One of the most famous sessions you were part of was Steely Dan's "Peg." You laid down the guitar solo on that. Throughout the years, Steely Dan's Donald Fagen and Walter Becker have been branded as studio dictators, what was your experience like working with them? What do you remember about that specific session?
Yeah, they are known for being very picky, but so am I as a guitarist and record producer. With that in mind, I had no problem working with them. As I had mentioned regarding first call guitarists replacing solos, I was the seventh guitarist to replace six other solos! Since I played on so many sessions over the years, I have forgotten many details, but I remember this session in full as I love their music and it is an honor to play on any Steely Dan recording.
Here is the story in full, taken from interviews I did like 10 years ago.
Did you meet David Foster during one of your session gigs?
I met David when I was playing a club gig in Hollywood just before I became busy as a studio guitarist. He hired me to play guitar stuff on a Skylark album. When I was at the session, when hearing the first playback of the song, I said, "Who is the piano player?" as the piano playing was outstanding! David said it was him. David and me were both starting to get busy as studio musicians and we recommended each other all the time.
You, David, and Bill Champlin co-wrote Earth, Wind & Fire's huge 1979 hit, and Grammy nominee, "After the Love Has Gone." Did you write it specifically with EWF in mind? What do you remember about the writing session?
While writing the song, David was about to produce a Bill Champlin album [here's my interview with Champlin]. We asked Bill to write the lyric and recorded the song. David was also writing with Maurice White for an EWF album. David played the song for Maurice and he wanted to record it! David called me and asked me to ask Bill if it was okay with Bill to pull the song from Bill's album. Bill said yes!
David and I also recorded the song for the Airplay album, but that was not a problem since the EWF version was released before the Airplay album.
By the way, the Airplay version is the original version of the song with the verses in the key of A. The EWF version verses are in the key of F, using a "shotgun pivot chord" halfway through the B section as to get in the proper key for the choruses. Note that the EWF version features the high harmony part in the choruses, which makes the listener think that is the melody! That always bothered me since it is very difficult for one singer to sing the song as the vocal range is much too wide.
For anyone that cares, there are three distinct versions of the song.
The version on the Airplay album is what was originally intended.
The EWF version that makes the listener think the high harmony in the choruses is the melody.
In the Jay Graydon, Airplay for the Planet, version, Bill sings the song in full and Bill says it is his favorite version. This version has the verses in the key of F and when the choruses occur, when mixing the song, I made sure the melody was the feature.
I remastered the original Airplay album a few years ago using all kinds of Pro Tools plugins as to make the CD sound so much better than previous versions! If you like Airplay, get that import version (the 30th Anniversary Special Edition 2010) as it really is a huge improvement.
Speaking of Airplay, did you guys ever envision it becoming a full, touring type of band?
David wanted to tour and I didn't. A dumb move on my part.
SEE ALSO: Best Michael McDonald Background Vocal Performances
You started the '80s in a big way producing Al Jarreau's This Time album. Who approached who about working together on that one?
I knew Al and had worked with him, but David was asked to produce. David recommended me.
This Time was a big success for Jarreau, but your next collaboration, Breakin' Away, was even bigger. Unlike This Time, you co-wrote much of the material on Breakin' Away. What brought that on?
Since the This Time album sold over a half million, it was obvious to all of the business people I should produce the next album (Breakin' Away). As to the This Time album, Al had all of the songs written so I did not co-write any of the songs, but for Breakin' Away, we started from scratch and co-wrote the songs.
You went on to produce two more albums for Al, Jarreau (1983) and High Crime (1984). What was it about your relationship that worked so well in a creative setting?
I think it is the fact we were getting away with very melodic songs that covered Jazz, R&B, Pop, and AC. With that in mind, we could really take melodic chances with sophisticated chord changes and arrangements.
1985 saw you producing a few tracks on DeBarge's Rhythm of the Night album. One of those songs, "Who's Holding Donna Now," became a Top 10 single. I happen to think that song is one of the best ballads of the '80s. I know you co-wrote it with David Foster and Randy Goodrum, but can you give me a bit of background on its creation?
David was asked to write some songs for a Gene Wilder movie called The Woman in Red. We wrote three songs, but after submitting the demos, Gene had hired Stevie Wonder to write songs. A few months later when I was producing DeBarge, David and I were playing the three songs for Clif Magness and Glen Ballard as they were looking for songs for Jack Wagner. When David and I were playing what turned out to be "Who's Holding Donna Now," El had just come into my studio and heard the song. El said he wanted to record the song! Clif and Glen wanted the song as well, but I told them since El wants to record the song, that will happen. Clif and Glen liked another one of the songs and recorded it with Jack. It was a mild hit, I think.
As to the lyric for "Who's Holding Donna Now," after El wanted to record the song, I asked Randy to write the lyric. Note that the three songs to that point did not have a lyric, just instrumental versions with a piano melody.
Another song you co-wrote with Champlin, George Benson's "Turn Your Love Around," was nominated for a Grammy in 1983. You told Songfacts that the melody in the chorus of the song came to you while you were using the bathroom. That's too funny! Did you tell Benson that story when you presented him the song?
Yeah, I told George the story. Clearly a funny story.
What was Steve Lukather's contribution to that song?
After I came up with the chorus, the next night I was going out to dinner with my girlfriend of the era along with Luke and his wife. Before we left, I asked Luke to sit down at the piano and come up with a verse while I took care of something in another room (something like that). About 30 minutes later, I came back in the studio and Luke had nailed a verse!
More recently, you and Goodrum collaborated in a project called JaR. Your first album together, Scene 29 (2008), proved to be popular with fans of the classic AOR/Westcoast sound. Was the intention of JaR to revisit that kind of sound and era?
We wanted to take the classic AOR/Westcoast sound to the next level. I must say I really love the JaR CD!
In 2001, you started a label called Sonic Thrust Records. It seems like a daunting task to take on such a big project. What inspired you to launch the label?
I needed an outlet to release catalogue CD's such as Airplay for the Planet, Planet 3's Music from the Planet, RAKE and The Surftones, Bebop, etc. My personal assistant, Kerstin Olofsson, needs to be given major credit for all of her hard work with Sonic Thrust Records, my website, and so much more she does for me!
If you had to pick one song that you've written in your career that you think should have been a hit, what would it be?
A song entitled "For You," on the Dionne Warwick album, Friends in Love.
The last thing I have to bring up is the Gimme a Break! theme you co-wrote with Richard Page of Mr. Mister. I'm not sure if you know how epic that is. Please give me the quick story behind that one.
I was asked to rearrange the original theme for the show. I asked if I could write a new song instead, which obviously happened. That turned out to be very cool since I can't think of another successful TV show that changed a theme song mid-stream.