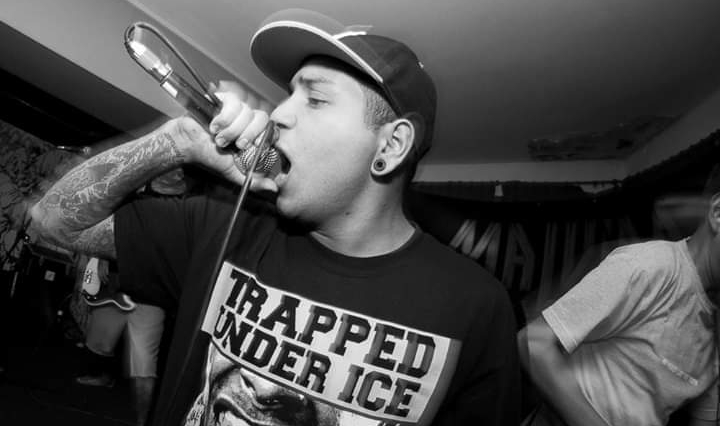 Formed in 2021, Critical is a hardcore band from Mar del Plata, a city in the Buenos Aires Province of Argentina. "We were a duo with Naranjo on guitar and me on drums," says Joni Paz from the band in an email exchange with No Echo.
"We've been playing together for more than 10 years and we understand each other quite well. Our idea was to write the music and lyrics, and then find a bass player and a singer. During some rehearsals, Bruno (Nueva Etica, Los Verdaderos, Columnas) helped us with the composition of some songs. Then, we added Homero on bass and Facu on vocals."
March of this year found Critical recording eight songs, when Facu quit and left the band without a vocalist. "Between the fact that we was so closer to finish the recording and we couldn't find a singer, we got very frustrated," Joni explains.
"The songs were going to be forgotten, so I went to the studio and ended up recording the vocals myself. From eight songs, four were only left that ended up being part of Demo 22."
Critical's stylistic influences are broken down by Joni: "There's a little bit of everything. When we started, the main influence was Turnstile, but each member brought their own. The nu metal bands were also a great influence when we did both demos. The instrumental part was made by Homero (bass) and Naranjo (guitar). That was shared between them, I only followed them with the drums [laughs].
"Besides Turnstile, our influences include Bad Brains, Biohazard, Leeway, and Cro-Mags to Trapped Under Ice, Backtrack, and Higher Power."
Wasting no time, Critical recently dropped a new demo. "After the recording of Demo 22, I went back to the studio to finish with the remaining four songs. The cover art of both demos was made by Santiago Kelly (Ritual, Stryker). He was able to understand perfectly what we wanted: an aesthetic fusion between the NYHC, the nu metal and the alternative scene of the '90s."
As always, No Echo asks for a scene report, and Joni obliges: "After the lockdown, the music scene in Mar Del Plata re-emerged strongly. There's new faces in the crowd and on the stage, and that's very important.
"I recommend Las Tussi (punk), Crueless (alt rock), Buenos Vampiros (post-punk), 30 Litros (hardcore punk), and Ahinco (death metal). There are plenty more bands to share, but this answer would be extremely long [laughs]."
Joni closes the email with some kind words: "Thank you very much, No Echo. It's an honor to appear on this site. A lot of bands that I listened was came from here, so thanks." Mission accomplished.
Critical on social media: Instagram | Bandcamp
***
Help Support What No Echo Does via Patreon:
***
Tagged: critical