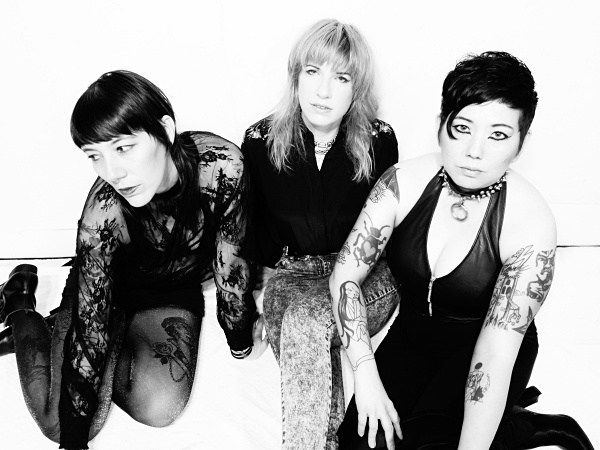 A sonic cocktail blended with elements of gloomy post-punk and danceable new wave, it wouldn't have been a stretch to imagine Ötzi being playlisted on LA's influential radio station KROQ back in the '80s. Listen to a track like "Hold Still" from the Oakland group's brand-new album, Storm, and you'll be hit with a burst of driving rhythms and jagged guitars, but the vocal lines keep the song's infectious level on high throughout.
In other words, while influenced by the atmospheric elements of the greats before them, Ötzi clearly understand their way around a hook. "Besides post-punk like The Cure, Siouxsie, Gang of Four, etc., we're influenced by many eras of punk, from anarchopunk to '90s punk to hardcore, plus dark post-punk and goth bands of the '80s," bassist/vocalist Akiko Sampson tells No Echo.
"[Drummer/vocalist] Gina Marie's favorite punk bands are Crass and Rubella Ballet; mine are Rites of Spring and the Slits. Together, all those bands have in common really is passion and a distinct worldview.
"I think as the band developed, over time it became as much about what do we think, what do we all agree on, and what is our vision of a future, as much as it was about what kind of sounds we want to work with."
Hitting stores next week, Storm is Ötzi's second full-length since forming in 2014, and follows 2019's Part Time Punks Sessions EP. "Storm was written with a lot more intention than
our previous releases," Gina tells No Echo. "Some of our members have gone through big life changes that we addressed in our songs. Throughout the album, we express our hopes and fears about and moving in unknown directions."
No Echo asks both Akiko and Gina about Ötzi's place in the Oakland punk scene. "We've been super lucky," Akiko says. "Oakland was very welcoming and supportive from the beginning, and were open-minded about our sound at a time when not many people were doing it. Now, there are a lot of local bands doing dark punk and deathrock type stuff, and it's been cool to see the scene grow. Gina Marie even started a festival for it called Near Dark Fest that's in its third year now, and it has locals and bands from all over the world play.
"Oakland is a really special place for music always, but especially feels that way right now."
Gina echoes her bandmate's love for their homebase, and also offers some props to bands from outside of the Bay Area: " It feels good to play shows at home and be surrounded by our family here in the goth and punk community. Some bands we feel a kinship with are The Ire (Philly), Hekátē (Greece), Malefixio (Barcelona), Fangs on Fur (LA) and locally Esses, Mystic Priestess and Altar De Fey, to name a few."
Storm will be out on May 22 via Artoffact Records and can be pre-ordered here.
Ötzi on social media: Facebook | Instagram | Bandcamp
***
Donate a few bucks to help with No Echo's operating costs:
***
Tagged: otzi