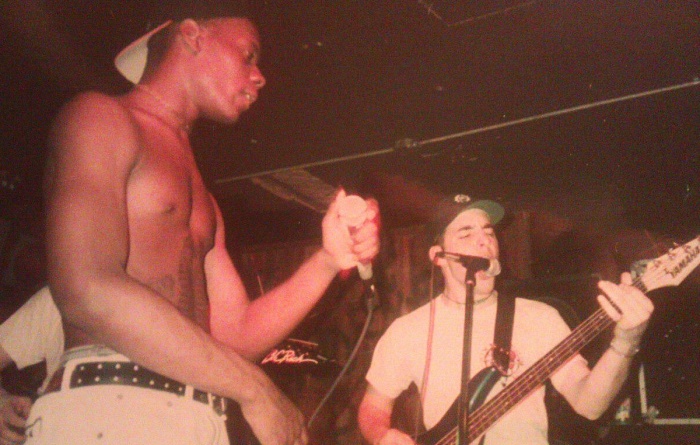 In the late '80s into the '90s, hard music was starting to bloom. Maybe it was the fact that L'amour, aka "The Rock Capital of Brooklyn," was right in our backyard. We could literally walk a few blocks and go see bands like Metallica, Carnivore, Iron Maiden, and Cro-Mags.
This is what led to the birth of the many hardcore bands that came out of Brooklyn in the '90s. The inspiration started to bleed out of that little club on 62nd Street in the Bay Ridge section of Brooklyn, and into the surrounding neighborhoods throughout Brooklyn. I remember seeing King Diamond and the Cro-Mags on the same bill at the venue. As a 15-year-old kid from Brooklyn, where there wasn't much opportunity, all of the sudden these big bands were playing shows 2 blocks from my house. I was so inspired and vowed one day I would play on that very same stage.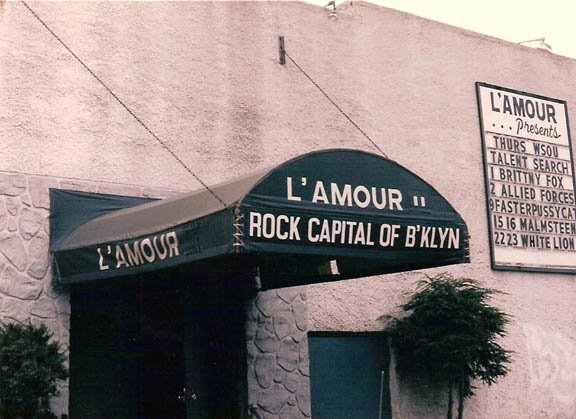 Carnivore, one of the first Brooklyn bands to reach high places in the music scene, really came out hard with that "holy shit!" sound. Things just started to get heavier and harder from there. Carnivore pretty much spawned the birth of Biohazard, which we all know really put Brooklyn hardcore on the map. While Biohazard were making waves in the music scene, there were a lot of other hardcore bands cooking up classic hardcore out of Brooklyn.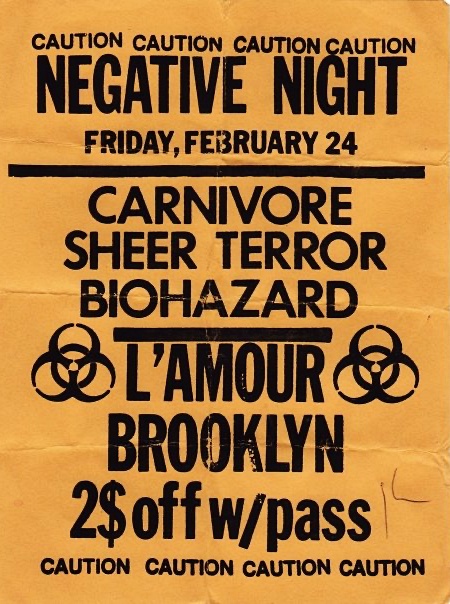 One of the bands that stand out from the Brooklyn hardcore scene is First Order. Oddly enough, they were not really a hardcore band but perhaps more of a thrash band. First Order is responsible for the birth of a lot of the other Brooklyn hardcore bands that came out afterwards. Speaking from personal experience, I know they were responsible for the birth.of another Brooklyn hardcore band, Nobody's Perfect.
First Order was a thrash band not only respected by the hardcore scene but had a lot to do with inspiring others in our small neighborhood to create what has become not only NYHC, but more specifically Brooklyn hardcore.
With bands like Biohazard out there, all of a sudden, there was a certain energy going around Brooklyn. This was inspiring and thus led to the birth and growth of the Brooklyn hardcore scene. It was a special niche time and an era that can't be denied or reproduced.
Here are just a few of the bands, in no particular order, that were out there during that era in Brooklyn hardcore:
Life of Agony
Formed in the summer of 1989, Life of Agony began building their legacy performing at L'amour on a regular basis. They've gone on to have huge success, making 6 studio albums, including the classic River Runs Red in 1993, and most recently, The Sound of Scars, in 2019.
Nobody's Perfect
Nobody's Perfect was formed in 1989, with the debut demo, Witness This, coming out a year later. That was followed by a 5-song demo in 1992 titled Steps Towards Deception. The first release could be described as hardcore, while the second release brings a bit more speed into the sound. The vocal delivery definitely differs from most of the hardcore bands.
Merauder
Merauder formed in 1990, establishing themselves on the Eastern US hardcore metal scene through frequent touring and a few demo releases. In 1995, the band played a ton of shows with hometown heroes Biohazard. Upon the release of their 1995 debut album, Master Killer, Merauder scored a slot opening for Fear Factory and toured Europe.
Confusion
Confusion formed in 1990, bringing a twist to the NYHC sound, infusing elements of death metal. During this time, Brooklyn forged its own scene outside of NYC at places like L'amour and the infamous Crazy Country Club. Here is an official discography of what Confusion put out:
1990: Four the Force demo
1991: Distorted Visions demo
1992: Taste of Hate 7" on Hardway Records
1992: Beheaded Cadaver compilation cassette
1993: East Coast Assault compilation CD on Too Damn Hype Records
1995: A Call for Unity compilation CD on Back ta Basics Records
First Order
First Order One of the youngest bands to come out of Brooklyn. Playing live at 15 and 16 years old and killing it. Their first demo titled "First Four" (1986) was one of the first recordings to come out of the Brooklyn scene after Carnivore. Members of Carnivore also produced First Order's demo. Their second offering was a self-titled release in 1989. In the early 90's, I went to see Slayer at L'amour. There was only one opening band on that bill. It was First Order!
Indecision
Indecision was a prolific hardcore band which was started in Bay Ridge in 1993 and officially disbanded in the summer of 2000, though they still play shows occasionally for charity. This list of bands wouldn't have been complete without mentioning them.
Inhuman
Inhuman burst onto the punk and hardcore scene out of Brooklyn in the summer of 1995. After earning spots on a handful of compilation albums and releasing some 7" singles, Inhuman generated favorable comparisons to the Cro-Mags, Agnostic Front, and Negative Approach.
Lament
If you're into Maximum Penalty, you might want to check out Lament's Drowning Room 7" if you haven't already. Lament was a short-lived Brooklyn band in the early '90s which had several Maximum Penalty members in its lineup. Their sound was rooted in early '90s metallic hardcore. Besides the Maximum Penalty connection, bassist Eric Morgan played in Mr. Pickle and First Order before Lament and eventually played bass on a record by pop/R&B singer Taylor Dane! How's that for random trivia?
***
Donate a few bucks to help with No Echo's operating costs:
***
Tagged: 90s hardcore week, confusion, inhuman, life of agony, merauder, nobody's perfect