As hard as I ride for the architects of hard rock, metal, and punk music, I would be lying if I told you that I don't approach any new record by a band from the '60s and '70s with some trepidation.
On paper, Deep Purple's 21st (!) studio album looked like a winning proposition.
For starters, the group's lineup of bassist Roger Glover, drummer Ian Paice, vocalist Ian Gillan, guitarist Steve Morse, and keyboardist Don Airey has been steady for close to two decades.
The fact that the British legends were working with producer Bob Ezrin (KISS, Pink Floyd) again also upped my anticipation.
Could a band 50-plus years into their career deliver a record that holds up to their best work?
The slinky groove that kicks off "Throw My Bones," the opening track on Whoosh!, sets the vibe, and it's a classic one.
The way Morse's guitar riff snakes through Airey's grandiose keyboard lines is a thing of beauty. Gillan's vocals cook, especially during the second verse, reminding you why a legion of vocalists have nicked so many of his licks throughout the decades. The song could have easily been on Deep Purple's Perfect Strangers album from 1984, or even earlier.
Elsewhere on the album, "Nothing at All" rides a shuffle rhythm through a melancholic journey that gifts us one gorgeous melody after the other. Check out Airey's baroque-meets-prog solo in the second half of the track for evidence of its beauty:
Ezrin's storied discography already speaks for itself, but man, Whoosh! sounds incredible.
Having previously worked with Purple on 2017's InFinite and 2013's Now What?! albums, the Canadian producer clearly understands their sound DNA through and through, highlighting all of the right parts during the most impactful moments.
Case in point is "Step by Step," a song where Gillan's vocals are multi-tracked into a kind of haunting harmony, Airey's keyboards stalk closely behind, Morse peels off '70s-styled lead lines, and the rhythm section busts their asses to hold the foundation down while it's all happening. There's a lot going on, but Ezrin isn't fazed.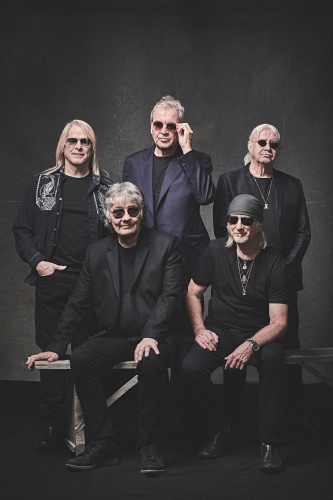 While there certainly are rockers to be found on Whoosh! ("What the Want," "The Long Way Round"), it's the moodier stuff that sinks its teeth into you.
In addition to the aforementioned cuts above, tracks like "The Power of the Moon" and "Man Alive" carry the epic scope that any longtime fan of the quintet knows all so well. After all, Whoosh! features 3/5th of the same musicians who tracked "Child in Time" all those years ago.
Like I was trying to say at the top of this review, an album this strong so deep into a band's discography is a rarity. Now, if only Deep Purple's peers could follow suit.
Get It
Tagged: deep purple