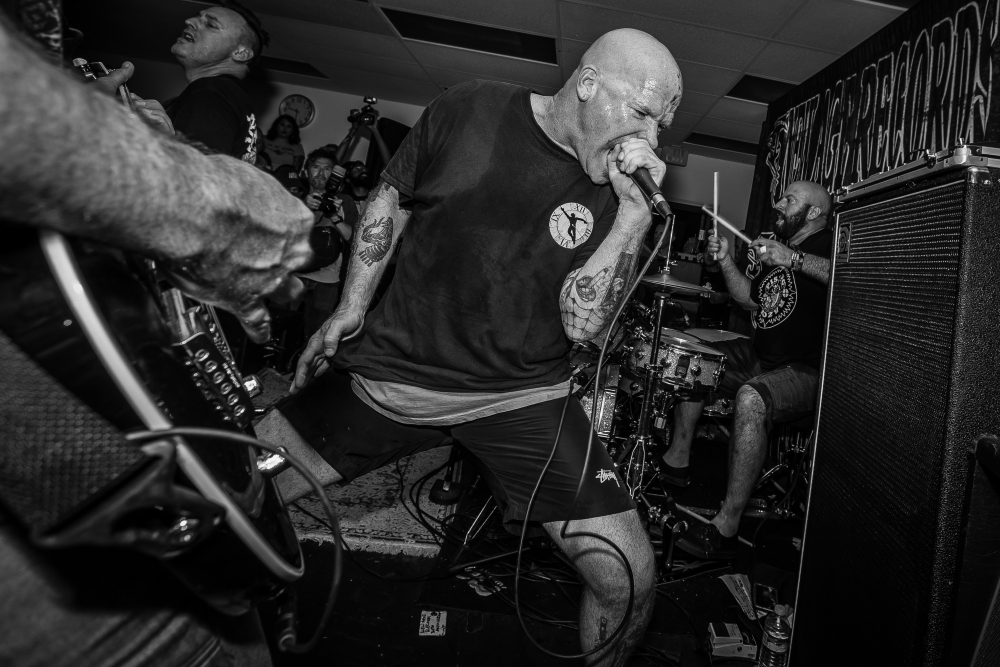 After a couple of successful shows in California where they performed their 1997 album In This Defiance in its entirety, Strife will be doing the same thing on an upcoming run of East Coast dates.
The shows will go down in Albany, NY (Nov. 9), Philadelphia, PA (Nov. 10), and Brooklyn, NY (Nov. 11) and will aslo feature sets from Enforced and Restraining Order. "I first heard the song 'Stand as One (Redemption)' when I was 13 and starting to get into hardcore," Enforced singer Knox told me about his introduction interaction with Strife's music. "It made me want to check In This Defiance out and it got me more curious about the genre as a whole." Restraining Order bassist Keith Freeman also told me about his first experience with the California hardcore vets. "I first heard Strife sometime in 2007. I had gotten into hardcore a year before and my buddy Mike would show me a lot of bands, Strife included. He steered me in a good direction!"
Needless to say, Knox and Keith are both amped for the upcoming run. "Andrew from Strife reached out to us about possibly doing a few dates together and we jumped at the chance," said Knox, while Keith excitedly added: "It's gonna be a fun time!"
So, what if Knox and Keith had to choose their favorite tracks from In This Defiance? "Probably 'Force of Change' and 'Blistered.' Overall, 'Force of Change' gets me pumped on being straight edge and for 'Blistered,' the drum roll leading to the breakdown is easily one of my favorite things in hardcore ever," Keith exclaimed. Knox said: "It's a tie between 'Grey' and 'Blistered' for #1. But 'Overthrow' is a hard #2, so it's an honest toss up between those three songs."
In a recent interview with Strife vocalist Rick Rodney, I asked him what his favorite track on In This Defiance was. "There's a song called 'Wish I Knew' that we have rarely ever played live that is more of a reflective kind of thing. But to be honest, I pretty much love the record from start to finish. I think it holds up. I'll listen to it every now and then and think, 'Oh, this is cool.' I don't always feel that way about the stuff we've done through the years, but In This Defiance holds up really well. I can't wait to play these songs in order, something we haven't done till this year."
Tagged: enforced, restraining order, strife