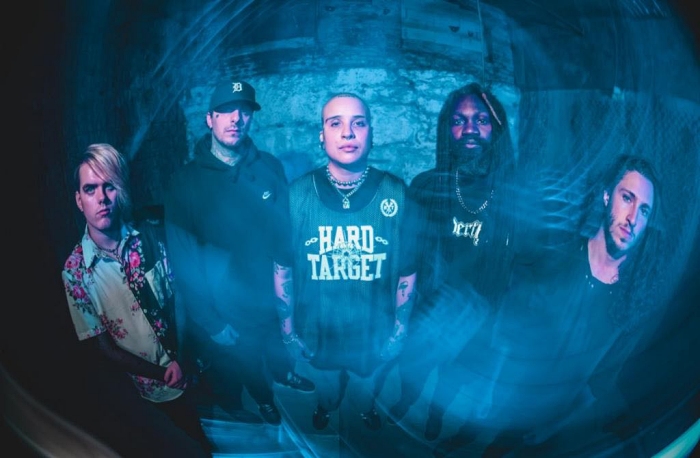 Wisdom & War is a band based out of the Central Massachusetts region with a penchant for brutal guitar riffs and vocals that complement that violent sonic space.
Formed in 2018, the quintet has found a fitting home as part of the Unbeaten Records family, a label that has also issued music by Purgatory, D Bloc, and Wrong Move.
For their maiden release on the label, Wisdom & War will soon be dropping an album entitled Superior Design. One of the tracks on the forthcoming record is called "Can't Stop Me" and features Aaron Knuckles of Death Threat on guest vocals.
"The song is about knowing your worth, and not giving a fuck about the naysayers or limitations that life throws at you," Wisdom & War vocalist Chanel told No Echo. "Knowing that no matter what, you're going to die some day so you might as well give everything you have right here and now. Getting Aaron on the track was huge for us, but we had to meet up halfway to record his vocals.
"So, thanks to Buddy at Unbeaten Records, we were introduced to hardcore legend Don Fury in Troy, New York where we recording Aaron's feature. Don's studio is really like stepping into hardcore history. He's recorded legendary bands like Madball, Gorilla Biscuits, Sick of It All, Agnostic Front, and so many more. It was a great experience working with both Don and Aaron. Two guys that have really put so much time into hardcore. It was unreal, and an honor."
Since No Echo was chatting with Chanel, we asked about Wisdom & War's feelings on their local scene. "Central Mass Hardcore is doing better than ever. We're a scene that has never truly been seen until now. For years a lot of bands have played The Palladium in Worcester and never got a real CMHC experience. It's really the smaller venues where you get that experience. Since the end of the lock down we have more bands and more venues than we ever had before.
"Worcester is the dead center of Massachusetts and so it's the perfect location for everyone to roll out with a car full of friends and check out bands Like Clock Out, Hard Target, Shortest Life, Life's End, Underthrow, Bloodtithe, and Bed of Razors. We say 'it never dies' because it never did.
"Despite all the years of kids growing up and out of hardcore or bands breaking up, there was always a new kid starting a new band with his friends. The flame was dim but never went out. I don't think you can kill this scene. There's always going to be some pissed-off kid that finds a CMHC demo in their older brother or sisters room and they're gonna dive in and repeat the cycle."
Superior Design will be out on January 6th via Unbeaten Records (pre-order).
Upcoming Wisdom & War shows:
January 12 @ AMH Long Island, NY w/ Blame God, Edict, Hard Target
January 13 @ PNI - Worcester, MA (Wisdom & War record release/ video shoot) w/ Kaonashi, Clock Out, Edict, Hard Target, No Allegiance
January 14 @ Dusk - Providence, RI w/ (Edict Record Release) Extinction A.D., Tar, Hard Target
January 15 @ empire underground - Albany, NY w/ Wrong Move, Cold Kiiss, Edict, Hard Target, Deadweight
Wisdom & War on social media: Facebook | Instagram
***
Help Support What No Echo Does via Patreon:
***
Tagged: death threat, wisdom and war