"Growing up some of my favorite records were splits. Things like No Escape/Turning Point, Hoover/Lincoln and of course, Faith/Void," says Miracle Drug guitarist Matt Weider when I ask him about his band's new split 7" with Piece of Mind. Also a member of Mouthpiece, Matt has been part of the hardcore scene for decades now and is always looking to collaborate with other members of the community. "We played a handful of shows with Piece of Mind and it became pretty clear that they were the band we wanted to do the record with. They're a great band made up of awesome people."
"With every release, we try to push ourselves to try new things and on this split, it meant changing tunings to force ourselves out of patterns and habits we normally fall into," Piece of Mind guitarist Jake Scott tells me. "The end result were two songs that are some of our strongest to date."
Seen below, the cover art for the Miracle Drug/Piece of Mind split was done by Codak Smith, a muralist and tattoo artist. Matt from Miracle Drug breaks that down: "Getting Codak to do the artwork was the icing on the cake. Not only is he a great artist, he's from Piece of Mind's hometown of Tulsa and is friends with both bands. We are really happy with the way things came out."
Trip Machine Laboratories is behind the new split, a label I've profiled on the site that has previously issued releases by such No Echo-approved bands as Mindforce, All Out War, and Raw Breed. "This split 7" has been about two years in the making, when Matt (Miracle Drug) told me they were doing their follow up to the demo 7" we did together with a different label, he mentioned doing a split 7" afterwards and that he had a band in mind," Trip Machine's Chris Weinblad told me via email. "He sent me their Bandcamp and that band was Piece of Mind. I immediately liked what I heard, got in touch with Jake from the group and I mentioned the split. We also decided to work together on a 12" of their digital releases. All this was spurred by Matt's suggestion. Friends suggesting their friends.
"Even though there is so much I hate about today's hardcore...this is what I still love about it: Friendships forged organically. For these new friendships, I'm still thankful to be involved in the hardcore scene."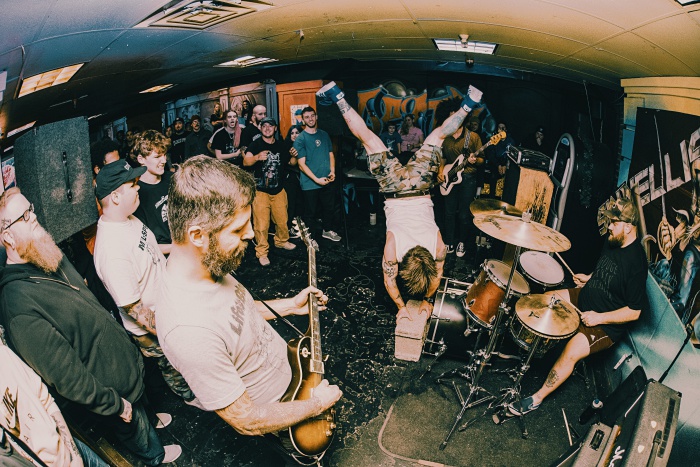 Both bands on the release are keeping busy in 2019. Piece of Mind will be going out on an East Coast tour in March with Constraint, followed by a run of dates with Vamachara in May. The combo will also be part of this May's PromCore festival in Tulsa, OK.

Miracle Drug is currently setting up an East Coast trek for May, while they work up material for a new EP. They'll be playing 108's Songs of Separation 25th Anniversary show at Saint Vitus in Brooklyn, NY on Nov. 2:
Order the Miracle Drug/Piece of Mind split 7" on vinyl directly from Trip Machine Laboratories and if you prefer digital, Bandcamp is an option.
***
If you're shopping for vinyl, CD, and cassette hardcore titles, head to No Echo's partner store, Reverb LP, to see what they have available. Every purchase you make helps No Echo with site costs.
Tagged: miracle drug, piece of mind