I still remember randomly scanning through the online store of the record label Profound Lore and my eyes fixed on an album cover that I both didn't immediately expect but wanted to know more about. At that time, in cooperation with Ván records, Profound Lore released the second LP by GOLD entitled No Image.
It's a seemingly simple cover, but at least in my mind; when I often seek out music from Profound Lore and similar labels that tend to work with "extreme metal" bands the artwork usually features some distinctly dark and haunting imagery. Yet what caught my eyes that night were these floating letters. After hearing the first track, "Servant," for maybe 30 seconds; I was immediately hooked. Surging guitars, pulsing drums, and strong vocals providing an off-balance feeling both in how powerful they are right along with the instruments and yet mesmerizing and not exactly as energetic as the music its paired with but to great success.
Anyways, the album I want to bring to your attention mainly is their latest LP, Why Aren't You Laughing? As GOLD have continued to build a signature sound of sorts over their now four albums, I've previously compared their records to a long walk. Much like I was telling about the song, "Servant" from No Image, the first track "He Is Not" has an energetic pulse that grabs your attention and makes the record immediately engaging.
Without dissecting every last bit of the songs, I believe what GOLD executes uniquely from most bands I've personally listened to is that they truly are a "rock band." Genre tags such as "goth rock," "death rock," "post-metal," etc. have been used and aren't necessarily ill-fitting but are only aspects of the bigger picture that you're offered to sonically experience. Whether it be with "hardcore," "punk," or whatever genre two or more people have decided to verbally spar about on the internet; GOLD has been and still is a band I go to when I need relief from the nonsense that I see as the modern music scene at large.
The title track of the album is an especially important song and the band made a particularly poignant video to ensure the focus is not missed. It's no secret that the act of people watching has been taken to unhealthy, grotesque, and disgusting levels in the age of social media. On top of the lack of privacy, the court of public opinion has become more harsh and busier than ever. While I don't doubt many people have experienced this, myself included, I greatly enjoy the way vocalist Milena Eva so effectively communicated a problem that I believe unfortunately has an especially toxic effect on how comfortable women are able to be in public when a photo without context can deem them the queen of the so-called "bitch face."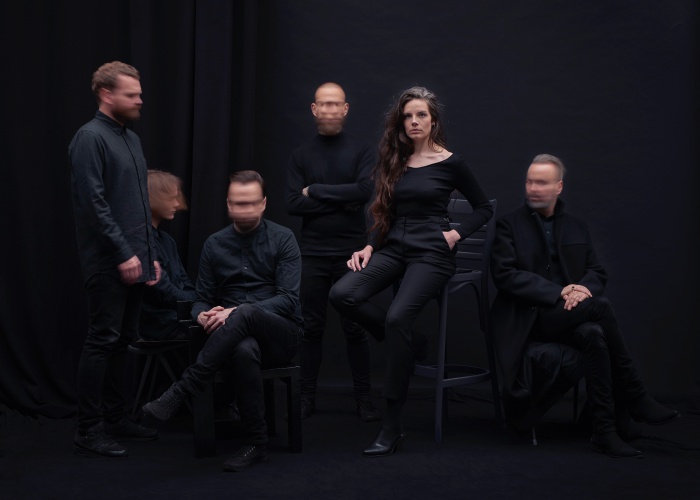 Overall, this is a somewhat more mid-tempo and even at times mellow record from GOLD which I think will only expand the possibilities of who GOLD may tour with in the future.
GOLD is a band taking, what I believe, are some of the best qualities of more daring and experimental rock, punk and even hardcore to make their own sound in a time of too many bands and too little originality.
Another part of how the sound of GOLD is crafted is in the bands that members are either still active in or were previously part of.For instance, some of you may be familiar with guitarist Thomas Sciarone from his time in The Devil's Blood or Malkovich; also, drummer Igor Wouters has been involved with hardcore bands Backfire and Angel Crew. I've included a playlist of the three videos GOLD made in order to promote the new record including the two songs I mentioned above ("He is Not" and "Why Aren't You Laughing?") as well as "Taken By Storm." Having played with a varied list of artists from Ultha, Converge, and New Model Army; GOLD is currently preparing to play a series of dates throughout Europe including festival appearances at Roadburn, Hellfest, and Devilstone.
Get It
Tagged: gold