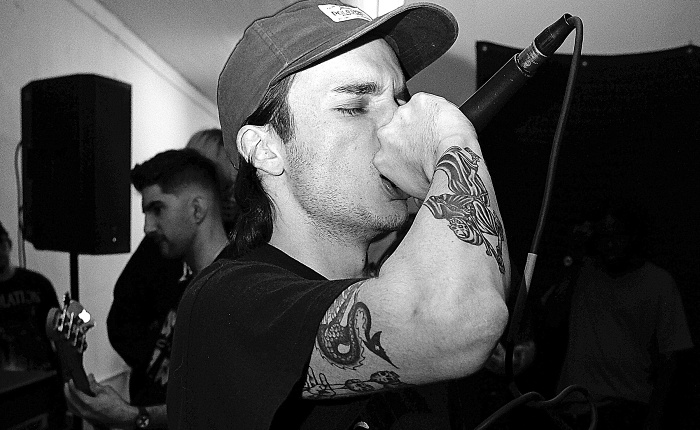 One of the best aspects of the global music underground scene is how quick and easy a cross-global collaboration can happen these days. The Beginning to the End—the brand-new split album featuring Florida hardcore band Moment of Truth and Japanese beatdown crew Kruelty—is the living embodiment of that spirit.
Moment of Truth features members of the superb Envision, a '90s hardcore-inspired outfit who released one of the best records of 2019. "We started this band to pay our respects to late '90s Japanese hardcore legends such as Straight Savage Style and Dyingrace and we honestly didn't expect it to receive much attention at all," Moment of Truth vocalist Kyle Morris told me via email. Kyle also owns Arduous Path Recordings, one of the two labels behind the new split. "To our surprise, we were lucky enough to have it noticed by Zuma, who plays guitar in Kruelty and also runs Dead Sky Recordings out of Tokyo. He offered to rerelease our demo on CD and eventually we came up with the idea to do a split release between our bands on both our labels."
Self-described as a "beatdown hardcore/death metal band," Kruelty formed in Tokyo back in 2017, releasing a few demos, an EP and now three splits. "Our sound is influenced by some east-coast and Japanese beatdown hardcore bands like No Retreat, One Second Thought, Swear to God, Redline, Straight Savage Style, and Second to None (JP), as well as some death doom like Asphyx, Coffins, and Divine Eve," guitarist Zuma told No Echo. "We're in the process of planning an overseas tour along with our upcoming full length record in spring 2020."
Since Zuma brought me up to speed on Kruelty's future plans, I made sure Kyle did the same: "We're currently setting up shows and possibly a weekender with some friends of ours in the near future. Our other bands take up a lot of our time, but we're hoping to have our next release out sometime early next year."
Stream/download The Beginning to the End on Bandcamp. For the cassette of the release, hit up Arduous Path Recordings. If you want it on CD, Dead Sky Records will take care of you.
Here's a Kruelty live set filmed by Hate5Six:
***
If you dig No Echo, you can donate a few bucks to help with the site's operating costs:
Tagged: arduous path